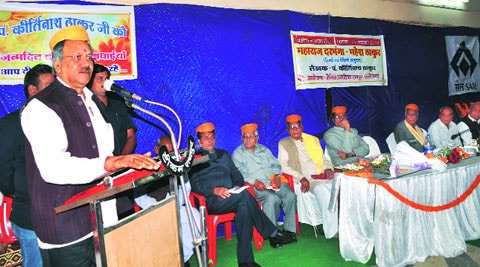 Minister Brijmohan speaks at the event, Saturday. (Source: Express photo)
Chhattisgarh's heavyweight minister Brijmohan on Saturday said that Brahmins are the sole custodians of Indian values and offer the lone hope against growing degradation of Indian culture in today's world.
Speaking at a book release function in Raipur, he also urged the people to learn from ancient practices when religion played a crucial role in deciding the governance of a state.
Noting that "our proud traditions have been pushed behind" in the race for "progress", the Agriculture and Religion Minister said: "Our rituals and ancient culture is witnessing a rapid degradation. In such a situation, the Brahmin community is the centre of our hopes and can play a crucial role in checking this degradation."
"It's because of the Brahmin community that culture and traditions are alive today, therefore the community carries a big responsibility of preserving the Indian culture and civilization," he said.
"Every intellectual, who is concerned about the protection of religion and culture, is aware that the Brahmin community, which places a crucial role in the overall society, is capable of carrying forward our culture .
http://indianexpress.com/article/india/india-others/chhattisgarh-minister-says-brahmins-are-sole-custodians-of-indian-values/