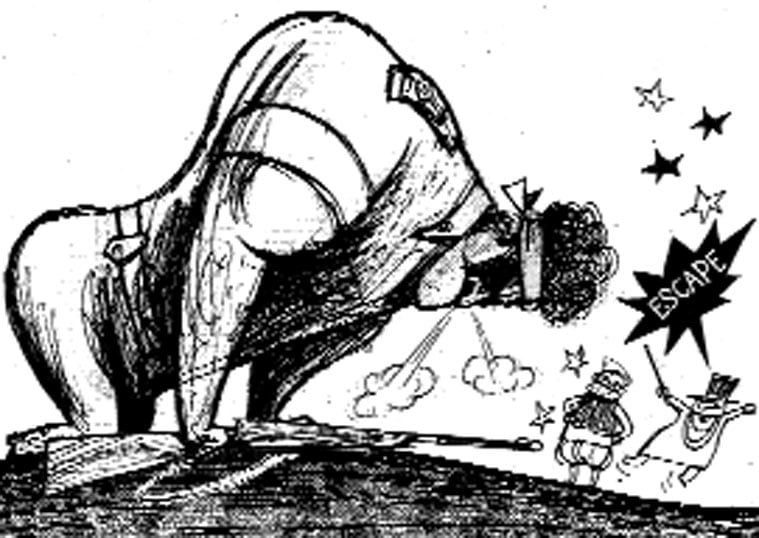 The magician told the minister You can hypnotise a person but you cannot make him do anything against his core beliefs.
Renowned magician Anand, who is currently performing in Raipur, has received a proposal from Chhattisgarh's tourismand culture minister Ajay Chandrakar, who saw him perform last week. With the recentMaoist attacks fresh in his mind, the minister, who was transfixed on seeing Anand perform tricks like "chopping" a boy into two and bringing him backto shape, suggested Anand to do some jaadu and eliminate the rebels, leaving the veteran performer amused.
Speaking to The IndianExpress later, Chandrakar termed Maoism "apsanskriti (bad culture)" that can be countered by positive elements of culture like magic.
"I told him (Anand) that you are the bhanja (nephew) of Chhattisgarh. This is considered an extremely sacred relation in Chhattisgarh. You shouldperform such magic that frees your nanihal (homeof maternal grandmother) of Maoism," Chandrakar said. Anand's mother hails from Raipur.
A native of Jabalpur 64-year-old Anand is in Raipur for a month. His shows are witnessing packed audience. He and his son JuniorAnand have performed some of the mostfamous magic tricks like fire escape, water escape, besides a hostof stage illusions.
Acknowledging his ability to create a strong spell on people Anand said it would not workon Maoists, whose actions were rooted in an ideology. "I told him (minister) that hypnotism has its limitations. You can hypnotise a person, but cannot make him do anything against his corebeliefs," he said.
He added that that an insurgency begins when a person loses his feelings. The spread of culture restores this sensitivity, but it might not be possible in the case of the Maoists as "it's an extremely deep-rooted thing, reflection of government's policies."
http://indianexpress.com/article/india/india-others/use-jaadu-to-eliminate-maoists-chhattisgarh-minister-tells-magician/?SocialMedia