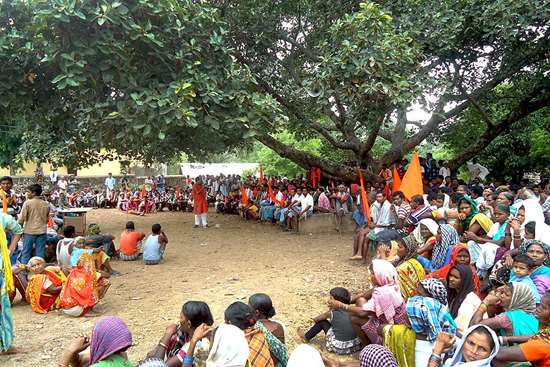 DEV SHARAN TIWARI
CHHATTISGARH: ATTACKS ON CHRISTIANS
Streak Of Violence
The few Christians in Bastar and Surguja face sporadic Hindu ire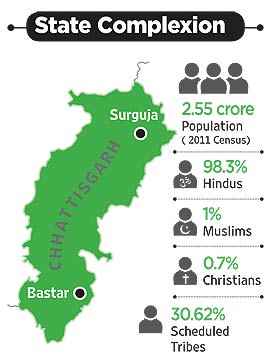 Chhattisgarh doesn't have religious minorities to speak of—they are a mere two per cent of its population. That should make it an oasis of communal harmony. Right? Well, not quite, as several admittedly small but significant incidents this year expose how fragile the social fabric really is in parts of the state, notably in Bastar and Surguja.
If it was a church that was destroyed this March by people, allegedly with the help of the police, the next month it was a funeral service that was attacked and the grave filled up. In June, Christians at Sirisguda were refused rations from the pds outlets after they refused to give donations for a Hindu temple. This month, when a food inspector arrived to register complaints, the complainants were attacked and beaten up. Nine of them had to be hospitalised.
Things are no better in the adjacent areas of Madhya Pradesh, where according to Sajan K. George, president of the Global Council of Indian Christians (GCIC), mobs searched the belongings of passengers and those found in possession of the Bible were beaten up.
There's more. As many as 50 village councils in Bastar are said to have adopted resolutions banning the entry of "non-Hindu missionaries". Bastar district magistrate Ankit Anand admits to only three villages adopting such resolutions, which he says are unconstitutional and illegal. But that is of small consolation to church leaders, who complain of increasing instances of persecution by the majority community. "Unless legal and deterrent action is taken against the mischief-makers, there is no guarantee that such incidents will not recur," says a parish priest at Raipur.
The sporadic violence has surprised observers, who say that the state has long been a bastion of the VHP-RSS, and with 98 per cent of the population being Hindu, there really is no reason for the majority community to feel threatened. Not even in Bastar, where Christians constitute barely 0.7 per cent of the population, and the tribal population remains a robust 30.63 per cent.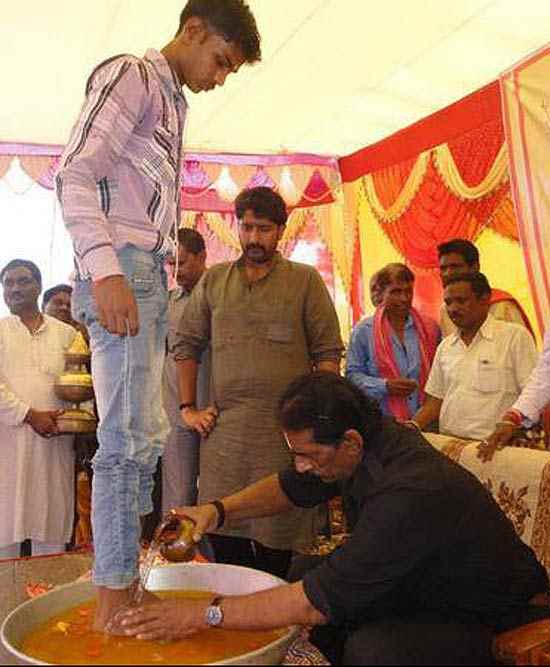 Prodigal's Return A ghar wapasi in progress. (Photograph by Prabhat Mishra)
The results of the Vidhan Sabha election last year could hold a pointer to what is happening in Bastar and Surguja, according to observers. Both districts had overwhelmingly favoured the BJP in the previous two elections. In 2013, however, it was the Congress which won eight out of the 12 seats in Bastar, and seven out of the eight seats in Surguja. The Sangh parivar seems to have singled out the Christian missionaries for a turnaround in electoral fortunes, though religion could not have played much of a role in the outcome, since the Christian community is minuscule.
It doesn't appease VHP leader Suresh Yadav. "Christian missionary activity is going on unabated, but the state government is not bothered," he told Outlook. Yadav alleges that 59 Christian families in Sirisguda had first attacked the Hindus and instigated unrest by refusing to give donations for the annual 'puja'. "We are no longer Hindus and we no longer visit the temple," they reportedly argued and said they were not obliged to pay for Hindu rites.
| | | |
| --- | --- | --- |
| | | |
| | "Judeo would wash the feet of three or four tribals and get himself photographed."Kawasi Lakhma, Congress MLA | |
| | | |
Yadav, however, has no answer when asked why tribals in Bastar are still opting to get converted despite the strong RSS-VHP presence. Both Bastar and Surguja have a large network of Saraswati Shishu Mandirs and Ekal Vidyalayas, schools manned by solitary teachers and promoted by the RSS. But while BJP leaders privately concede that RSS volunteers are not committed as they used to be, Yadav continues to blame Christian missionaries for instigating tribals, misleading them and luring them to change their religion. Remarkably, while Chhattisgarh has had a stringent anti-conversion law since 2004 when the BJP formed the government here, its provisions are yet to be invoked in the state.
Congress MLA Deepak Baij accuses the Sangh parivar of fomenting trouble for political reasons. "They are desperately searching for a scapegoat to explain their poll debacle in these areas and have zeroed in on this bogus claim of forcible conversion," he tells Outlook. Christian missionaries, he held, have been around in the area for a long time and he was yet to come across cases of forcible conversion. Significantly, former MLA Beduram Kashyap, who lost to Baij, also conceded that conversions had been taking place for a long time and it would be incorrect to say that they increased after the BJP was defeated. "We try to persuade tribals to remain in the Hindu fold, but if they still opt for conversion, what can be done?" says Kashyap.
Congress MLA Kawasi Lakhma says the conversions have happened because of the complete lack of government agency in matters of health, education and food, gaps which the Christian missionaries are filling. There have been such conversions even in the Jagdalpur urban area, which has been electing a BJP MLA for the past three elections, Lakhma claims. He doesn't think much of the Ghar Wapasi reconversion programme the late Dilip Singh Judeo of Jashpur had initiated. "Judeo would wash the feet of three or four tribals and get himself photographed doing so," he says sarcastically. Judeo's nephew and BJP Rajya Sabha member Ranvijay Singh Judeo says he will resume the reconversion campaign soon.
Meanwhile, Dwarkapeeth Shankara­charya Swaroopanand Saraswati also chose to fish in the troubled waters. "Why would people change their religion if the government fulfils their needs?" he asks. He supports the ban on the entry of Christian missionaries, declaring that foreign funds sent to the church should not be used for converting people. The government, he claims, exercises far greater control over Hindu temples, which is unfair, he feels.
The minister in charge of Bastar, Prem Prakash Pandey, questions the very reports of forcible conversions. "We have not received a single such complaint since 2004," he asserts. Pandey, say sources in the government, was alarmed enough to give VHP activists in Bastar a dressing down. Any communal disturbance in Bastar would reflect poorly on the BJP government in the state, he told a VHP delegation.
He, however, failed to assuage church leaders in the state. How can the state government fail to react to ban orders, they ask. "Nobody can be forced to change his faith," quips Father Sebastian of the Catholic Church at Raipur. "If he does, he does so of his own free will."
---
By Yashwant Dhote in Raipur
Read more here- http://www.outlookindia.com/article/Streak-Of-Violence/291413#.