They died following sterilisation operations in Chhattisgarh, conducted in government camps. The Sunday Express returns to fathers struggling to raise their children and families holding on to fraying memories.
Dipti Yadav, 26: Her husband Dhannalal with 2 of their 3 children. He says the rich alone don't pine for love. "Dipti was my life" (Express Photo by Dipankar Ghose)It is only April, but the unforgiving summer has come early, and the sun scorches the earth outside. But inside nine-year-old Manish Kewat's one-room home, there is near darkness. There is always darkness. The walls are a dim blue, barely lit by a flickering 30-watt tubelight, and the floor is bare. There is no furniture, not even a bed, and Maneesh sleeps on the hard floor. By the fading light, he can barely make out the face in a garlanded photo that hangs on the wall.
Manish no longer remembers how tall his mother Shiv Kumari was, or what she used to say to him. But he remembers her voice, the sound of her laughter, the lingering touch of her arm as she slept next to him and, because of that photo, her face.
Shiv Kumari was 26 when she died on November 11, 2014. Like other women from her village Ganiyari, she had gone to a sterilisation camp in Pendari, 12 km away, held as part of a Chhattisgarh government drive across Bilaspur district at the time. She was among the 13 women who lost their lives within days.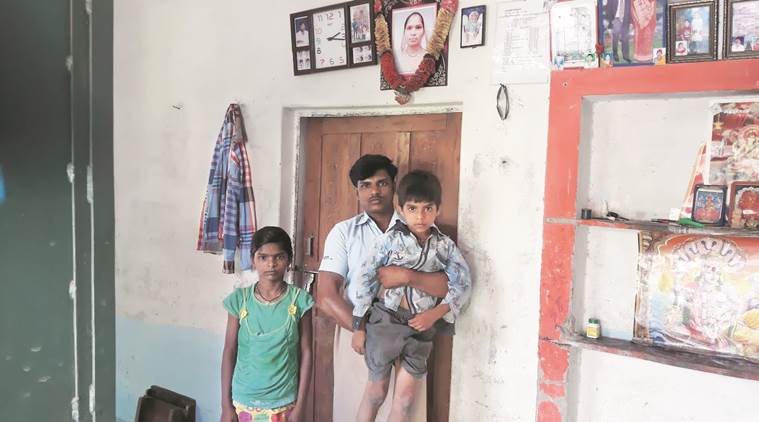 Ranjita Suryavanshi, 26 : Her husband Santosh married again, and he is afraid that their three children, the youngest not yet three, may start forgetting about her.The stories of the women who came to the camps, held in Pendari, Gaurela, Pendra and Marwahi, were similar. They were all poor, with two, three or five children, more than they could afford. The Pendari camp was organised at an unused hospital building, and 83 operations were conducted in a space of no more than six hours.
Subsequent probes found that far too many operations were carried out in a short time, in violation of government guidelines, the place where the operations were performed was not properly sterilised, equipment used were below par, and that medicines given post-operation were spurious.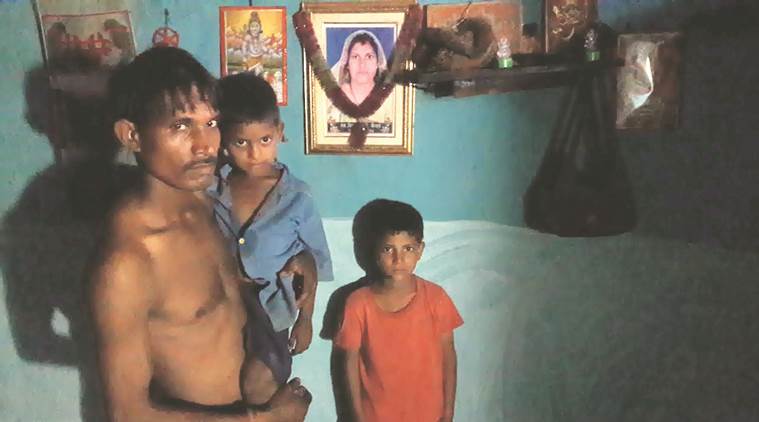 Shiv Kumari, 26: Her husband Bohri works as a daily wager and regrets that often he has to take his children to work. "The government promised to take care of their schooling"The owners of Mahawar Pharma, that supplied the medicines, Ramesh Mahawar and his son Sumit, are in jail, with the company banned by the Chhattisgarh government. However, on February 21, the block medical officer who conducted those 83 operations, Dr R K Gupta, was acquitted, with the Bilaspur High court holding that the case was "bad in law", as the government did not give sanction for his prosecution.
In eight homes across 10 villages, the news didn't come as a surprise.
Sweeping the floor of his house, Shiv Kumari's husband Bohri Kewat, 32, says their youngest daughter Anisha was only a few months old when Shiv Kumari died. Apart from the Rs 4 lakh as compensation, Bohri says, they got little else. "What is Rs 4 lakh for a human life? And they had said they would take care of our children's schooling, and give us jobs. But I still work as a mistri (mason) on daily wages. When the children fall ill, I stay home and forego that day's wages. All I want from the government is a stable job."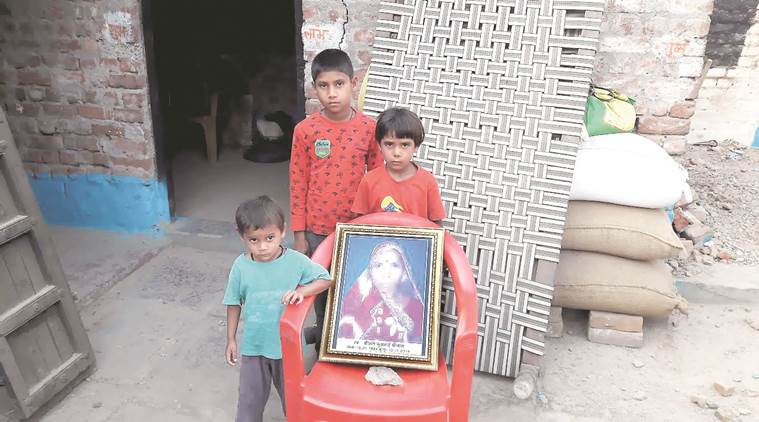 Phoolbai Srivas, 28: She left behind three children. Her brother-in-law Pitambar says "the doctor must be held accountable"Anish, 6, has just started school. He hasn't changed out of his uniform. The shirt is frayed and the buttons broken. There isn't much else to wear.
Bohri says that he kept aside most of the money he got for the children, to be used on rainy days. "For now, we must struggle."
As his father talks about finding stable work, Manish butts in, laughing, "Somedays, I help too." As Bohri averts his gaze, the 9-year-old shows how he does it. He picks up a brick and places it on the back of his neck. "Aise uthata hoon (That's how I carry load)."
Santosh Suryavanshi, 30, of Nirtu village, 30 km away, re-married last year after he found it increasingly difficult to manage both his three children and work. He too is a mistri working on daily wages. As he speaks about his first wife Ranjita, who also died at the Pendari camp, Priyanka, 11, begins to slip away, saying she wants to check on her brother Rikesh, who will soon turn 3. Ritesh, the middle child, is 7. Suryavanshi grabs Priyanka's hand and makes her stay. "I don't want her to forget her mother. Maa, maa hoti hai (A mother is a mother)," he says.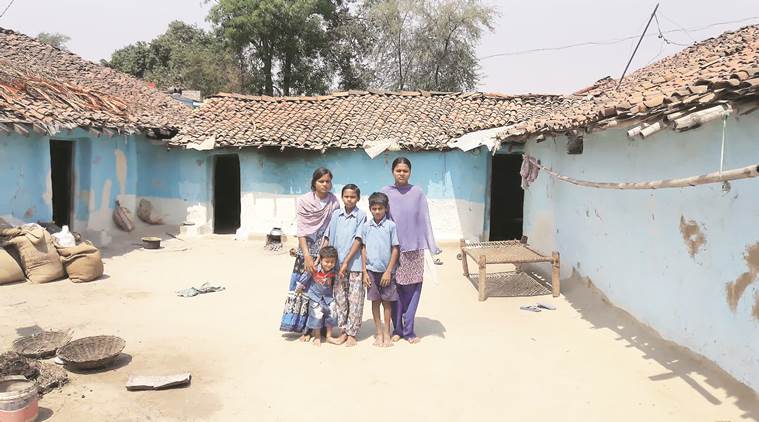 Dularin Bai, 25: Ushawati (left) trying to find her sister-in-law's photo in a rusted old trunk. Unable to find any, she says all traces of Dularin are gone. Her husband left with their children a while ago. Nembai, 30: It has fallen upon Nembai's eldest daughter Archana (bottom, right) to raise her four younger siblings. Archana had to drop out of school, and says she tries not to think about marriageHe recalls how a mitanin (village-level health worker) had taken Ranjita and a few others to the sterilisation camp. "I followed on my bike. The doctor was doing all the operations together, and later, they were all told to lie on the floor. The hospital was filthy. After some time, they gave some medicines and told us to take Ranjita home. That night itself, she began vomiting. The village doctor said this was normal after an operation. But the next day a van came and took her to Bilaspur. Within hours, they said she was dead. To this day, I can't go past that hospital in Pendari. If I have to, I shut my eyes."
A photo of Ranjita hangs on a wall of the two-room home, next to photos of gods. Gently, Suryavanshi asks Priyanka what she remembers of Ranjita. After thinking a while, she says shyly, "Jab aise garmi hoti thi na, to maa pallu se mera moonh ponchch deti thi (When it was hot like this, she would wipe my face with her sari)."
Archana Singh, though, never brings out the photo of her mother Nembai, from the corner where it lies at their home in Ghuru village. The teenager was in the last year of her school when Nembai, 30, died, and the responsibility of her four younger siblings fell on her. She had wanted to study further, but couldn't. Later, as her friends got married one by one, Archana pushed the thought away. "It will happen when it happens," she says.
"Our father is away through the day doing odd jobs. These children are my responsibility," she says. The youngest, Suryakant, is less than 3 years old. The rest go to school.
Looking at Nembai's photo would only make them sad, Archana shrugs. "What good does it do to look back? I must keep them happy." What of justice? "We got some money. But beyond that, nothing has happened, and nothing will."
Amrika Sahu, in Bharari village, worries that having lost her sister Chandrakali to the sterilisation tragedy, she is gradually losing her last connection to her through her children. Chandrakali was younger to her by eight years, and died at the age of 22. In the only photo Amrika has of Chandrakali, a grainy 4X6 image, Chandrakali stands next to husband Tirith Ram and eldest daughter Satyawati.
The couple, with their three children, lived in Pune, where Tirith Ram works as a construction labourer. Chandrakali had come to Bharari for sterilisation after her son Sonu was born. In the days after her death, it was Amrika's photograph with two of Chandrakali's children that was splashed by regional newspapers, while television channels featured her seeking justice.
"But now Tirith Ram has kept the children with him in Pune, and doesn't even let us meet them. I don't know what Sonu looks like, or how tall Satyawati and Saraswati are. I am worried because Tirith Ram drinks, and has sent the children to a hostel. I don't know if he treats them well. Chandrakali often told me that she wanted to leave the children here," Amrika claims.
Some kilometres away in Amsena, Ved Ram Nirmalkar similarly pines for his dead granddaughter's children. Rekha, her husband Jagdish, and their two children Kriti and Shubham, two years old and two months old at the time, lived with Nirmalkar in their one-room home when Rekha died after the sterilisation operation. She was 24.
Eight months ago, Nirmalkar says, Jagdish left the house with the children to live in another village, and got remarried. "His second wife later died in a fire. But he has forbidden us from meeting the children. He thinks we want the compensation money. But all we want is to keep our family together and to ensure that he doesn't squander the money and saves some for the children," Rekha's father Dashrath Nirmalkar says.
Asked about her sister-in-law Dularin Bai, Ushawati Patel rummages through a rusted old trunk at her home in Lokhandi village for her photo. Failing, she sits back and sighs, "Is ghar mein nahin hai ab (She isn't there anymore in this house)."
After Dularin Bai died, at age 25, her husband Dinesh lived with his two children Suryakant and Sasikant, 6 and 3, with them for a year. "But he couldn't live with the memories. Vo bacchon ko lekar chale gaye. Kahin aur khet mein kaam karte hain (He took the children and went away. He works in the fields somewhere)," she says. Ushawati's two children have no memories of their cousins, though they too know about that special portion in the small courtyard of the house. "That's where Dularin's ashes were spread," says Ushawati.
The death of the 13 women had another fallout. A rattled Chhattisgarh government stopped holding any sterilisation camps. That hasn't helped anybody. As a health worker in one village says, "These camps serviced a need. In this area, there are still no awareness campaigns, and people don't know of forms of contraception other than sterilisation. So babies are now being born that families can't afford. As long as the government doesn't take measures to change the views on contraceptives, the problem will exist and, without camps, get worse. If a doctor carries out 83 operations in a few hours, in a dirty environment, and the drugs being given are adulterated, the camps themselves are not the problem, no?"
In one village, amidst the small crowd that assembled to hear the victims narrate their story was a woman carrying two children. A mitanin pointed to her and said, "She has three other other children at home. These two were born in the past year."
Dr Yogesh Jain, who runs the Ganiyari-based Jan Swasthya Sahyog, says that the situation is "worse now than before". "The government can conduct the sterilisation camps at district hospitals which have gynaecologists, or at government medical colleges. But because that is not happening, people are coming to us for sterilisation. Sometimes the number of sterilisations go up to hundred in a month. And these are surgeries, which means other operations have to be rescheduled. Sterilisation is a need of the people."
In the Annual Health Survey, 2013-14, the statistics for Bilaspur district, compiled in a report called 'Camp of Wrongs', were stark. The report said that 44 per cent of all women in the district between the ages of 20 and 24 had had two or more pregnancies, 30 per cent of all rural women reported three or more births, and 54 per cent live births were spaced less than three years apart. The numbers for male sterilisation and condom use were 1.1 per cent and 3.6 per cent respectively.
Senior government officials, who refuse to be quoted, repeatedly point out that in its September 2016 order, the Supreme Court had commended Chhattisgarh for responding to the sterilisation tragedy with "due promptitude and seriousness", with both "ameliorative and preventive steps". Said the judgment, "Chhattisgarh has begun placing greater emphasis on spacing measures which will be more effective in population control. Greater emphasis is being placed on vasectomy for gender equity… Efforts are being made to educate people about the importance, benefits, methods and availability of services in health facilities… All in all, the state of Chhattisgarh has reacted positively to the tragedy and has not sought to hide inconvenient facts under the carpet."
The acquittal of Dr R K Gupta, incidentally rewarded by the state government in January 2014 for his work on sterilisation, goes against this observation. While the Anita Jha commission appointed after the sterilisation deaths had noted that he had not followed the standard operating procedure at the camp, the government's own counsel had told court that investigations showed Gupta had carried out 83 operations when regulations state that "only 30 tubectomies can be carried out by a surgeon in a single day".
The government also said in court that Gupta "neither sterilised the instruments available for surgical intervention nor used the hand glove and he failed to take appropriate care or caution in performing said operation… due to which 13 patients out of 83 died (three from septicaemia and 10 due to other reasons)".
Gupta had argued that the deaths did not take place because of septicaemia but because of poisoning, and that hence only the spurious drugs were the cause of death.
Health Minister Ajay Chandrakar told The Sunday Express he is yet to go through the order acquitting Gupta for lack of sanction for prosecution. "We have complied with all of the Anita Jha commission's findings and the Supreme Court has appreciated us. On the R K Gupta case, I have yet to look at the judgment, and can only give you a clear response when that happens," Chandrakar said.
Advocate General J K Gilda added, "What the government does is not in my purview. I have an advisory role in these matters." Asked if the government had sought his advice, he admitted, "Thus far, my advice has not been sought."
In Amsena village, Pitambar, the brother-in-law of Phoolbai Srivas, who was among the women who died after the sterilisation operation, says "the doctor must be held accountable". "My brother Roopchand, who works as a barber, would close his shop and go to court to give affidavits. There is one husband from Dighora who also went to court regularly. Roopchand wants justice for his three children," he says. While Narayan and Nikita are both 7, Hitesh was a newborn when Phoolbai, 28, died.
At 5 pm on a Tuesday, as the sun begins to finally weaken, Dhannalal Yadav arrives at his home in Dighora after a 10-hour shift at an industrial plant. As he walks in, his extended family that has been talking falls quiet. Looking at him, his aunt, cradling a baby, says, "He used to laugh with us before. Now he is always angry. Except with his children."
Dhannalal realises what his grief is doing to the family, but hitting his chest with a fist, says the pain is too much. "People think that the only people who love are those who have money, like in the movies. Par gareeb ke dil mein bhi pyaar hota hai (But a poor man too has feelings)," he says. "Dipti ki jaan meri jaan thi. Meri jaan uski jaan. Jab vo gai, to maine socha main bhi khatam ho jaata hoon. Main ruk gaya bas bachchon ke liye. Socha unka khayal kaun rakhega (I lived for Dipti, and she lived for me. When she died, I thought I should kill myself. I stopped because of the children. Who would have looked after them if I died)?" he says, his voice failing. Dipti was 26 when she died, leaving behind sons Neel Kamal and Indra Prasad, and daughter Tuleshwari — then 8, 4, and a month old, respectively.
After waiting for the moment to pass, Dhannalal speaks up again, this time loudly, angrily. "They gave us money, and that's fine. But the government took away a mother, who the children need the most. Tuleshwari will never know her mother. Nobody from the government ever came to see us after the deaths. If they ever do, I will tell them, do what you want with me but promise that you will send my children to school, give them jobs. Their pain is your fault."
As his voice again quivers, Neel Kamal walks up and quietly slips his hand in his. The touch startles Dhannalal. Looking down, he squeezes Neel Kamal's hand tight. And smiles. From just outside the door, a woman says, "That is the first time this week."http://indianexpress.com/article/india/chhattisgarh-sterilisation-tragedy-two-and-a-half-years-deaths-of-13-mothers-later-4605460/