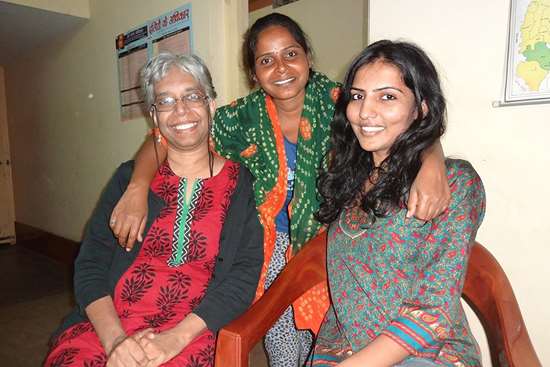 DEVSHARAN TIWARI
THE SHINE
The Handmaidens Of Justice
Three fierce lawyers take on the case of oppressed adivasis in Chattisgarh
Down By The Law
The local people have also seen ­exploitation in the form of land grab for a police academy
It is alleged that land for the Jungle Warfare College was acquired by similar intimidation
***
They are referred to as the didis from Delhi, but only one of them is from the national capital, the other two are from Indore. Lawyers all, Shalini Ghera, Nikita and Isha Khandelwal have emerged as beacons of hope for the 2,000 locals held in four prisons in Bastar.
It wasn't an easy decision for them to move to Bastar. From well-off middle-class families, they were assisting lawyers Pra­shant Bhushan and Colin Gonsalves in Delhi till 2013. Bastar for them was the back of beyond, and barely a fortnight bef­ore they actually shifted, Maoists had ambushed a convoy of Congress leaders in Darbha valley, killing 29 people. While one of them was married and in her 40s, the other two were in their 20s and fam­ily members could not see why they had to risk their lives in a strange, remote place.
It was while practising in Delhi that the trio came across several cases of adivasis from Bastar falling victims of poor legal advice. Many of them seemed to have received no legal advice at all. Encouraged by their seniors and assured of funds arranged by an informal lawyers' collective that included Rajeev Dhawan and Vrinda Grover, the three women arrived in Bastar.
Two-and-a-half years on, the women have not only survived but are household names in Bastar. In the last two years, they have secured the acquittal of around 50 inn­ocent adivasis and bail for a similar number. "They are not lawyers, but gods," gus­hes Devsharan Bhagat about them. Bef­ore they arrived in Bastar, he recalls, lawyers would ra­r­ely take up cases of the poor; and if they did, they'd do so casually. Today, the attitude of the police and the courts too have undergone subtle changes. The police are now more careful before putting people in prison while the courts, after initial hostility, are a little more attentive to their pleas.
Their clients cannot afford to pay them fees but occasionally bring them bananas, says Isha Khandelwal. They are also the only hope of the two local journalists, Santosh Yadav and Samru Nag, held captive for allegedly helping Maoists.
They can take heart from the experience of Lachhu and Bheema. Arrested by the police in 2008, their names did not figure in any FIR. Yet they remained in prison for the next five years till these lawyers stumbled upon them in the court in 2013. They were horrified to find that while the two were regularly being produced before the court, the magistrate had not bothered to ask what they had been charged with and why they were in prison.
But for this accidental meeting, the duo would have langui­shed in jail much longer. In 2014, however, the court was forced to grant them bail. With no one to give surety and fill the bail bond, the three women took it upon themselves to track their family members, update their land deed and produce them as surety. In April 2015, they were acq­uitted.
It has been an uphill task, admits Shalini. In most cases the police, she says, is in the habit of filing eight to ten cases against each local person. They ensure the cases are distributed across the districts so that the accused is kept moving from one pri­son to another, from Jagdalpur to Bijapur to Kanker to Dantewada. In most cases there are no witnesses and most of the time even the public prosecutor fails to appear in court, leading to one adjournment after another.
But before they could start appearing in court, the bar associations in Bastar imp­o­sed a ban on them and pre­vented them from practi­sing as lawyers. They were accused of helping Maoists. The bar associations, say the lawyers, had acted under pressure from local pol­ice. But the trio moved the Chh­attisgarh Bar Council which eventually lifted the ban.
---
By Yashwant Dhotin in Bastar http://www.outlookindia.com/article/the-handmaidens-of-justice/296159