Chhattisgarh  : A controversy has erupted over alleged deployment of a government medical team at the venue of the marriage of the son of Chhattisgarh Home Minister Ramsewak Paikra here. The image of the order copy, purportedly issued by the office of the Chief Medical and Health Officer (CMHO), Raipur district, on June 15, has gone viral …
In the letter issued by the Chief Medical and Health Ministry, an order has been made by Special Secretary of Home Minister Ram Sevak Paikra to impose the duty of doctors. The letter was sent on June 14, 2017, on the basis of which the CMO ordered the deployment of doctors.
According to the order, Lavkesh Paikra is to be married at the Silver Spring Resort, Marriage VIP Road on Sunday i.e. June 18, for which a medical team of 5 people including doctors and nurses will be deployed at the venue. The deployed medical team includes Dr Pankaj Kishore Mishra (medical officer), Malati Modular (pharmacist), Tara Sahu (staff nurse), D. Keshav Rao (employee) and Ashok Netam (fourth-grade staff). A local daily notes that Medical Officer Pankaj Kishore Mishra is posted at the at the primary health centre of Gogaon which is the only health point for a village population of 20,000 .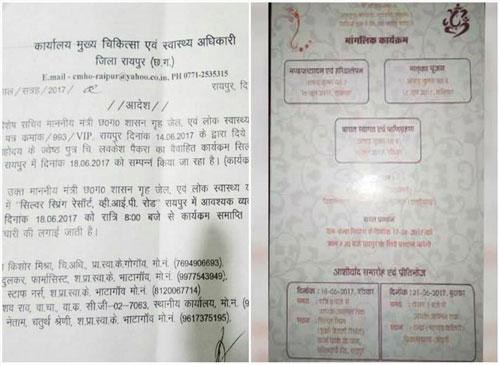 Opposition The order, which has gone viral on social media, has been receiving flak from all sides, with people hopelessly quoting that the VVIP culture in India is never going to end.
The opposition party in the state was also quick to respond to the news.  "How government doctors and medical staff can be deployed during the marriage of the home minister's son? It's wrong and unethical," state unit Congress president Bhupesh Baghel tweeted today along with the image of the order's copy.
It is the violation of the code of conduct for government employees and a disciplinary action should be taken against the CMHO for issuing such an order, the Congress said in a statement. The purported order states that as per the information provided by the special secretary to the minister, the latter's son Lavkesh Paikra's marriage function is to be held at a city hotel on June 18.
Last week, in another display of the VIP culture,  Lalu Prasad Yadav had sparked a huge controversy after he appointed government doctors at his home for his son and Bihar health minister Tej Pratap Yadav.
Read more at Medical Dialogues: VIP Culture: Doctor to Leave PHC post to do duty at Ministers kin's wedding http://medicaldialogues.in/doctor-told-to-leave-phc-post-to-do-duty-at-ministers-kins-wedding/