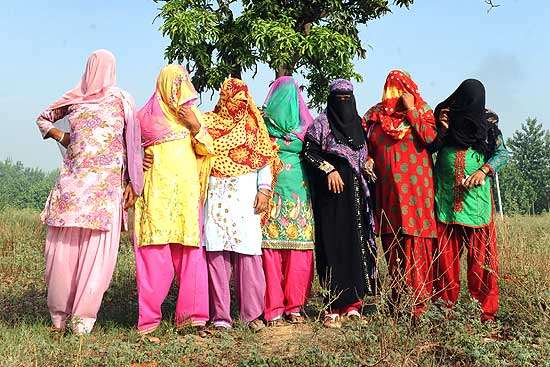 EXCLUSIVE MUZAFFARNAGAR RAPE SURVIVORS
Shadow Lines
Chilling accounts of rape survivors in the Jat-Muslim riot that changed the contours of the UP election
"Why were we raped if a boy eve-teased a girl? Did the whole nation go about raping the women of the community of Nirbhaya's rapists to avenge what was done to her?"
She is someone I'll call S, not because she does not want the world to know her name, but because her identity has to be protected, for the consequences it might possibly have. S is one of the 'Muzaffarnagar rape victims', of the seven whose ordeal is the collective shame and guilt of our entire country.
Around the end of August 2013, word was that a Muslim boy in Kawal village had eve-teased a Jat girl, though the incident remains uncorroborated till date. Her brother and cousin, in an attempt to safeguard their sister's 'honour', apparently killed him and were in turn allegedly lynched by an irate Muslim mob on the spot.
The men of both communities swore revenge. A congregation of Muslims did so after Friday prayers in Muzaffar­nagar town; thousands of Hindu farmers gathered in Nanglamandor village some 15 to 20 km away on September 7, 2013, to ensure the avowed objective of 'beti bachao, bahu banao (save your daughters, make theirs (Muslims') your daughters-in-law'. Several khap panchayats in the vicinity issued this call, with help from local BJP leaders, including MLA Suresh Rana, the recen­tly-elected Hukum Singh, besides Sangeet Som and Sadhvi Prachi. The panchayat also declared a war against 'love jehad', perceived by the Hindu right-wing as an organised attempt by Muslims to "make Hindu girls fall in love with Muslim boys and marry them".
It didn't take long for the patriarchal, sexist urge of the panchayat to put women and their 'honour' in the centre and transform it into communalist, political tinder. Rumour provided the fuel that would soon feed the raging communal fire.
The following morning, several villages woke up to the news that a Muslim mob had attacked groups of Jats returning from Kawal, killed them and dumped their bodies in Jauli canal, a Muslim-dominated area. Everyone heard it, in Lankh Bavdi, Lisad, Phugana, Kutba-Kutbi, Kirana, Budhana and Bahawdi. Thus began a vicious circle of violence and brutality. Mass rapes and sexual violence against women were freely used as instruments of asserting the power and authority of one community over the other. Officially, 72 people died, seven women were raped and a few hundreds injured. But visits to Ground Zero and conversations in relief camps suggest that many hundreds were killed, close to 100 women raped and over a lakh displaced from their homes forever.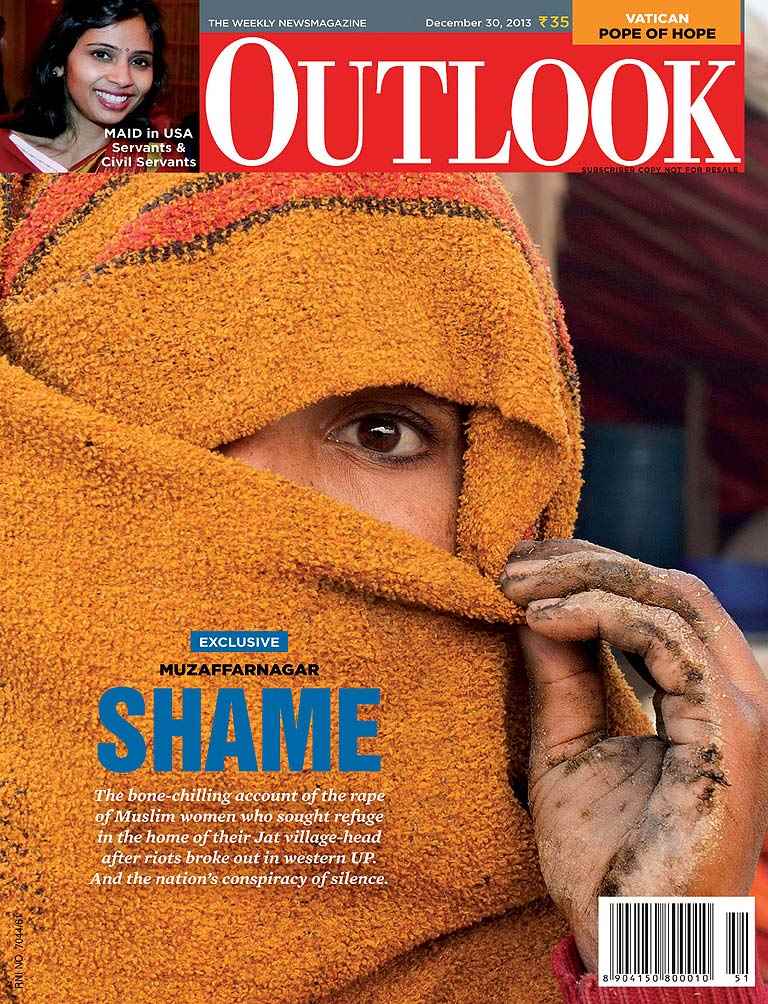 Nineteen women were subjected to rape, sodomy and murder of their kin in the compound of the village headman of Lankh village in Shamli district, an incident Outlookreported on extensively in its December 29, 2013, cover story, Thread Bared. They weren't the only ones, but 'honour' it was once again that came in the way of their speaking about it. Finally S and six other women dared to come forward and register cases against their rapists. Appearing on these pages are the stories of their courage—and theirs alone.
Six of them have received the Rs 5 lakh compensation from the Uttar Pradesh government and a security guard each on the directions of the Supreme Court. Yet, not a single chargesheet has been filed, nor any arrests made in the last seven months, when the first case was registered.
Deputy Superintendent of Police Shailendra Lal, praised by top politicians as well as the Supreme Court for "the good work of saving property and lives" during the September 2013 communal riots, was suspended on June 18. Lal in his writ petition to the apex court says he got distress calls from BJP leader Sanjeev Baliyan in April this year. An accused in the Muzaffarnagar riots and now the minister of state for agriculture in the Union cabinet, Baliyan pulled up Lal for stopping local BJP leaders from pressuring voters on polling day in Muzaffar­nagar. "Bahut time se teri harkatein dekhta aa raha hoon (I have been noticing what you have been doing for a long time now)," he apparently told Lal, "agar hamare khilaf aur kaam kiya to tujhe dekh loonga (if you continue to work against us, it won't do you any good)."
For the seven who dared to rise above social stigma and opposition from within their families and community, new threats flow incessant from the accused, local leaders and police, asking them to withdraw their cases. Kf, one of these seven, alleges that the current pradhan of the village, Thaam Singh, reached out to her on behalf of Baliyan, to accept Rs 30 lakh and drop the case.
Special Investigation Officer Mala Yadav, who has been appointed for these cases, refuses comment on the slow pace of investigation.
What is refusing to be stifled, however, is the voice of courage these seven women have displayed, whose bitterness, rage and agony are tempered by the stronger determination to bring the perpetrators to book, and move on. Read these voices also as a challenge to the selective outrage of a nation that bleeds for a while when one Nirbhaya is raped but chooses not to say a word when countless other Nirbhayas are subjected to such ignominy in their daily lives.
---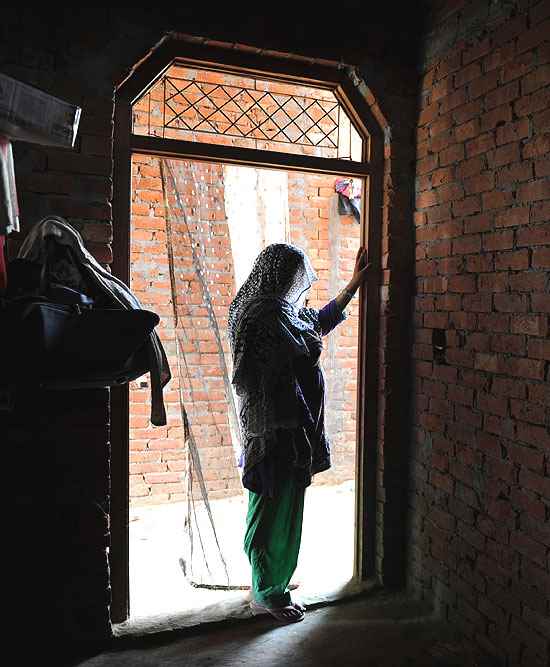 A Settling Of Dues
Sb, 40, Fugana village, Muzaffarnagar district's
Four accused Chargesheet yet to be filed
"They inserted a big stick into me, and I started bleeding. They revelled seeing that, then raped me."
To a prejudiced mind, she might not seem a typical rape survivor. Her presence is dominating, her voice loud and hoarse. As she leads me to the courtyard of her house, away from the men, to talk to me in private, she slaps her seven-year-old son for following us. She's also quick to send her teenage daughter away. "I haven't told my children what happe­ned. I don't want their minds to be conditi­oned by this," she tells me as she gestures for me to sit on the jute cot.
"When you come out with this report, send me the link," she tells me. I will see it on the internet on my phone."
Her husband, M, a salesman in Rajasthan, came only 15 days after she was raped and escorted to the relief camp by paramilitary forces. He left a month later, after helping her file the case. She has been by herself since then, taking care of her four children and her old but supportive mother-in-law.
"I had worked in their fields as an agricultu­ral labourer for 15 days last harvest season. I kept pleading for months, but I never got paid. They said because I was fat, I didn't do as much work as the others," says Sb.
Since news of the violence had already reached the village on September 7, her mother-in-law had left with three of her grandchildren to a relative's place in Loni the day before. "I had feared more for my teenaged grand-daughter," says J, the grandmother, "but I never imagined they would do this to her mother."
Four men, whom she remembers as Rahul, Mohit, Sudhir and Arvind entered her house and put a gun to her temple. "They said if I screamed, they would kill my two-year-old son sleeping on the cot," Sb recalls in horror. "They inserted a big stick into me, and I started bleeding. They revelled in seeing that, and then proceeded to rape me."
She came to with a cellphone call from her brother-in-law, Ashu. "He called asking for help after one of his hands was maimed in the violence outside. I collected myself, gra­bbed my son and ran to the village common ground where the PAC had arrived," she says.
A day before my visit, Rambeer, father of two of the four alleged rapists, and on whose field Sb had worked, had come to threaten her. She had forgotten her aukaat (station in life), he said, and that it wouldn't take him long to make her daughter disapp­ear. "It's not new for them," Sb tells me. "Jheemar and Chamar women on their fields are raped regularly before getting payment. I did not agree to it, so I was raped during the riots."
---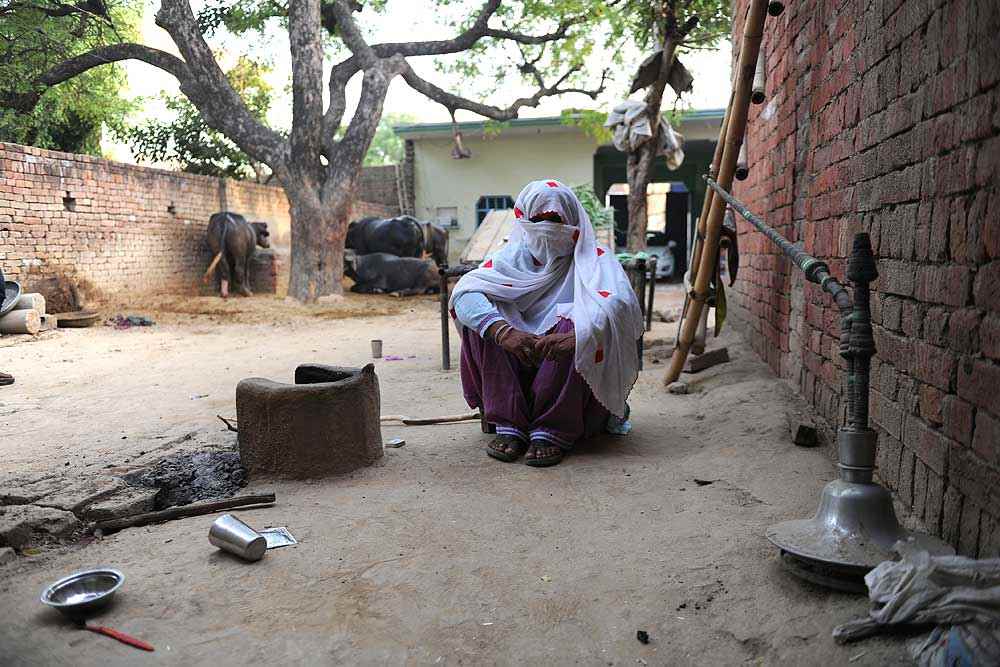 Of Sons And Daughters
Kf, 48, Fugana village, Muzaffarnagar district
Four accused Chargesheet yet to be filed Compensation not received
"(Raped by the local grocery owner, the tailor), "I fainted by the time the third one started."
"I married off one of my daughters in the relief camp itself before registering the case," says Kf. "After all that happened, I wasn't sure if I'd be able to protect her. Also, no one would have married her thereafter."
Kf was gang-raped by Devender, the local grocery shop owner; Sunil, the tailor, Ram Kumar and Dharmendra. "I fainted by the time the third one started."
When the forces came to pick them up later, the naara (drawstring) of her salwar had broken. Gesturing, Kf says she just clutched her salwar tight and sat meekly in the corner of the truck.
She withdrew her case after armed Jat men held a gun to her son's temple in the middle of the town square, asking her to withdraw the case. "He is my only son. I cannot even have any more children, so I got scared." But when she saw other rape survivors filing cases, she got back to fighting the case.
Recently, one of the Jat men came up to her husband and said, "Ab to apne ghar ki sarkar aa gayi". It's nothing new, she says. "Sloganeering like 'Musalman ke do sthaan, Kabristan ya Pakistan' had peaked a few months before the riots," she says.
She has stopped sending her son to school now. "I feel scared." She was offered Rs 30 lakh recently to drop the case. "I have been raped but have not stooped so low yet," she declares.
---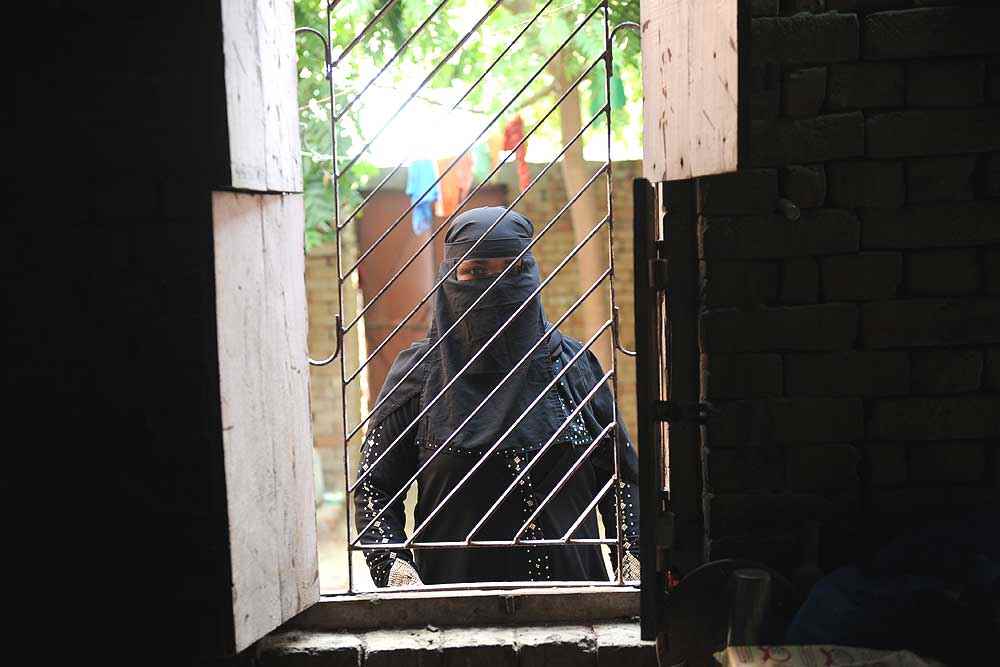 The Perils Of A Glib Tongue
S, mid-30s, Lankh village, Shamli district
Three accused roam scot-free Chargesheet yet to be filed
Compensation received
"Before they could break open the door, I ran out into the cane fields. Only to realise I had left my son back."
Short, plump and so full of life that you do not cease to get amazed. Mother of two boys, she says, "I am not like those Muslims who think that it is Allah's wish to keep having kid after kid. These two are enough for me. I want them to go to a proper private school, not a madrassa. My mother says it is this glib tongue of mine which has brought this misfortune on me."
She serves me chilled Maaza, bought a few minutes ago from the shop next door. "It is mango season," she tells me. "I would have fed you Chausa had you come to Lankh." She stares into the vacuum a brief second, then resumes, with a smile, "Anyhow, for now, let's make do with this." Chausa is a variety of mango grown in parts of western UP, and hailed as the king of mangoes.
She puts a stool in front of me, places the bottle of Maaza on it, drags the new pedestal fan from the front room and switches it on. "Last night was the first in 10 months that I slept under a fan; we had three at our tailoring shop back home," she informs me. She and her husband V were both tailors before their shop, their belongings and life was set on fire. "Now, a journalist didi just like you has bought us a sewing machine. One day I hope to open a sewing school," she says.
On that fateful morning, September 8, her elder son had been down with fever. V was with him in hospital when the violence broke out. "I heard my uncle and aunt in the neighbourhood calling out to me to run." She couldn't make sense of what was happening till their screeching reached her before the mob did. "Before they could break open the door, I ran out of the back door, straight into the sugarcane fields. I stopped only an hour later to realise I had left my younger son beh­ind," S recounts. She was hiding behind the Bright Zone School on the Muz­affarnagar-Shamli highway when three men—Kuldeep, Sikander and Mahinder—caught hold of her, and raped her turn by turn. "I couldn't get up till 4 or 5 in the evening when I heard a tempo. It was taking several people from my village to Loni. A woman gave me a hand and I got on to it," she says.
V and her sons found her three days later, at the Loni relief camp. "I told him what had happened to me only the next day. He was supportive enough to tell me it was not my fault." She looks out at her husband, standing at the far end of the compound they have bought with the money received as compensation. "Unlike other rape survivors from my village, I've decided to fight my case and will not withdraw it because I want other women to speak out as well," she says determinedly.
Moving on is essential. S is doing her best. But every so often, it sits between them, the 'taint'. "Now, if he disagrees with me even a little, I think it's because of the rape. Earl­ier, when we'd fight, I'd give it back to him. Now I keep quiet. I've learnt to tame my tongue."
---
The Walking Dead
Fm, 52, Fugana village, Muzaffarnagar district
Five accused Chargesheet yet to be filed
"Boys my son's age did not flinch even for a moment before pulling my salwar down." 
She had taken her cattle out to graze that morning when five men dragged her into an empty house, and raped her. "Boys my son's age did not flinch a moment before pulling my salwar down," says Fm, shuddering. As if it was about keeping count. They even described my genitals to the boys in the house next door, who replied, 'The one here is masaledar'." Ajit Singh, Saini, Vedpal, Sachin and Yogesh then vandalised the house, and left. "I wondered why they didn't kill me like the men they had murdered later. For women, I guess, it means the same thing." She is among the Walking Dead.
Her husband had passed away a couple of years earlier, leaving behind two sons and three daughters. "When Mala Yadav, the SIT inspector, came to record  my statement, she asked others in the camp, 'Did anyone see her crying? Did she tell anyone of you about the rape?' How will they know about it, I wanted to ask her," she tells me.
The men mentioned in her complaint know each word of what she had told Yadav. "Unlike others, I am a woman who is revealing publicly that she was raped. Why   will I lie? After the investigation, even those who didn't know I was raped now know, thanks to the police's indiscretion," says Fm. Back in Fugana, accused brothers Ajit and Saini say they have not even seen this woman ever. "We want a CBI investigation," they tell me. "These cases are politically motivated."
Her sons, both teenagers, have become part of the jamaat that has been managing the relief camps. "One day they told me to cover my hair. I was shocked to see them behave so. But they too must have heard details about their mother's rape to feel this way," she says.
---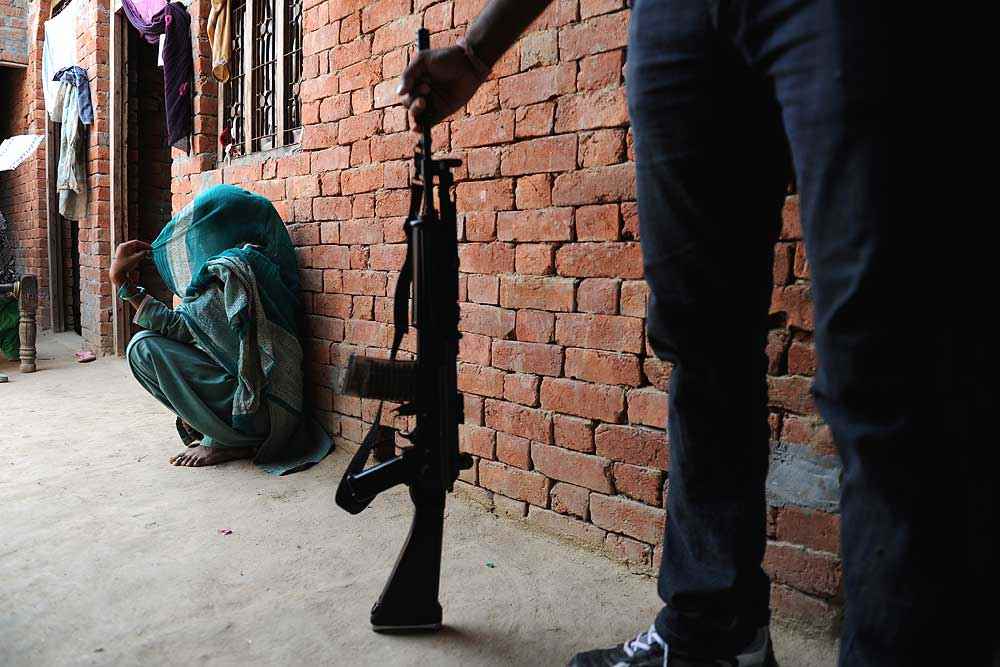 The Ghosts Of Yesterday
T, Early 20s, Fugana village, Muzaffarnagar district
Four accused Chargesheet yet to be filed
"They raped me as my little girls watched and cried. I begged them to leave me alive for their sake."
There cannot be a crueller joke for a rape victim to fight a case when she is eight months pregnant for a gang rape that took place nine months earlier. "The investigating cop asked me, 'kiska hai (whose is it)', with a smirk. Fellow women also asked me, 'itni jaldi kya padi thi(what was the big hurry)?' What do I say to that? As if the rape before or the pregnancy afterwards were in my hands," says T, as she runs a comb through her hair. Dressed in an olive-green salwar-kurta, she is a mother of three girls and hopes her fourth will be a boy.
On the morning of September 8, she was cooking in the kitchen when Ranbir, Sanjeev, Pushpendra and Rupesh broke open the wooden door and attacked her. "They raped me as my little girls watched and cried. I begged them to do whatever they wanted with me but leave me alive for my girls," she says matter-of-factly, emotion long elided out of her speech.
Her husband, X, had been out with fellow Muslims to meet Harpal Singh, the former pradhan of the village, to ask for help. "While he was assuring us that nothing would happen to us, his cousins and relatives were raping my wife," he  says.
Harpal too has been accused in cases of murder and rioting. "When he met me recently at the police station, he told me, 'That day you were pleading before me, today you want to take me to court'," says X. "He said this in front of the police officer, who also happens to be his nephew." X claims that the police records videos of their statements and then shows it to the Jats in the  village so that they can identify the complainants against them.
In January, X's cousin was booked for rioting, robbery and having links with the Lashkar-e-Toiba. When reported in the media, the charges were removed overnight. "During interrogation, he was asked to convince me to withdraw the case," says X, as a guard provided to the couple by the Supreme Court recently cleans his gun nearby. "I can go out only with them now," says X. "Even now, if you step out, you will find some or the other Jat lurking in the vicinity to negotiate with riot victims who have filed cases of rioting."
T says the only other rape case she had heard of until then apart from Nirbhaya's was of a Brahmin girl in her village. "Sanjeev's father and relatives had raped and killed a girl a number of years back in our village because she was found with one of the Jat boys in a sugarcane field. Her ghost can still be seen in that part of the village," she says. "After the riots, the whole village will be full of ghosts. I don't want to go back there, ever."
---
A Matter Of Honour
F, mid-20s, Fugana village, Muzaffarnagar district
Four accused Chargesheet yet to be filed
"My lower abdomen hurts, still does, continuously. I would bleed often. Only my husband knew."
When I reach F's rented accommodation in Kandhla, she is busy washing off the dried henna from the soles of her two-month-old daughter's feet. "This is to keep her body temperature normal in this killing heat," she tells me.
She was three months pregnant with this child when she was raped by four men. She didn't recognise the men who barged in with their faces covered and swo­rds and guns in their hands. She heard them call each other Nilu, Badlu and Amardeen. "Two held my hands and legs, while the others raped me," she tells me. "They said if I told anyone, they'd kill me. I kept quiet because I didn't want to faint or die."
Her husband, who had been on the terrace when the men broke in, ran away with their five-year-old son, a student of Class I. Paramilitary forces rescued her later in the evening, when all Muslim families were ushered into relief camps.
F lived in the Jogia Khera relief camp for the next two-and-a-half months. "My lower abdomen hurt, still does, continuously. I would bleed often and when I met doctors at the relief camp, they'd tell me it was because I was pregnant. I had obviously not told them about what had happened to me. Only my husband knew and he asked me to keep quiet about it," she says. She relied on desi medicines to ease the pain and eventually had to have a caesarian section for the baby.
W, her husband, was a salesman with bag manufacturing companies in Rajasthan. The twentysomething hasn't returned to work in the last nine months, constantly guarding his wife and family. "He is too scared to leave us alone," says F. "But how will we manage if he does not go back to earn. Please don't tell him I told you this."
W sits on a cot outside, dressed in a plain vest. "I know rapists have no religion," he tells me, "but just 20 days back, when a woman was gang raped by 7-8 Muslims in Shahpur, the police took immediate action and arrested the people involved. The same police has done nothing in our case till date."
Asking for directions to F and W's house, a man identified him immediately: "Wahi jo bhaag gaya tha jab uski biwi ke saath galat kaam ho raha tha? Ajeeb aadmi hai (the same one who ran away while his wife was being raped? Strange man."
Offering random and extra information to strangers is commonplace in the rural parts of north India. As is becoming the butt of misogynist jokes in the patriarchal set-up of western UP, the pressures of which justify W's passive aggression. "Everyone knows my wife was raped and I couldn't save her. My honour is lost. The least I can do now is fight it out in court and show them their place," he says, teeth firmly clenched. "Friends and relatives of those who have been named in the FIR keep visiting this area to get us to compromise. The other day, they threatened to burn down our present house. I chased them out with bricks. Enough is enough, this time it will be an eye for an eye."
---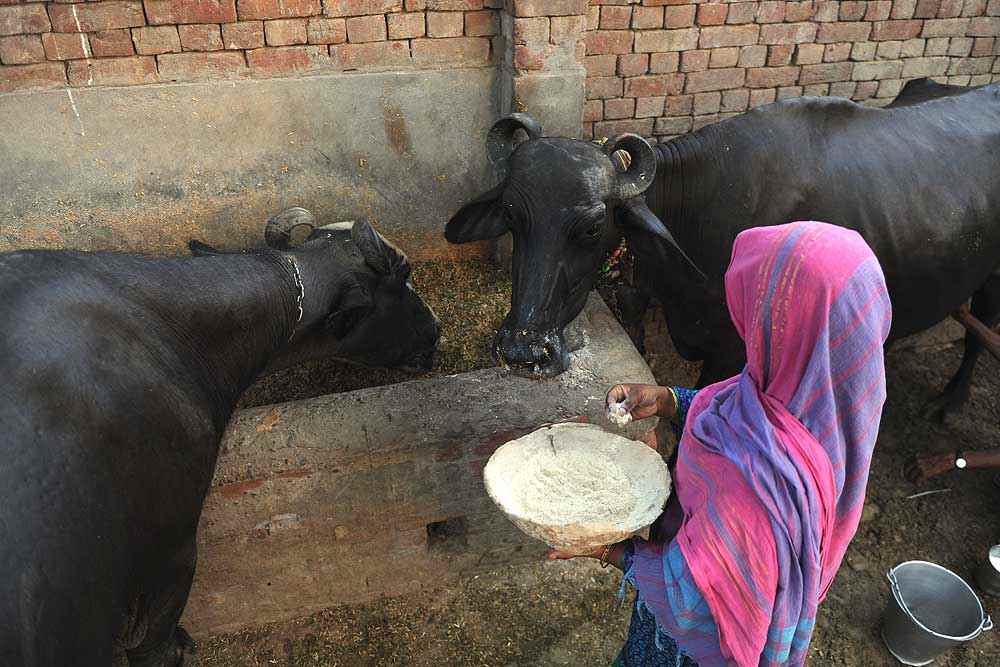 Impotence Is Not An Empty Rage
K, 50, Fugana village, Muzaffarnagar district
Four accused Chargesheet yet to be filed
"When investigating officer Mala Yadav came to our camp, she asked if anyone had seen my torn clothes!"
"They laughed at me for filing a rape case. A Jat man walked up to me and said an infertile (woman) now wants to feel attractive," says K. It's true she filed the case because she does not have any children. She thought it would be easier for her to fight it out compared to the other rape survivors who have family honour to think about.
"Recently Naresh Tikait, president of the Bharat Kisan Union, said that what had happened to us was a trailer, and the film was still pending. What more does he want," asks K in despair. "The police is pressuring us, the locals are threatening us and our own people are scared to talk to us for fear of the influential Jats."
On September 8, her husband, who was on the terrace, jumped when he saw the armed mob metres away from the house. K was downstairs when four men caught hold of her and raped her for half an hour.
"When Mala Yadav came to record my statement, she asked people in the camp if anybody had seen my torn clothes. She even said that having a full-time guard sent by the Supreme Court would not be enough and that I should compromise," she tells me, eyes red with unshed tears.
In Fugana, Mehak Singh, father of the accused Ramesh, says, "Has she looked at her face? Such an old hag. Why will my son rape her?"
Z, her husband, is the government-appointed paroikar in all of the seven cases. He ran a dairy in the village and had invested in the small businesses his nephews ran. "The pradhan that day confused us by telling us that we were safe and nothing would happen," he says. "We didn't even get a chance to come together to face them." Says his wife, "I don't know what is better, being infertile or being raped. With a rape, you can at least fight back. I am doing exactly that."
---
By Neha Dixit in Muzaffarnagar and Shamli districts; Photographs by Jitender Gupta
Read more here- http://www.outlookindia.com/article/Shadow-Lines/291494