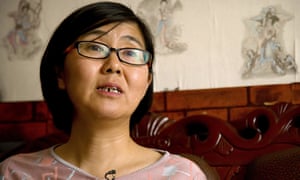 China has has put on trial a number of detained human rights activists, handing down a suspended three-year sentence to one activist after he reportedly confessed to colluding to subvert the state.
Zhai Yamin, who has been accused of working with rights lawyers from the Fengrui law firm, was given a relatively light sentence, suggesting he might have cooperated with the investigation.
Authorities have detained and arrested hundreds of activists and lawyers since the government deepened a crackdown on dissent in mid-2015. Many of those detained were associated with the Fengrui law firm, previously headed by Zhou Shifeng, who is also expected to go on trial this week.
On Monday, one prominent lawyer at the firm, Wang Yu, appeared in a videotaped interview, denouncing Zhou Shifeng and blaming "foreign forces" for the law firm's activities.
"I am Chinese and I only accept the leadership of the Chinese government," Wang is seen saying in the videotaped interview on ONTV, a website affiliated with Oriental Daily, a Hong Kong newspaper.
Human rights groups say Wang's videotaped interview was clearly coerced and part of an attempt by the Chinese authorities to lend legal legitimacy to its year-long crackdown.
"She and others detained have been held incommunicado, without access to lawyers of their choice, for a year," said Maya Wang, China researcher for Human Rights Watch. "In that situation, it is very difficult for someone to maintain their stance."
Wang Yu has reportedly been released on bail after participating in the videotaped interview. Yet her husband remains in detention, facing possible trial on subversion charges, and authorities are reportedly closely watching her grandparents and teenage son. That means Wang's freedom and her family's safety could be threatened if she were to speak out, according to the China Human Rights Lawyers Concern Group, which released a statement on Monday.
Tuesday's trial took place at the Tianjin No 2 intermediate people's court, 60 miles south-east of Beijing. The courthouse has been the scene of recent skirmishes between authorities and the wives of the detained lawyers, who have been trying to find out trial dates for their husbands, as well as their medical conditions.
According to a report by China's Xinhua news service, Zhai was charged with plotting with other lawyers to "attack the national legal system and provoke people's hatred against the government". He reportedly confessed to organising protests and trying to foment "colour revolution", a term Beijing often uses to refer to the type of protests that brought down the Soviet Union.
Zhai's three-year sentence was suspended for four years, meaning he will live under restrictions and surveillance during that period, and could be sent to prison if he talks to journalists or resumes his public activism.
In her videotaped interview, Wang said members of the law firm received legal training from foreign groups that held workshops overseas, including in Thailand. The reference to Thailand apparently seeks to link the Fengrui law firm to training sessions purportedly led by Peter Dahlin, a Swedish national detained in January in China, and later deported after he gave a televised confession. Wang did not mention Dahlin by name.
Maya Wang said China was sending out messages both at home and abroad with its prosecutions of Dahlin and Fengrui. The Communist party, she said, "is very leery of any kind of outside support that would create an alternate vision for China's future".