Chithralekha, the Dalit woman auto rickshaw driver from Payannur (who has been fighting the CITU/CPM in her locality for a long time now), and her husband Shreeshkanth, have been picked up by the police and arrested  on july 17, 2013 , on the non-bailable offense of obstructing a government official in the conduct of his duties.
The Government Official who is the Jila Panchayath SC officer ( M B Muralidharan, an upper caste man) had withheld Chithra's loan, and she had questioned him on this. This happened in the month of January 2013. When Chithra questioned him, he abused her in the most derogatory way. Citing all this, Chithra had complained to the SC/ST commission and they had called her for a meeting about this case in June 2013.
The said official was to be summoned under SC/ST (Prevention of Atrocities) Act. However, instead of doing that, the police has instead arrested Chithra and is right now taking her to the magistrate. They arrested her in a most stealthy way. First they booked a non existing traffic offense case against her and took away her autorickshaw by crane. When she went to inquire about this, she was told that there is a case against her, and she was arrested.
Read below when Chitra was attacked by a mob of 30 men in the month of May, 2013 – she writes her account of that horrific incident and the attitude of the police towards her and her family.
What I have to say: Chithralekha
On May 18th, 2013, Chitralekha (the dalit woman autorickshaw driver from Payannur, Kerala, who has been fighting CITU/CPM men and who has faced repeated attacks from them in the past) and her family were attacked at her home by a mob of 30 plus men, including her neighbors. This article is her account of what transpired on that day.
On May 18th I was on my way to the railway station to take my daughter to her hostel in Trivandrum. We wanted to catch the Malabar express at night. It is because I am afraid to keep her here that I am sending her so far off to study. The time would have been around 8, 8.15. Some Bengali workers were there in my house as some construction work was happening in my house that day.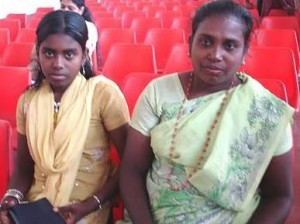 We had just got out from the house into the narrow road in front of my house. Suddenly Ravi, Manoj, Pradeepan and a few others came forward to attack us. When my brother resisted they started beating him up. I took the auto and ran inside with my daughter. My husband Sreeshkanth was in the house as he was sick with diabetes. My brother also came running in. By then they had called people over the mobile and a crowd gathered in front of my house.
The compound in front of my house was filled with people. Around 30 people would have been there. They were scolding us loudly from outside. "Come out we will hack you to pieces," they said. "You don't know the CPM people of Thaayathu Vayal (a neighbouring area) if you play with us we will cut your leg" they said. The Bengali workers in my house are witness to all this. Though they ran away on seeing the crowd, they are ready to talk about all that they have seen to anybody, including the police. They told me this today.
When we called the police, instead of asking us what happened, they kept teasing us saying "where is your house" and "we don't know the way to your house." They very well know my house and still they were making fun of me like this. The crowd was screaming loudly from outside. They started breaking the glass of the house. They damaged my auto. Tore its hood.
They stood outside and started threatening us loudly. We called the police again and again. They must have heard the sound of people shouting and still they didn't do anything. We thought the crowd was going to kill us. In desperation I called many friends and a message was posted on the facebook page of SAVARI, asking everyone to call the Payannur police station. Many people called the police. The police told different stories to different people. To some they said that they didn't know me. To some they said they have already gone there. To others they said they don't know the way to reach my house. All these are lies. Because I have gone to the Payannur police station several times to give various complaints. The police there know me very well. Maybe because they were getting calls from many places the police soon came to my house. And as if they knew about it the crowd left.
The first thing the police asked when they arrived was about whom we had called. All the people who came to attack us had left by then. We could only tell them the names of the four people we knew. But we told about how the crowd had said – don't play with CPM people from Thaayathu vayal and how there were around 30 of them. We also have now given a written complaint. A police man there told us that attacking a person's house is a non-bailable crime.
Yet inspite of this the police only caught Ravi. He is a full time CITU worker. It is only because many people called that Ravi was caught. He was just in the police station for one hour. It was a huge crowd that attacked us. They themselves were saying that they were  CPM people. We told the police this. But why would the police, who themselves are part of the CPM ever catch the real culprits?
Now the police are making up the story that it was our family members who attacked at us. Now they are saying that this is not a CPM or CITU attack. That this was just a dispute over the pathway in front of my house. It is being said now that there was some ceremony happening in Ravi's house and that I had blocked the way to his house with my auto.
Someone like Venugopal (KM Venugopal) who knows all my problems from the beginning to end, it is sad that he is spreading such false news on Internet. I don't know who Venugopal is afraid of, but the false police story is gaining strength because of this. Anyways everyone should know what I have to say. That is why I am writing this.
The police is now spreading the story that this is a road dispute and that it involves my relatives, and thus it is a personal matter and has nothing to do with the CPM. Social activists who have stood by me in my struggle against the CPM are also spreading this police story on Facebook without even a critique.
What I have to say is that this police story is a total lie.
I don't have any dispute with Ravi regarding the small strip of road before my house. That road in front leads only to my house. My house is the last house in the area where I am living. Ravi lives much ahead. He cannot use the road in front of my house to get to his house. In fact, if he uses this road, he will just lose his way. The people in the house just beside my house can use this way to get into their compound. However, I have a clear agreement with them over this. I do not have any dispute with them regarding this way. They are ready to say this to anyone, and they told me this even today.
CITU/CPM has used this false road dispute case and tried to harass me before also. In 2012 December CITU/ CPM had attacked me like this with Ravi in front. I had given a case against that too. Ravi is an active member of CITU. He also is from the Pulaya community to which I too belong. That is why the CPM is using him like this. The CPM has always used marginalized OBCs and Dalits to get their work done. I have given 7 cases against them from the time my auto was burned. The police only arrested one Thiyya man and now Ravi who belongs to the Pulaya community. People like Ajith who gave leadership to all these attacks are roaming free even though there is an arrest warrant against him based on the Prevention of SC/ST Atrocity Act.
Now the next lie is that Ravi is a family member. Even through marriage, both Ravi and his wife are not my family members. The police have used this lie to dilute many cases before also. In December 2012 when Ravi and company beat me up, the police took the same stand. Many people who were with Ravi then and who manhandled me were not even Dalits. The police still sent a report to the higher ups saying that they were all Dalits and there were my family members.
It is because of such stories that I am not getting any justice from the police.
In this, the locals and many intellectuals are all colluding with the police. They know that if they don't do so, they too will be attacked by the CPM. Many people cannot stand by me because of this fear. That is why I often also have to come out for support. In the beginning they even turned my own brother against me and kept him with them. But now he somehow escaped their trap. That is why now he is the one who gets most beaten up. Even in this case, he is the most injured.
CPM always followed this tactic. First they would attack me and then make up stories that made me look like I was the culprit or was in the wrong. When in 2005 I brought out the casteist violence of CITU in the auto stand, they put posters all over my locality saying that I was a bad woman. The news spread even to distant auto stands. Now everyone thinks that I was a bad woman and that is why the CITU was trying to control me. Now because of this, I can't even talk to anyone here. Even many newspapers and channels have this opinion about me.
Whatever is done to me, how many ever people beat me up in broad day light, I am said to be blamed for it. In January 20th 2012, CITU people beat me up on the main road. They then called the police and they also beat me up. This happened when we had stopped the auto to buy some medicines. But they made up this story that my husband and I were drunk and we were being a nuisance to people. This story spread throughout Payyannur. It is after a Fact Finding Committee comprising of some prominent people, came to Payannur from outside, and proved that I was attacked for no reason and that I was not drunk that the CITU/ CPM version was exposed
In short, this time too, what the police are saying is a total lie. There is no dispute whatsoever regarding any pathway. On the contrary, around 30 people attacked me, and they themselves kept saying that they are CPM people from a nearby area called Thaayathu Vayal. We called the police for around one and a half hours and still the police didn't come. It was after we called others and the news spread on Facebook that many people started calling the police station, forcing the police to come. When you reduce all this to a mere road dispute, the police and the social activists are being blind to the violence that the CITU/ CPM has been unleashing on me for years.
It is through such attacks and threats that CPM is ruling over Kannur. They have attacked not just me, but many women auto drivers from marginalized communities. A few years ago, they have even burned another Dalit woman's auto. Everyone knows that the CPM not only attacks women who drive autos, but others too. The case of the great man Kallen Pokkudan is the most famous. He has struggled against the CPM for years. They have often used Dalits against him too.
It is not my fault that the attacks on me are not stopping. It is CPM that should change to stop this. And the police and the intellectuals should stop supporting the violent casteist politics of CPM in various ways. We have to save the Dalit men who are trapped in this. Everyone has to see how in spite of having no resources I am struggling hard to bring up my children and to give them an education. It is not me who is to blame. It is the people who are attacking me in this cruel manner who are to be punished.
If you keep blaming me like this, it is only to hide the criminal acts that are happening. The people against whom I have registered cases have to be punished. The society should also understand my situation and stand by me in my struggle against CITU/ CPM.
This is what I have to say.
Eramangalathu Chitralekha
 Source- http://www.dalitweb.org/?p=1796

Related articles