There has been a surge in anti-Christian attacks following the election of Narendra Modi's Hindu nationalist government
The strains of Hindi carols have rung out in the Aligarh Church of Ascension every Christmas since 1858. Armed police on the grounds is a more recent tradition.
This year the officers will be out in force. On Thursday night in the north Indian city, Rahul Chauhan was playing tabla drums while the rest of his Seventh–Day Adventist choir sang Christmas songs in the home of a follower.
Outside, a small group of men had gathered. One forced his way into the room. "He kicked the musical instruments before trying to attack my brother with a knife," said Jitesh Chauhan, a singer in the group.
He claims the men cast anti-Christian slurs and damaged the instruments. Rahul and the 30 carollers were unharmed but shaken.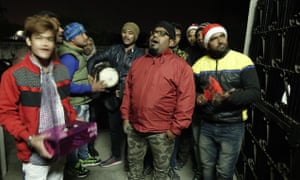 Days earlier in Aligarh, hardline Hindu activists distributed letters warning Christian schools in the city against involving Hindu students in Christmas activities. In nearby Mathura, seven Christians were arrested by police while praying inside a home. In Satna, Madhya Pradesh state, an entire choir was detained while going door to door.
Worries about religious persecution in India usually centre on the country's 180 million Muslims. Lynchings of Muslim dairy and cattle traders by "cow protection" vigilantes have become increasingly frequent. Hindu groups including members of the ruling Bharatiya Janata party (BJP) openly lobby to stop Muslims buying property in Hindu neighbourhoods.
The series of Christmas incidents has turned the spotlight on another minority. More quietly, Indian Christians are also feeling the walls close in, says John Dayal, the secretary general of the All-India Christian Council, following a surge in attacks last year. "Anything that impacts the Muslims in a different way impacts the Christians," he says.
In 2014, Indians elected a Hindu nationalist government in a landslide. Its leader, Narendra Modi, is a lifelong adherent of "Hindutva", the conviction that India's culture and institutions ought to reflect an inherent Hindu nature. Religious minorities – regarded as Hindus led astray by foreign influence – are tolerated, provided they acknowledge Hindu hegemony.
Modi has repeatedly emphasised his government will promote "complete freedom of faith", but his elevation has been a green light for radical Hindutva groups, says Dhirendra K Jha, an author whose latest book studied these "shadow armies".
"After Modi became prime minister, these groups started thinking they have assumed power, it is their government," Jha says. "So they have gone amok. They don't fear law and order or any democratic institution. They are on a rampage."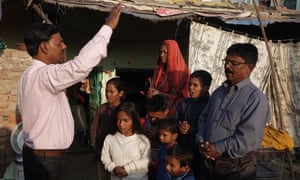 A "perfect parallel", he says, is the growing boldness of white nationalist groups in the US under Donald Trump.
"Modi would never come out and openly help them," Jha says. "But he rarely criticises them. Because of his silence, the message goes to the state machinery that they don't have to take action against them."
One popular calumny is that Muslim men are trying to woo Hindu women as part of a "love jihad". The fear is regularly fanned by senior BJP leaders. Two weeks ago, a Rajasthan state man, Shambhu Lal Raigar, raved about love jihad as he used a pick-axe to murder Mohammed Afzarul, a migrant labourer, in an attack filmed and posted online.
For Christians the primary charge is of "forced conversions". "It means putting pressure on people to convert, sometimes physically," says Dayal. "But according to [Hindutva groups] it could mean anything from praying for Jesus to heal you, to offering to put you in a Christian hospital or school, to paying a person American dollars or British pounds."
In practice, any kind of public prayer in the presence of Hindus – particularly the downtrodden Dalits, formerly "Untouchables", whose leaders regularly threaten to abandon Hinduism – can attract police attention.
One morning in October, a group including Hindus and Muslims arrived at the Faith Assemblies of God Church for a workshop on accessing government welfare. The crowd piqued the suspicion of neighbours, who tipped off local hardliners.
"Around 20 or 30 people of this group came into the church and started threatening people," says Joel R George, who assists his disabled father to run the ministry.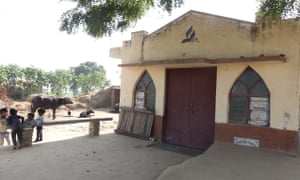 Police arrived in their wake and detained several people including George, releasing them after it was clear no religious ceremony had taken place.
"The men made videos and interrogated people," George says. "They asked: are they giving money to you? Are they converting you?"
The roots of Christianity on the subcontinent stretch as far back as AD52, writes the historian William Dalrymple. For centuries, western wanderers in south India returned with tales of Christians who traced their origins to the arrival of Saint Thomas in Kerala state nearly two decades after Jesus' death.
The seeds of the contemporary backlash were sown centuries later, when British preachers fanned out across colonial India to win souls for Christ, prompting several princely states to institute laws limiting conversions.
In recent decades, Hindutva ire has focused on evangelical crusades such as the AD2000 project, which sought to flood north India with American missionaries and money, aimed especially at Dalits trying to shed the burden of their caste.
Critics such as Arun Shourie, a journalist and former BJP politician, say such efforts mostly produced "rice Christians" – shallow converts swayed by offers of food and welfare. "They join out of necessity, and when necessity compels them they will join something else," Shourie says.
Today, at least eight Indian states prohibit conversion by force, fraud or inducement, with BJP leaders repeatedly pushing to take the bans nationwide.
India's largest international donor, the Christian charity Compassion International, was forced to cease its Indian operations in March after the government cut off its foreign funding over concerns it was using the money for proselytisation.
In contrast, Hindutva groups freely conduct mass conversions of Muslims and Christians in ceremonies they call ghar wapsi, or "homecoming".
In this charged atmosphere, pastors and priests in Aligarh assiduously avoid the C-word. "We don't convert. We make disciples for Jesus," George says.
"I haven't converted anyone in five years," says Rev Jonathan Lal. "People come to us, sometimes they're non-Christians, and I pray for them."
"People see the miracles, they see the healing," says an elder at the Ascension Church, Vincent Joel, his voice rising. "They want to come. What should we do? Chase them away?"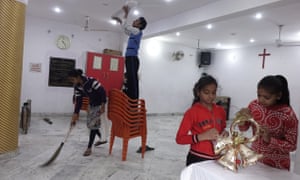 However many new adherents can be persuaded to file past the police for Christmas mass on Monday, Christian numbers in India will remain small.
The faith has relatively few adherents to show for its two millennia on the subcontinent, and the millions of dollars and hours its champions have spent trying to sway Indian hearts.
"Our population in India is only 2.3%," says Joel, in the church courtyard. "If we did so many conversions we should be increasing. But we are shrinking."
Not so, says Dayal. Worshipping "sometimes in the dead of night", rarely registering new converts with the state, flocks in the Indian hinterland are holding steady, he says.
"Christians will survive, even as an underground church," he adds. "We have survived here for 2,000 years."
Additional reporting by Shaikh Azizur Rahman.
https://www.theguardian.com/world/2017/dec/24/christmas-violence-and-arrests-shake-indian-christians