Justice Chandrachud is part of the 5-judge constitution bench which is hearing a batch of petitions challenging the Aadhaar's constitutional validity.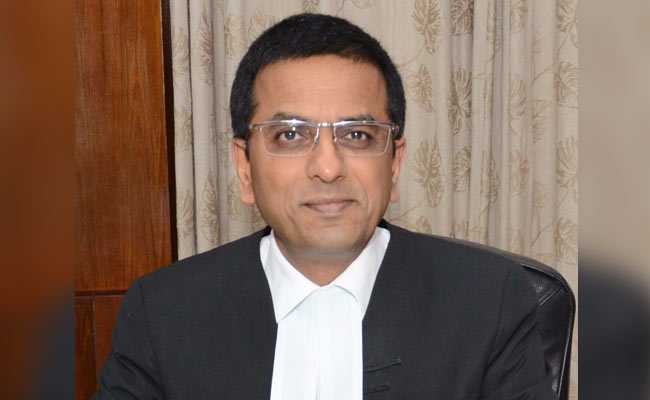 NEW DELHI:  Supreme Court judge Justice DY Chandrachud, the son of late Chief Justice of India YV Chandrachud, on Wednesday recalled a personal experience during a hearing on the Aadhaar issue, saying his mother, who was suffering from Alzheimer's disease, had faced difficulty in authentication to get pension.
Justice Chandrachud is part of the five-judge constitution bench headed by Chief Justice of India Dipak Misra, which is hearing a batch of petitions challenging the constitutional validity of the Aadhaar scheme and its enabling law of 2016.
During the hearing, the bench – also comprising Justices AK Sikri, AM Khanwilkar and Ashok Bhushan, said Aadhaar authentication failures could create problems for those in need and some solution had to be found to address the issue.
Recalling his experience, Justice Chandrachud said, "My mother, who was suffering from Alzheimer's disease, was entitled to family pension being the wife of a former Chief Justice of India (late Justice Y V Chandrachud).
"She had to give a thumb impression for authentication. I recall, every month the bank manager or his representative would come home and affix her thumb print on certain documents and only then could she get the pension", Justice Chandrachud said.
"So it (authentication) is a serious issue. It's not largesse. It is not charity…we have to find answers for these problems," he said, adding that there was a class of needy people who may not get the benefits due to authentication failures.
The top court judge was responding to the arguments of senior advocate Shyam Divan, appearing for former High Court judge Justice (Retd) K S Puttaswamy, who said a 90-year-old woman suffering from various ailments is being threatened that her bank account could be closed for non-authentication by Aadhaar.
Mr Divan said that through that bank account, she was getting her pension and she uses that money for her treatment as she has no one else to look after her.
"There are numerous cases where the Aadhaar authentication failures of the elderly, people suffering from any disease or physical disability, leads to denial of benefits to those otherwise entitled to it," Mr Diwan said.
He said in many villages, young people have now migrated to cities or nearby towns and only the elderly residing there were dependent on their pension or other grants. But due to Aadhaar authentication failure, they were not getting the benefits.
Mr Divan sought to assail a World Bank report which had praised the Aadhaar project and which was relied upon by the government to bolster its case for the 12-digit unique identification number. He said the World Bank had partnered with a private entity for preparing the report titled 'Identification for Development'.
Mr Divan claimed that the same private entity was also the company with which UIDAI had partnered to facilitate Aadhaar.
He said there were 144 notifications issued by various ministries and departments of the government which covered 252 schemes.
The senior lawyer concluded his rejoinder arguments saying that essential government schemes that apply to children or relate to citizen's rehabilitation, food, health and nutrition, should be excluded from the requirement of Aadhaar authentication.
The hearing remained inconclusive and will continue tomorrow.
On May 3, the centre had strongly defended its decision to seed Aadhaar numbers with mobile phones, telling the top court that it could have been hauled up for contempt if the verification of mobile users was not undertaken by it.
However, the court had said that the government had misinterpreted its order and used it as a "tool" to make Aadhaar mandatory for mobile users.
The petitioners had referred to the technical experts' views on the technical aspect of the Aadhaar architecture and said that a real time surveillance of citizens was possible.
For the first time in a democracy, something like CIDR has been implemented and the apex court has to balance the human rights and new technologies that is capable of being misused, they had said.
Earlier, the court also did not agree with the government's contention that the Aadhaar law was correctly termed as a Money Bill by the Lok Sabha Speaker as it dealt with "targeted delivery of subsidies" for which funds come from the Consolidated Fund of India.
https://www.ndtv.com/india-news/citing-mothers-example-supreme-court-judge-justice-chandrachud-says-aadhaar-serious-issue-1849916?pfrom=home-topstories