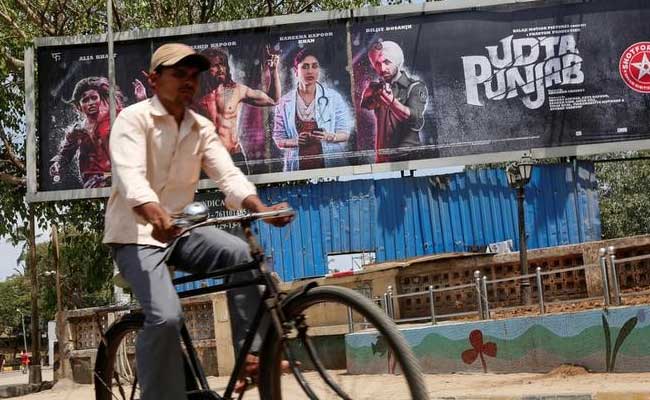 MUMBAI: 
HIGHLIGHTS
Court wants one scene involving urination to be cut
Censor board had imposed 89 cuts on the film along with 'A' certificate
Udta Punjab, based on the drug problem in Punjab, will release on June 17
The Bombay High Court has cleared Bollywood film Udta Punjab for release with one cut, a scene that the filmmakers said they had offered in court to delete.
Amit Naik, a lawyer of the film's producer Phantom Films, which had moved court against a series of cuts imposed on the film by the censor board, said the court has also accepted a disclaimer that the filmmakers have offered to attach to the film.
"Our disclaimer has been accepted in its entirety. It states that we do not condone the use drugs, we don't intend to portray any state in a bad light and that we do not promote the use of cuss words," the lawyer said, calling the verdict a "validation of democracy and the fundamental right of freedom of speech".
The scene that will be deleted showed actor Shahid Kapoor urinating.
Filmmaker Anurag Kashyap, who has produced the film, thanked supporters on Twitter."I am relieved…I salute the courage of my producers," said the film's director Abhishek Chaubey, adding that they would try to release the film, based on drug abuse in Punjab, this Friday as scheduled.
Phantom Films of filmmaker Anurag Kashyap had moved the high court against a series of cuts made by the Central Board of Film Certification (CBFC). The film fraternity backed Mr Kashyap versus the board's chief Pahlaj Nihalani, who had cleared the film with an Adult or 'A' certification provided the makers removed the word "Punjab" and names of other places throughout the film, deleted expletives and also words like "election" and "parliament."
"Several states elections will be held in 2017. The film is not made keeping in mind elections in Punjab," the court observed today as it reviewed the cuts.
The court pointed out that current filmmakers were far more forthright and brutal but that should not work against them. "They want to take charge of their own course. Certain degrees of freshness, change of attitude should not result in bringing about disruptions or creating hurdles and obstacles. It will kill creativity," the judges said.
Filmmakers and political parties have alleged that Mr Nihalani was attempting to stall the film at the behest of the BJP, which partners the ruling Akali Dal in Punjab. Congress president Rahul Gandhi has accused the Punjab government of "encouraging" the illegal trade of drugs in the state.
The court also said today, "None can dictate to the maker how to make his film and what should be the context…It is entirely for them to choose the setting, the under-lying theme and story line."
But it said it did not agree that if cuss words were allowed in many films in the past, they should be allowed in Udta Punjab too.http://www.ndtv.com/india-news/dont-find-udta-punjab-questions-indias-sovereignty-or-integrity-bombay-high-court-1418439