Questions raised after celebrated neurosurgeon and CNN reporter Sanjay Gupta is filmed performing surgery on those injured by earthquake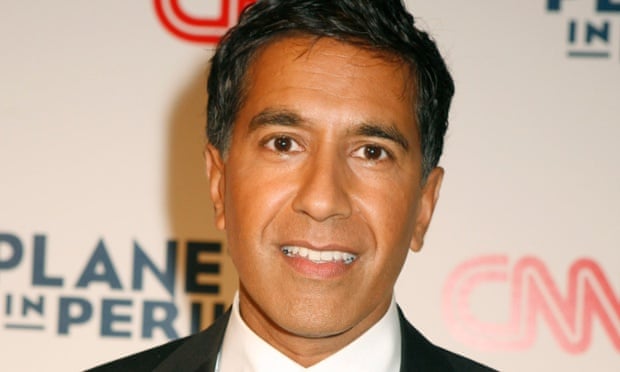 Ethical questions have been raised after a CNN crew covering the Nepalese earthquake filmed its chief medical correspondent perform emergency brain surgery on an eight-year-old girl using a saw and resuscitate a woman mid-air on a helicopter, using a cardiac thump.
Dr Sanjay Gupta, the feted neurosurgeon and CNN journalist, who was reporting on the devastating 7.8 magnitude quake, has regularly stepped in to save lives while covering a story for the broadcaster.
Gupta is no stranger to carrying out medical procedures in front of the camera. He treated a two-year-old boy on assignment in the Middle East, and examined patients on camera after the 2010 Haiti earthquake.
Connie St Louis, director of the Science Journalism programme at City University in London, told the Guardian that she was "really, really worried" about the ethics of filming a journalist's medical intervention.
She said: "As a journalist with medical training, do you really need to film the times when you get involved? There's certainly a possible confidentiality issue, as well as the potential for self-promotion. If you film the journalist doing the medical procedure, they become the story. My feeling is, why do it in Nepal when there is no way you could possibly do this in America?"
Several ethics experts have previously raised questions over the conflicting instincts of a physician-journalist. Bob Steele, journalism values scholar at the Poynter Institute, said after the Haiti disaster he had uneasy feelings over how "news organisations at some point appear to be capitalising for promotional reasons on the intervention by journalists".
After the disaster in Haiti, where several medical correspondents treated patients on camera, Tom Linden, professor of medical journalism at the University of North Carolina, proposed that new guidelines should be drawn up. He suggested in the journal Electronic News that physician-journalists prioritise their duty to save lives, but that a reporter who treats a patient should not feature that person on a television report, or even ask for their permission to do so.
In Nepal, the CNN crew filmed surgery on eight-year-old Selena Dohal, who had a fractured skull after a roof collapsed in her home town of Panchkhal, 26 miles (42km) from the capital, Kathmandu.
Doctors at Kathmandu's Bir hospital said Dohal arrived with her grandfather and urgently needed surgery to remove blood clots that had collected on the right frontal area of her brain.
Gupta, who is also assistant professor of neurosurgery at Emory University School of Medicine, said he was summoned on Tuesday by Nepalese doctors to assist them with a craniotomy – the surgical removal of a section of the skull to expose the brain.
He scrubbed up in what he described as a makeshift operating room, using iodine and sterilised water to clean the injuries. He had no surgical drill to cut open Dohal's skull because of the lack of electricity and had to use a saw.
"I've seen a lot of situations around the world, and this is as bad as I've ever seen it," Gupta said on CNN. "They're barely able to keep up right now. It's part of the reason they asked me (to help); I think they're asking anybody to try to pitch in."
In a separate incident, it emerged on Friday that Gupta was again filming in a scenario in which his medical skills were needed when the crew were on an aid flight in Sindhupalchowk, east of the capital.
Sabina Lama, 18, was taken in a makeshift straw stretcher on board a helicopter, which was carrying instant noodles and water to people left homeless by the quake. Mid-air, Lama suddenly stopped breathing and Gupta could no longer detect a pulse.
With no defibrillator, Gupta delivered a heavy blow to her chest in a last-ditch attempt to restart her heartbeat. "It is aggressive – but I just delivered a 'cardiac thump', a quick, strong hit to the chest in a last ditch effort to shock Sabina's heart back into action," he said.
http://www.theguardian.com/media/2015/may/01/cnn-physician-journalist-ethical-dilemma-nepal-sanjay-gupta