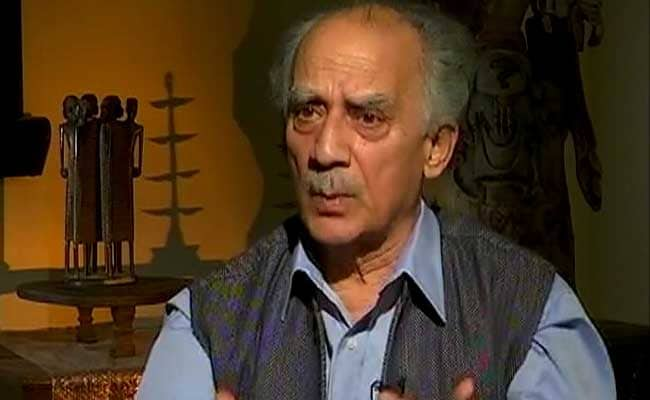 NEW DELHI: 
Former Disinvestment Minister Arun Shourie has strongly criticised the government's decision to ban 500 and 1000 rupee notes, saying while the stated objective may be good, the idea was not well thought out.
In an exclusive interview to NDTV, Mr Shourie said the government had not anticipated the distress that would be caused by doing "away with 85% of Indian currency."
"Small and medium enterprises, the transport sector, the entire agricultural sector…I can't reach six lakh villages," he said, adding, "They did not think about this? It is about being carried away by a big idea, getting into a self-image that I have to do some surgical strike. Therefore every week you see them saying – its been a week, a month, I have to do something."
When asked if he thought it was a bold and radical move by Prime Minister Narendra Modi, Mr Shourie said, "jumping in the well is also very radical, committing suicide is also radical…if you want to make a beginning, make a beginning on reforming the tax administration."
The former minister, who has been critical of PM Modi in the past, said he did not think the cash clean-up would get to the heart of the black or untaxed money problem. "People who hold this black money or black assets don't hold it in cash…they are not going to put their money under the mattress…they are holding it abroad, and there also they are not dollars, in gunnybags. It is property, jewelry, maybe other assets which we don't know about, maybe stock markets," he said.
What was needed, he said, was strict and fair enforcement. "Then you will be acting against the bribe taker and bribe giver. But if you let disproportionate assets cases fall through because you don't present evidence, you are doing nothing on the Vyapam scam, you are doing nothing on the Sarada scam, the Narada scam, you let Hasan Ali go, nothing happened, Moin Qureshi goes away, Vijay Mallya is saying bye bye, Lalit Modi keeps sitting outside, then what will the officer think?"
Mr Shourie, who was a union minister in the BJP-led government of Atal Bihari Vajpayee, said he did not think India was ready to move to becoming a cashless economy. "I have been writing on it for 35 years and I am all for it but this is the not the way to go about it," he said.http://www.ndtv.com/india-news/committing-suicide-also-radical-says-arun-shourie-on-cash-clean-up-1626777