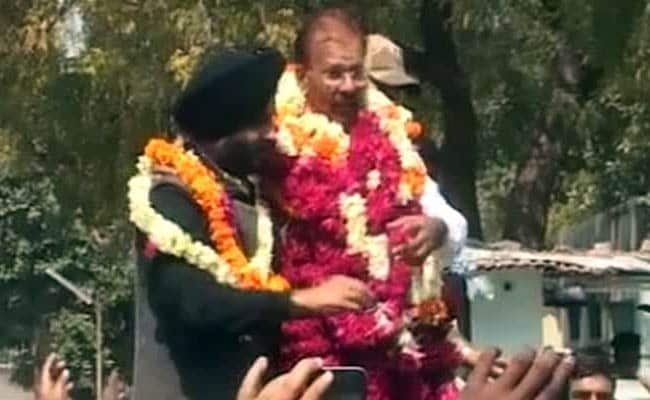 AHMEDABAD: 
 DG Vanzara, one of Gujarat's most controversial police officers, was given a hero's welcome as he left the Sabarmati jail in Ahmedabad, by crowds of supporters who raised slogans in his praise and jostled to get a photograph of him on their mobile phones.
Mr Vanzara travelled the short distance to where he is holding a press conference in an open jeep. He stood in it and waved like the winning candidate in an election, many garlands around his neck and flower petals showered upon him.
Mr Vanzara, who has spent nearly eight years in jail, was granted bail in the second of two encounter killing cases earlier this month. He left jail today.
A trial court has granted him bail on the condition that he will not enter his home state Gujarat.
Mr Vanzara is among top police officers accused in the killing of seven people in two separate "fake encounters". He and other police officers claimed they were killing terrorists who wanted to assassinate the then chief minister Narendra Modi, but the civilians were shot dead in cold blood, says the Central Bureau of Investigation.
In the first case, a 19-year-old college student, Ishrat Jahan, was killed in 2004 with three other people on the outskirts of Ahmedabad.
A year later, Sohrabuddin Sheikh, a petty criminal who was allegedly blackmailing the powerful marble traders lobby in neighbouring Rajasthan, was pulled off a bus along with his wife; the couple was killed. Tulsiram Prajapati, a key witness to their abduction, was shot dead a year later; the police claimed that he was trying to escape.
http://www.ndtv.com/india-news/former-gujarat-police-officer-dg-vanzara-walks-out-of-jail-740487