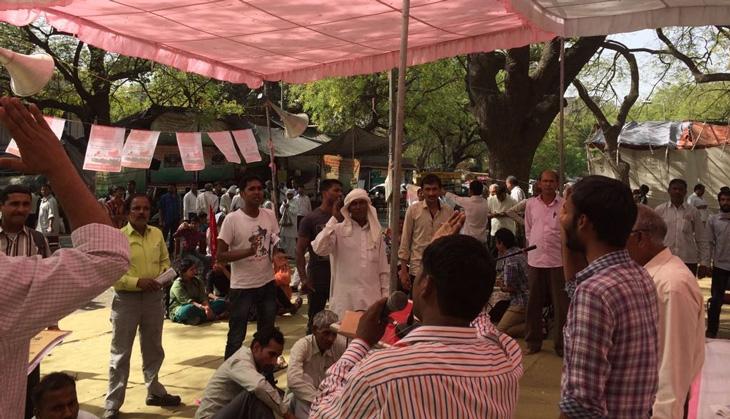 It is 2 pm at Jantar Mantar in Delhi and there is no relief from the scorching sun. Yet Kapoor Singh remained unfazed by the unrelenting heat that had forced many others to take shelter under trees. With sweat dripping down his wrinkled face, he said that he is father of Mahavir Singh, a Union leader at the Maruti Suzuki plant. Mahavir had recently been sentenced to life by a Gurgaon Sessions Court for killing a senior HR manager in a scuffle between workers and management at Maruti Suzuki plant in Manesar, Haryana, in 2012.
Singh is accompanied by Amarjit Singh, son of his elder brother, who have come all the way from Rohtak to attend a programme organised by Mazdoor Adhikar Sangharsh Abhiyan (MASA) – a broad platform of Trade Unions and workers organisations from across the country. The purpose of the gathering was to condemn the "anti-worker judgment" of the Sessions Court on 18 March in which close to 13 organisations participated.
Amidst loud sloganeering for workers' unity and justice for Maruti workers, Amarjit confided that Mahavir couldn't even attend the last rites of his younger brother who died a couple of years back. "His children are always asking their mother about Mahavir's whereabouts and when he would return. She has no answers," Amarjit said.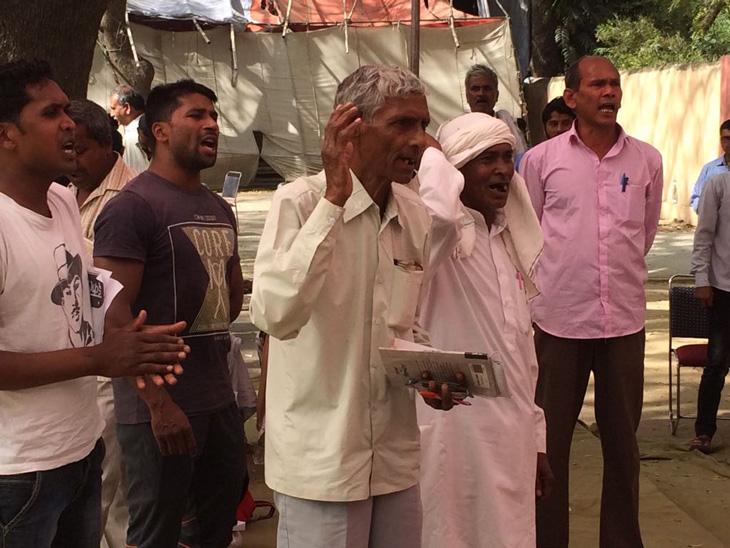 Maruti workers' families and labour outfits protest at Jantar Mantar
Worried about what fate awaits his son, Kapoor Singh hopes Mahavir would get justice and would return to his wife and two children at Chandi village in Rohtak district of Haryana. "He has been in jail since five years, for no fault of his. No one knows who set the fire and killed the manager but my son has been falsely implicated by the management only because he was part of the Union. There is no evidence against him and yet he rots in jail," he said.
However, he is hopeful that justice would be given to his son and that the Chandigarh High Court would set them free. "There were thousands of workers there, why have only 13 been convicted of murder? The management wants to discourage workers from joining unions and this is way to scare others. They want to send a message that whoever will be part of the union will bear the same fate," claimed Kapoor Singh, who said that he will fight till his end to get justice for Mahavir.
Accusing the judiciary and the government of being biased towards workers, he said that the sentence has been given to please Japan. A 54.2%-owned subsidiary of Japanese automobile and motorcycle manufacturer Suzuki Motor Corporation, Maruti Suzuki is India's largest automobile manufacturer.
THE INCIDENT
On 18 July 2012, a fire broke out at this plant of India's largest automobile manufacturer following a violent scuffle between the workers and managers leading to death of a senior HR executive, Awanish Kumar Dev, and injuries to several others. In fact, the Union calls Dev's death as unfortunate and credits him for extending help in creating the union.
"Mr Dev's unfortunate death is being used to target workers. We should not go by what the lower court said, considering how they have kept so many innocents in jail on charges of terrorism. Even the media is to be blamed. When these people are caught, their photos are splashed on the the front page and when they are acquitted because of no evidence, it is just a single column news," said Birju Naik of the Mazdoor Ekta Committee.
He added that similarly in this case, the photo of the manager was put on front pages but no one reported that there is little evidence against any of those convicted.
In a statement released by MASA, it is said that the workers are being specifically targeted for their role as trade union leaders. "117 of the arrested Maruti workers have been acquitted after spending almost four years in prison, as no evidence and not a single witness against them could be produced in the trial process. This shows the shaky foundation of the case itself."
It goes on to claim that if the evidence produced during trial and argument placed by the public prosecutor is followed, "it becomes clear that no evidence was produced to link any of these workers to the death of the manager".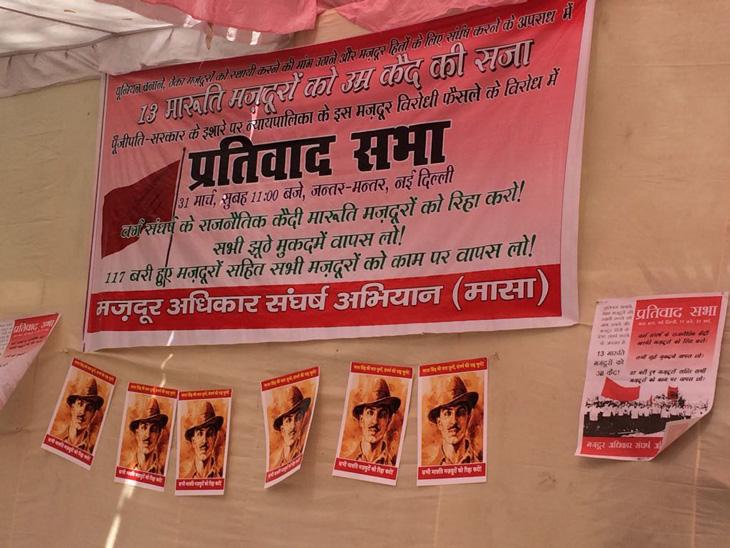 A banner put up by the Mazdoor Adhikar Sangharsh Abhiyan
Accusing the powerful management of influencing the government, labour department and police with money, the statement said that all of it was done to suppress the legitimate demands and struggles of workers in Maruti. "The only crime of the Maruti workers is that since 2011 they struggled for forming a union, for abolition of Contract Worker System, for dignity in workplace, and their legitimate Trade Union rights – all within the ambit of the law of the land," read the statement.
Meanwhile, Khushi Ram, general secretary of the Mazdoor Sahyog Kendra, Gurgaon, who was also the part of the Union, said that they would continue to fight for justice and would organise the workers to protest against this harsh judgment. Earlier, on 23 March, the a large number of workers took out a protest march in Manesar to protest against the judgment of the Sessions Court. On 18 March, the day of the verdict, 30,000 workers did a tool down strike while many others have been boycotting lunch in solidarity with those convicted.
Khushi Ram informs that they have support of thousands of workers in and around Manesar and protests, hartals and lunch boycotts would continue till justice is done. They are also organising a nation-wide protest on 4 April to take this issue to the workers throughout the country. "We have union elections at the Suzuki two wheeler plant on 6 April and at the Gurgaon plant on 12 April. Once these are over, we will sit with the new team and plan future course of action. We will not let go of this struggle. We want all those convicted to be acquitted or else we will show them the power of workers unity," warned Khushi Ram.http://www.catchnews.com/india-news/conviction-of-maruti-workers-aimed-at-crushing-unions-labour-organisations-56350.html