Left, Congress call out 'bigotry' of Chouhan government and media 'silence' on Kumbh returness as compared with the jailing of Tablighis last year.Kashif Kakvi 07 May 2021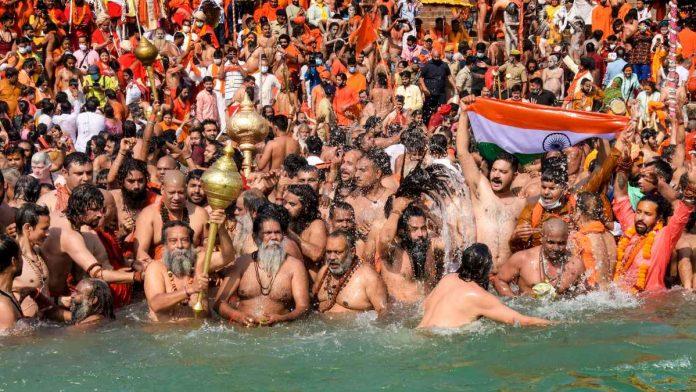 Representational Image. Image Courtesy: PTI
Bhopal:Three Hindu seers from Madhya Pradesh — Mahamandaleshwar Doctor Swami Shyam Devacharya Maharaj, Mahamandaleshwar Kapil Dev and Mahant Chandrama Das — succumbed to COVID-19 in the past three weeks. All three had gone to Haridwar with their disciples to take a holy dip during Kumbh Mela between March and April and fell prey to the virus.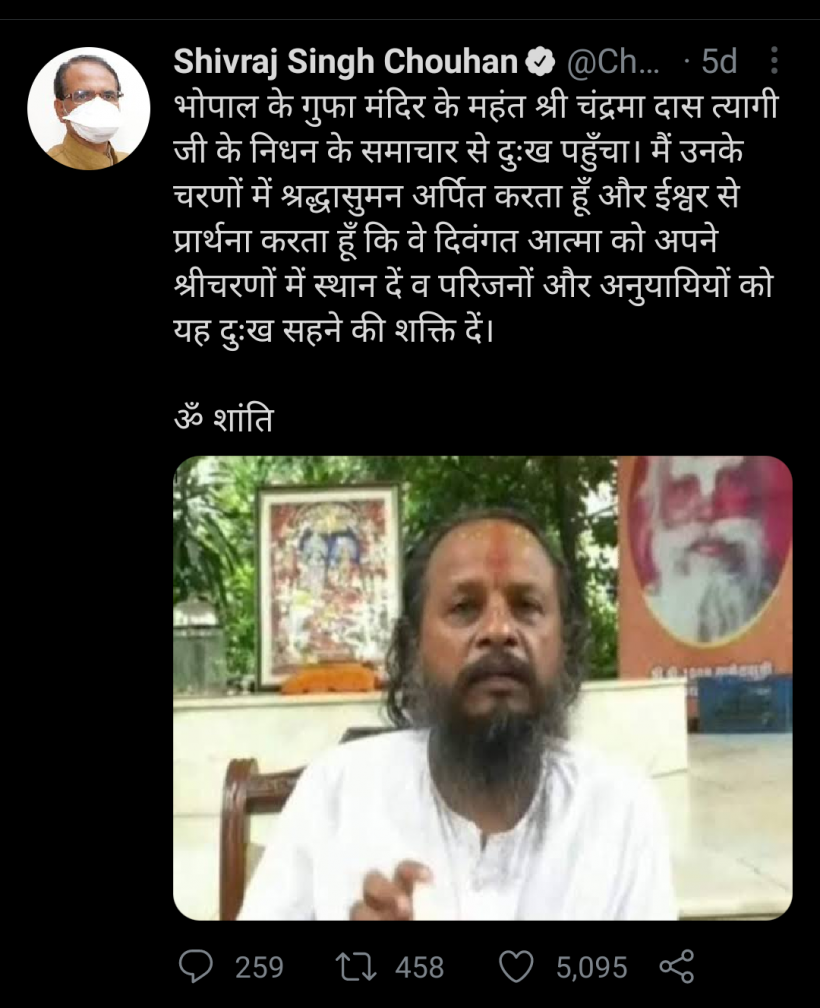 Mahamandaleshwar Doctor Swami Shyam Devacharya Maharaj, head of Jabalpur Narsingh Mandir, succumbed to COVID-19 a day after he returned to Jabalpur on April 16. While Mahamandaleshwar Kapil Dev of Narwana Akhara (Chitrakut) died in Haridwar after contracting the virus and Chandrama Das of Bhopal's Gufa Mandir, who returned to the state capital on April 16 with two dozen disciples, tested COVID positive the following day and succumbed to the virus on May 1.
Just like the seers, hundreds of devotees from Madhya Pradesh who went to Haridwar in the first week of April to take a holy dip in the Ganga river, returned to their respective districts with COVID-19 symptoms. They had been traced and quarantined, as per State Home Department officials.
"An average 12-15% of the cases in all 51 districts of the State are of Kumbh returnees, while in some districts it's around 20%" said Rajesh Rajora, Additional Chief Secretary, Home Department, Madhya Pradesh. He said timely curfew, restrictions on the movement of inter-state buses and proper tracing and monitoring of Kumbh returnees has prevented an outbreak of COVID-19 in the State.
Madhya Pradesh had a total 88,614 cases till May 6. And 15% of the total cases were traced to 13,292 devotees, as per a Home Department official.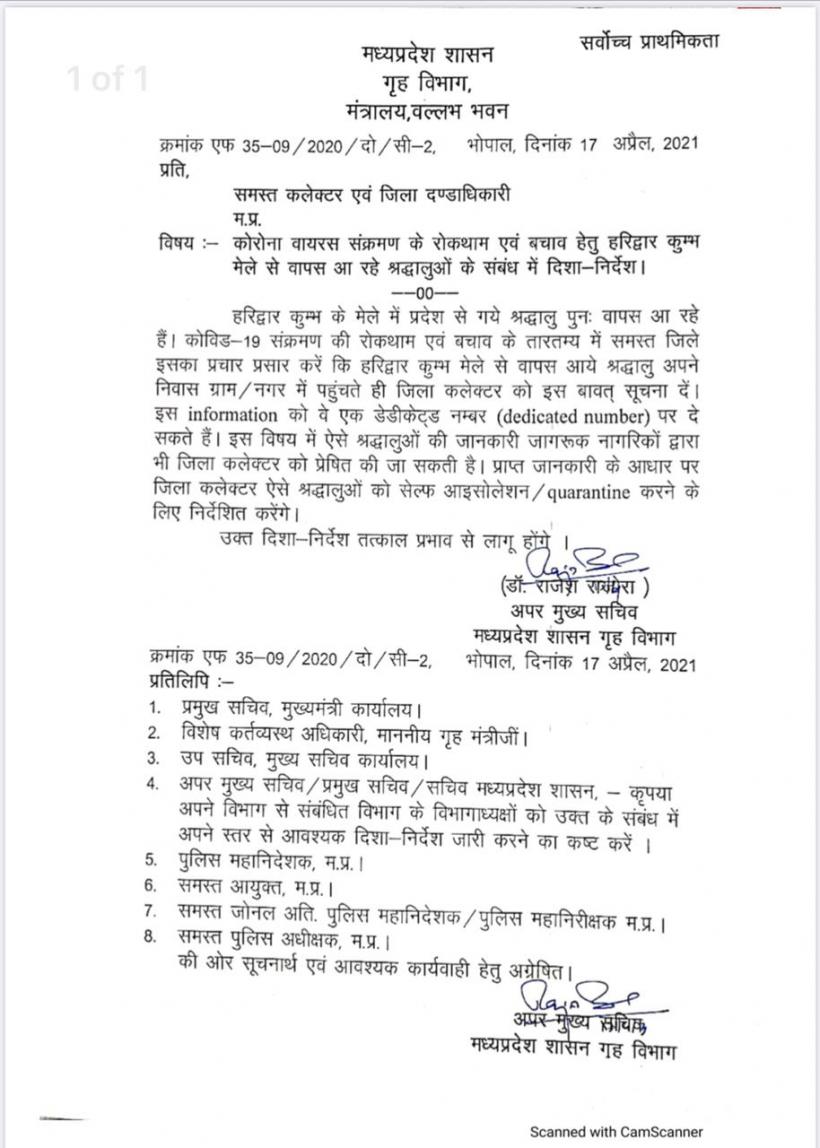 As the news of COVID-19 outbreak at Kumbh Mela hit the national headlines, the State Home Ministry on April 17, 2021 issued an order to the district collectors, asking them to trace the returnees and quarantine them in a bid to prevent them from being virus spreaders.
Millions took a holy dip in the river Ganga during Shahi Snan this year at Haridwar. Nearly 20 lakh devotees reportedly participated in the first Shahi Snan on March 11, on Mahashivratri and a similar number of people attended the congregation held on April 11-15.
In a follow-up of the Home Ministry's order, till April 30, in eight districts — Vidisha, Rajgarh, Bhopal, Bhind, Sidhi, Panna, Shivpuri, Satna — 789 devotees had been traced and nearly 118 of them tested positive, as per official data compiled from the district collectors' office. All returnees were quarantined as per the order, for at least seven days.
LIST OF EIGHT DISTRICTS OF KUMBH RETURNEES BY APRIL 25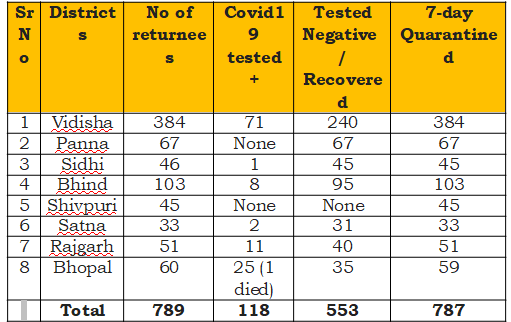 Source- Madhya Pradesh Home Department /District Collector
Of these cases, the highest number was reported from Bhopal's neighbouring district, Vidisha, where 384 returnees were traced and 71 tested positive. The district, which had been witnessing an average of 140-160 cases till April 16 and had a total 1,048 active cases, recorded 240 cases on April 18 and active cases shot up to 1,357. Since then, the number of new cases is on raise.
In a view of the State Home Ministry's order, Madhya Pradesh, which had been witnessing daily growth of nearly 21% in COVID-19 cases, recorded a sudden jump of 3% and surged to 25.3% within two days of the order.
CASES REPORTED DURING APRIL 15 TO 21, 2021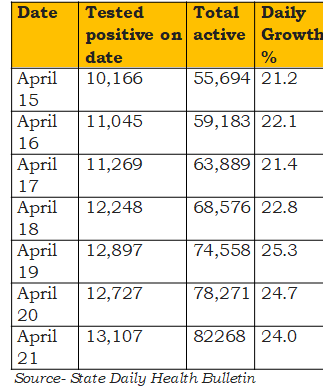 "Our timely effort to tackle Kumbh returnees stopped the spread of COVID-19 outbreak in the State", ACS Home Department, Rajesh Rajora, told NewsClick, adding that "private vehicles and trains coming from Haridwar have been identified by the district authorities and people underwent COVID-19 test. Follow-up actions were taken according to their health condition."
Besides, a separate toll-free number had also been launched by the district authorities to get information on Kumbh returnees.
"We found the majority of Kumbh returnees through a toll- free number (15530) launched by the Bhopal Municipal Corporation," said BMC Commissioner VS Choudhary, adding "I also received multiple calls from the neighbours of the Kumbh returnees, who were quarantined accordingly after identification."
It may be recalled that last year, during the Delhi Nizamuddin Markaz COVID-19 outbreak, Chief Minister Shivraj Singh Chouhan, State Bharatiya Janata Party Chief VD Sharma, Home Minister Narottam Mishra, had constantly blamed the 'Jamaatis' for spreading the novel coronavirus in the State for almost two weeks.
The Union government had sent a list of 107 people who had attended the Nizamuddin Markaz congregation and returned to Madhya Pradesh, who were detained and booked under various Sections of the IPC and even sent to jail. The attendees from foreign countries were also not spared and were also booked under the various charges and sent to jail for taking part in the Delhi Markaz gathering.
"But, when nearly 800 kumbh returnees were spotted in just eight districts, neither any political statements were issued by BJP blaming Kumbh returnees for the massive surge in cases, nor was any case registered against them. This is a textbook example of bigotry of the Shivraj Singh-led BJP government against a particular community," said Jaswinder Singh, state secretary of Communist Party of India (Marxist).
The newspapers too had fanned this issue and dailies were flooded with reports related to Tablighi Jamaatis last year. "They published something almost every day against Tablighi Jamaatis. But, there is hardly any report on Kumbh returnees this year," Jaswinder added.
According to a NewsClick story published last year, of 2,316 total COVID-19 cases by April 29, according to the then Health Commissioner Faiz Ahmad Kidwai, only 87 were Tablighi Jamaatis and all of them had recovered. Yet, BJP leaders as well as Chief Minister Chouhan had slandered them for "spreading" the virus in the state.
Former Minister and state Congress media in-charge Jitu Patwari had even then flayed CM Chouhan them for blaming Tablighi Jamaatis for the pandemic surge, alleging that CM was playing a blame game, as he had failed as an administrator to control the COVID-19 outbreak.
VIDISHA — HOT SPOT OF KUMBH RETURNEES
As many as 30 residents of Vidisha's Kherua and 30 others from neighbouring villages had embarked on a 12-day (900 km) pilgrimage to the holy Kumbh Mela in Haridwar.
Even COVID positive devotees, who were home quarantined, had joined the club during the journey. This came to light when one of the passengers got a call from the local health authorities to enquire about the health of his wife who was COVID positive.
"The man replied to the health authorities that his wife is quarantined and adhering to all the protocols at home and he is travelling alone to Haridwar. But, his wife was also on the bus. He lied to them," said Kamal Raghhvanshi, one of the fellow pilgrims.
A week after they returned home on March 20, many of the devotees started falling sick. Sensing the gravity of the illness, Kamal informed the district authorities. The district hospital team found nearly 25 people positive in the village initially. The returnees also infected other villagers, like Brindavan Prasad, who hasn't gone to Kumbh but has contracted the virus.
Similarly, of the 83 returnees of Vidisha's Gyaraspur who participated in Kumbh Mela, 61 tested positive and the remaining 22 went missing from the area, as per JD Abbas, Block Medical Officer of Gyaraspur.
VIDISHA DAILY COVID19 CASES FROM APRIL 15 TO 21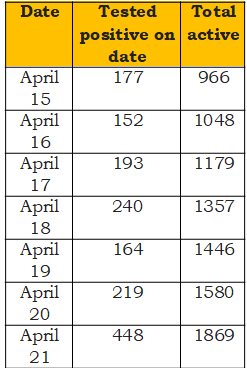 Source: State Covid19 Health Bulletin