Report on Chithralekha's Press Conference in Payannur against the caste atrocities on her, on March 29th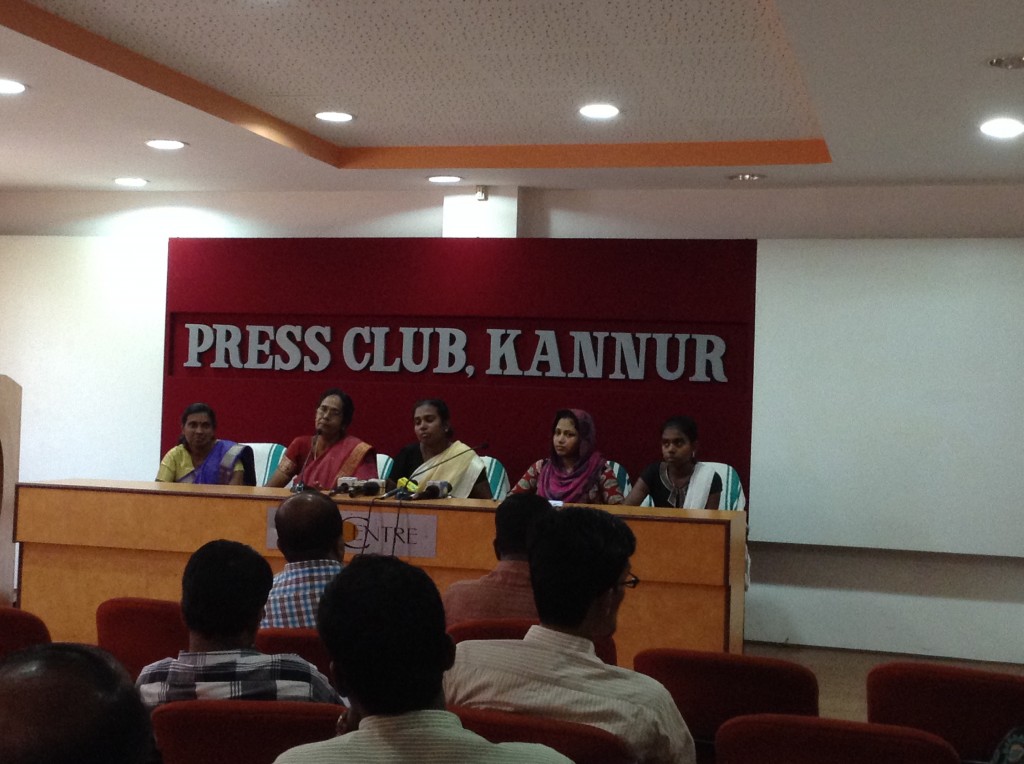 At 10 AM, March 29th, Chithralekha E, the Dalit woman auto driver, who has been fighting caste atrocities of the CITU/CPM in Payannur, Kannur since 2005, conducted a Press Conference in Payannur in order to protest the many atrocities she has been suffering at the hands of the CITU/DYFI workers.
She wanted to bring attention to the way in which the CITU and DYFI workers were repeatedly attacking her and how Payannur SI, Shaji Patery and CI Abdul Rahman were aiding them by conspiring against her and family and implicating them in false cases.
She demanded that she be granted her fundamental right to earn her livelihood in Payannur. She also put forward the demand that the false cases against her be withdrawn and that strict action be taken (under the SC/ST POA cases), against the CITU/DYFI members who were attacking her. She further demanded that the SI and CI supporting them be suspended and that strict action be taken against them.
After the press conference, the collector assured them that he would take immediate action in their case and settle all the issues before the elections are due. On this reassurance, Chithra has decided to withdraw the Dharna before the Kannur Collectorate on 3rd of April. However, she has said that if no action is taken by the Collector, she will go to Trivandrum Secretariat and sit on an indefinite Dharna there.
Along with Chithralekha and her daughter, Megha, the press meet was attended by Mary Teacher, Women's Voice, Sowmya, Environment Activist, Ayappan Master, Dalit Activist, Jaseela, Member, Chithralekha Samrakshana Samithi many other public activists.
Today, all the regional language dailies except the CPM mouthpiece Deshabhimani gave serious coverage to this issue. News reports appeared in Maadhyamam, Malayalam Manorama, Mathrubhumi, Thejas, etc., and even on some city television channels.
Given below is the Press Note, which was released during the meet.
 Press Note
This is for the public and the authorities to read and know about Eramangalath Chithralekha of Payannur, Kannur district.
I am a woman auto driver belonging to the Scheduled caste. From 2005 I am going through unbearable suffering at the hands of the male auto drivers of the Edaat auto rickshaw stand. It is the members of the CITU union who are attacking me. On 2005 October 11th they damaged my auto. On October 14th they tried to kill me by hitting me with an auto. On December 31st they burned my auto (KL-13L-8527). In 2006 December, when my sister's husband tried to prevent them from attacking me and my family, he was cut with a huge knife and seriously injured. After this incident, afraid for our lives, we shifted out of Edaat for more than 2 years. When we came back after 2 years, in 2010 January 30th, my husband Sreeshkanth and me were cruelly beaten up. We were attacked when we were standing before a medical store in Perumba, trying to buy medicine. On 2010 December 31st my daughter Megha, my husband Sreeshkanth were beaten up the CITU auto drivers while we were in Payyanur Central Bazar. On December 23rd they came as a group and ambushed me, my husband, my daughter Megha and my sister's husband Saju. On 2013 February they tried to kill my husband Sreeshkanth by running him over with a bus. The CPM, CITU and DYFI workers are continuously attacking us who belong to a very poor Dalit family.
However, C I Abdul Rahman and S I Shaji Pattery against whom the CPM had put up flex boards, threatening to counter them in the streets after they arrested the SFI leader of Payannur, Sarin Shashi as part of the investigation into the T P Chadrashekharan murder case, out of sheer fear, met the CPM leaders, surrendered before them, apologized to them and have agreed to work under them. After this, to please the CPM they started falsely implicating me and my family in criminal cases.
When I tried to get the second installment of the money given to SC/ST people for building toilets from the SC/ST welfare office, the officer there, Muralidharan, who is part of the NGO union, which is close to CPM, falsely alleged that we were trying to prevent him from conducting his official duties and got us arrested. Again on 31-11-2013, when a group of auto drivers got together and beat up my husband and took away his mobile phone and Rs 630, it was he who was implicated in yet another false case.
On 31-01-2014, around 5 PM, DYFI workers smashed to pieces the 2 autos outside my house and threatened that they would cut us to pieces like they did with T P Chandrashekaran. The fight happened when we stopped the DYFI people who came to untie the goat, which a migrant, under-aged worker had carelessly allowed to stray into our house and eat our plants. Though for the next three days there was no complaint that anyone had attacked or tried to attack Ramesh (16 years), the CPM and DYFI regional leaders, Payannur CI Abdul Rahman and SI Shaji Pattery conspired together and implicated me and my husband Sreeshkanth in an attempt to murder case (IPC-380) and put my husband in jail for 32 days. I am the First accused in this case and I have had to acquire a bail from the respected court.
Me and my husband, Sreeshkanth who are auto rickshaw drivers have not been able to drive our auto and have no way to earn our livelihood or pay the interests on our auto and we have come to a dead-end now, because we are being prevented from driving our auto and making our livelihood because of the CPM, CITU and the police. No action has been taken regarding all the complaints we have given to the Chief Minister, the Home Minister, the D G P Kannur, the Collector and the SC/ST commission; all with the sole desire to live. Though at one point the Chief Minister had intervened directly, C I Abdul Rahman also intervened, misinformed the higher police authorities and sabotaged the whole thing. There was also no action taken on the last complaint that we gave to the Police Complaint Authority.
In the given circumstance, strict action should be taken against the CITU and DYFI workers who are denying me and my husband the fundamental right to earn our livelihood and the cases that have been planted on us through the conspiracy of Payannur SI Shaji Patery and CI Abdul Rahman should be withdrawn, and SI Shaji Patery and CI Abdul Rahman should be suspended and strict action taken against them based on the SC/ST POA law. In order to call the attention of the authorities towards this, my family members and me, with the support of the public, will be sitting on an indefinite Dharna before the Kannur Collectorate from 10 AM on April 3rd.
 Chithralekha E
With
Mary Teacher, Women's Voice
Sowmya, Environment Activist
Jaseela, Member, Chithralekha Samrakshana Samithi
& Megha, Daughter of Chithralekha, Plus II Student
Images of the press conference and scanned copy of the press report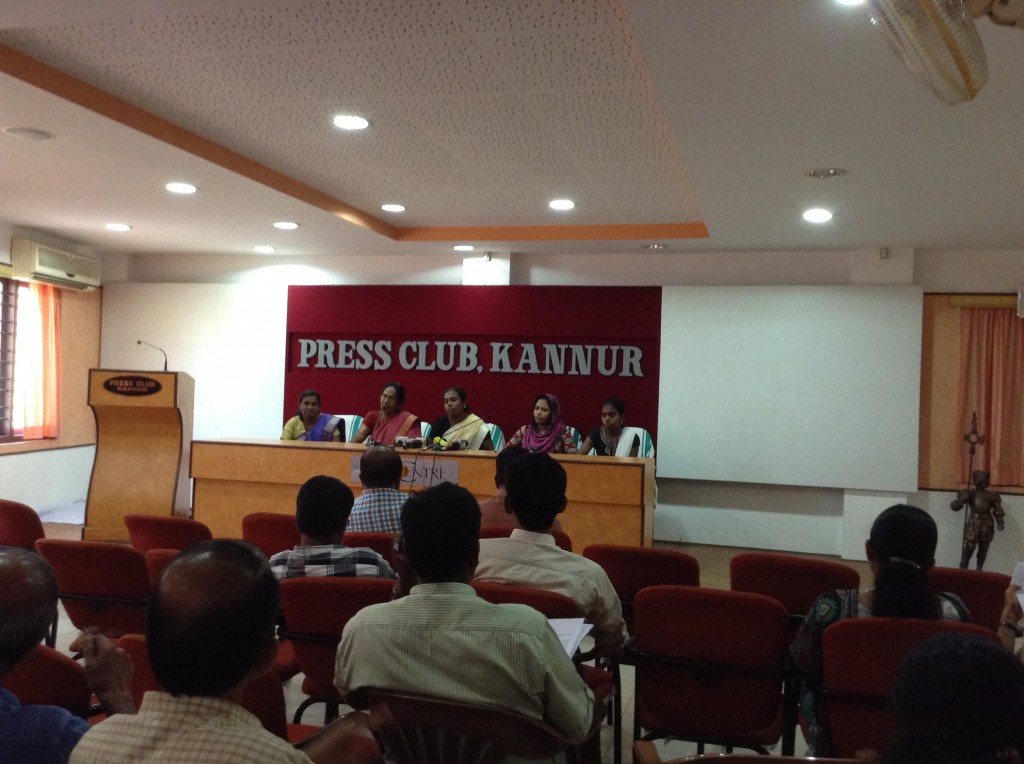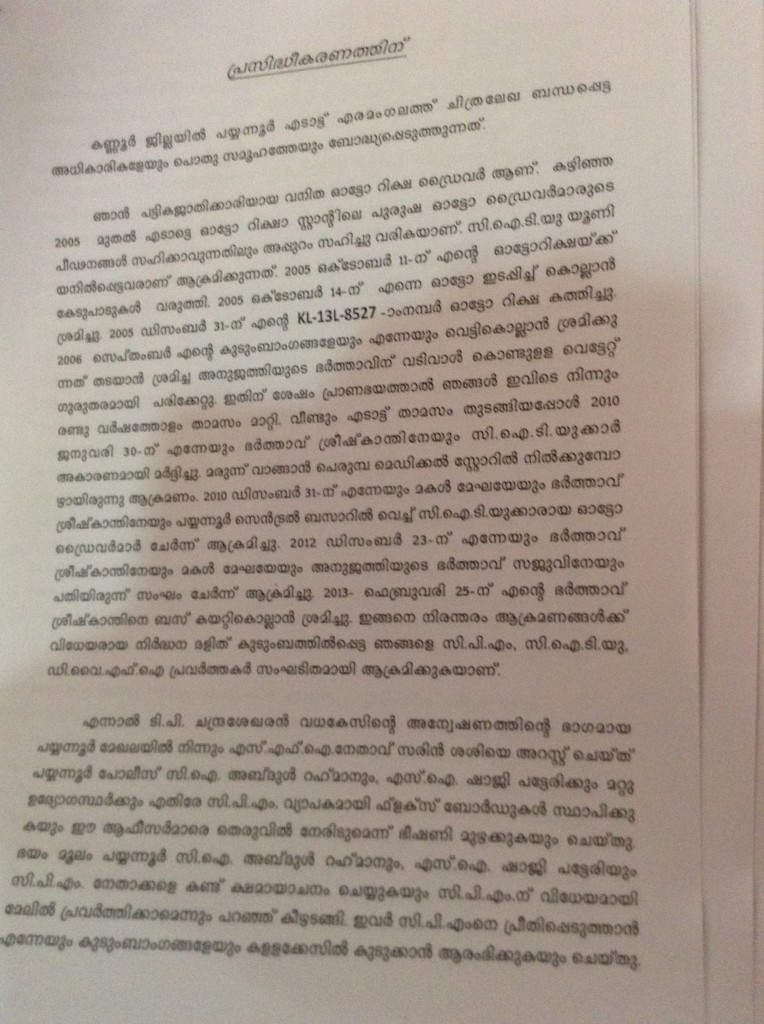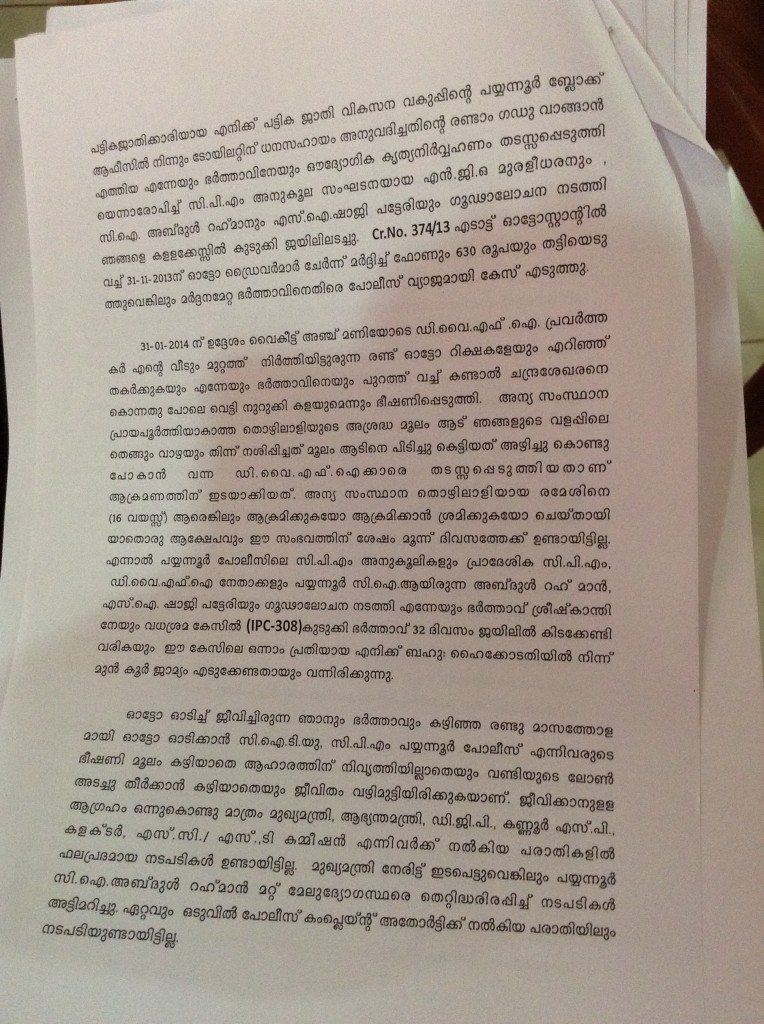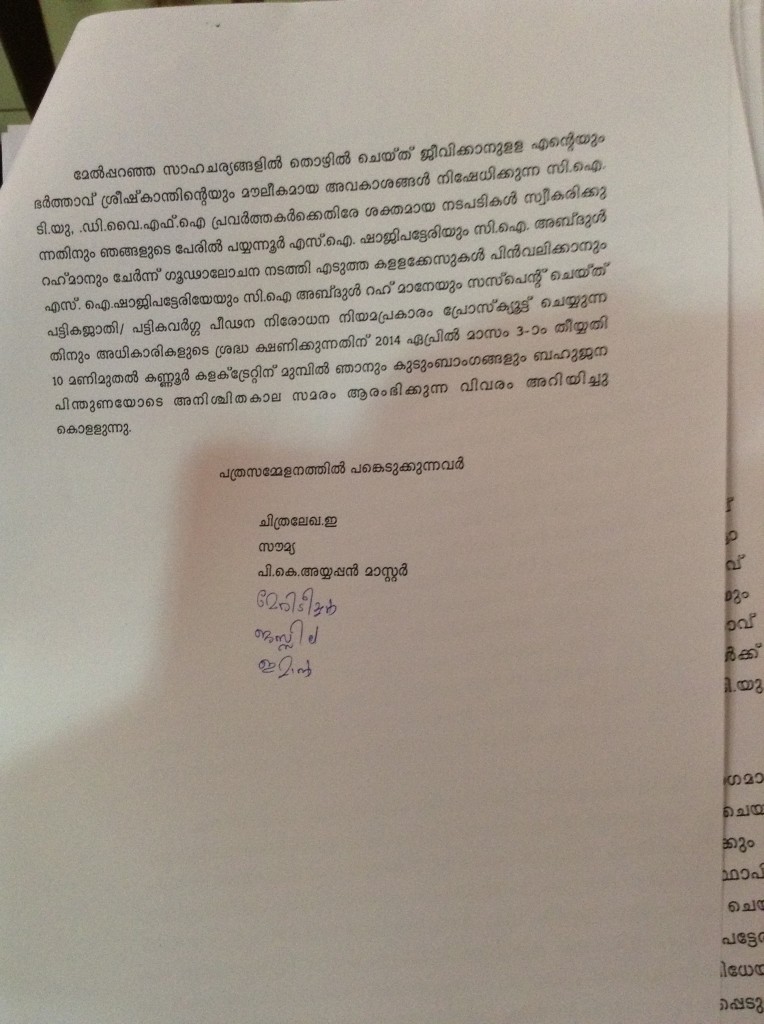 Read mor ehere — http://www.dalitweb.org/?p=2456