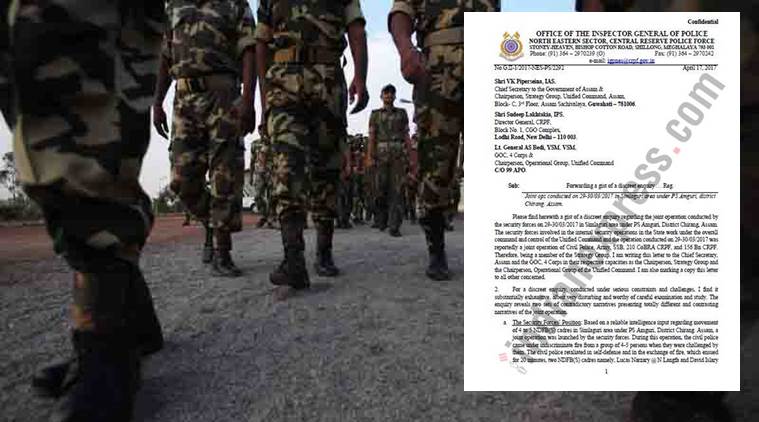 Rai was posted at Shillong as IG, North East Sector with the CRPF.
CRPF IG Rajnish Rai, who called for a probe in what he alleged was a fake encounter — by a joint team of Army, CRPF, SSB and state police in Assam in March this year — that killed two men, has been transferred out of the North East with immediate effect.
Rai was asked to join the Counter Insurgency and Anti Terrorism (CIAT) School of the CRPF at Chittoor in Andhra Pradesh.
Rai was posted at Shillong as IG, North East Sector with the CRPF. The development comes even as the Home Ministry decided to probe his allegations.
On May 24, The Indian Express first reported that Rai had told CRPF headquarters and other authorities that a "discreet enquiry" conducted by him — backed by GPS data and interviews with those involved — found that two suspected NDFB(S) cadres were killed in a fake encounter on March 30 near Simlaguri village in the Chirang district of Assam.
Rai's report, dated April 17, said that the two men were picked up from a house in D-Kalling village and killed in cold blood. Calling for a full-fledged investigation, Rai alleged that weapons were planted on their bodies.
The Indian Express visited the village where a farmer's family said that the two suspects were sleeping in their home when they were taken away by "soldiers" on the night of March 29.
Not just Rai's transfer, the manner in which it has been done raises questions.
On Monday, CRPF headquarters sent a communication to its DIG in Guwahati that IPS officer Prakash D, who joined the force that very day on deputation, would reach the state capital for a "familiarisation programme" on Tuesday and that accommodation and vehicles must be arranged for him.
Once Prakash D reached Guwahati, Rai received transfer orders — dated June 12, 2017 (Monday) — to join CIAT in Chittoor.
Curiously, the order said that Prakash D was actually appointed as IG (Communication & IT) but would hold additional charge of Rai's post. It said that the handover of charge must happen immediately. It added that the familiarisation exercise — the purpose for which Prakash D had travelled to Guwahati according to the first communication — could be held later.
Curiously, both orders, the one about Prakash's going there and Rao's transfer were issued the same day.
When contacted, Rai confirmed he had received the transfer order this evening but declined to comment further.
Despite repeated calls and messages, CRPF DG RR Bhatnagar did not respond.
Rai's report on the alleged fake encounter was marked to Assam Chief Secretary V K Pipersenia; then acting CRPF DG Sudeep Lakhtakia; Lt Gen A S Bedi, GOC, 4 Corps & Chairperson, Operational Group, Unified Command; Assam DG Mukesh Sahay; SSB DG Archana Ramasundaram and CRPF ADG (NE Zone) Mohd Javed Akhtar.
The report said that GPS records show how a CRPF unit of the CoBRA visited the encounter spot in Simlaguri a few hours before the encounter. "It leads to the suspicion that the CoBRA team was trying to identify a suitable location where the alleged encounter with the NDFB(S) cadres could be stage managed," Rai's report said.
It also claimed there were witnesses who identified the bodies of the two suspects and confirmed they were picked up from D-Kalling village. It said these witness statements were in safe custody of the IG and would be presented before an independent investigating agency.
In his report, Rai observed, "Had this unlawful act been committed by a group of a few deviant officers, I would not have been so concerned. However, since multiple security agencies were involved in this incident, it indicates a deeper institutional malady in the functioning of the country's most prestigious security forces. It represents a dangerous deterioration and degradation of institutional processes.http://indianexpress.com/article/india/crpf-ig-rajnish-rai-who-called-assam-encounter-fake-is-shunted-4702960/