OUTLOOK MAGAZINE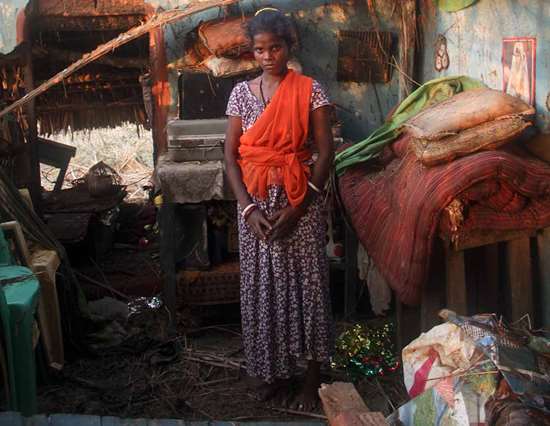 CYCLONE PHAILIN: DAMAGE ASSESSMENT
No…Not Good News
The marginalised, the old and infirm women and children suffer the most, and are ignored
Even in disaster, the worst blow has been dealt to an already marginalised group in Orissa. The Hadis are a pig-rearing community and can be found living at the periphery of villages. Seventeen families of this community are the only ones whose houses have been completely destroyed by Cyclone Phailin in the Old Baxapalli village of Ganjam district. They are also the only ones to take shelter in the local primary school. Having lost their meagre food stocks, they are surviving on the generosity of the villagers and the nearby army camp, which has been serving them khichdi every day. They may still have their lives but they have lost everything else they possessed to the cyclone. Yet, till three days after, nobody from the government has bothered to assess their losses. There are single-women households, disabled people and young children who need immediate care and support. Without it, they will be red­uced to utter penury, a prospect millions others in Orissa are facing.
True, both the government and the people were better prepared to face the 'badya' (as a cyclone is called in Oriya) this time. Ever since the 1999 supercyclone, which claimed 12,000-plus lives, the state had become much more disaster-sensitive. Several NGOs in the state had been running disaster preparedness progra­mmes, working closely with the government and communities, even schools.
But that would be half the work done. In Ganjam district alone, 15 lakh people have lost their homes and all their belongings to the cyclone. People in the villages we visit are angry that the government is yet to take note of the damage to their houses, the loss of crop like coconut, cashew, paddy and plantain, or their fishing nets and boats.
Srita Nayak, a single mother of three young children, of whom six-year-old Mary is paraly­sed, is inconsolable. The cyclone made an alr­e­ady bad situation worse for her, forcing her to work as a daily-wager to support herself and her children. For her, it is a disaster.
The situation is no better in Baddanouliya­naugam village, 30 km away and barely 300 metres from the sea. Its residents, almost all of them fisherfolk, left their houses a day before the cyclone struck, but didn't take shelter in the government-built storm shelter. They went instead to Chhatrapur, the district headquarters of Ganjam. "Have you seen what bad shape it is in? Who'll stay there?" ret­orted a villager when asked why they didn't go there.
The villagers returned on Sunday to find Phailin had not spared even a single house. But like elsewhere, the government had made no assessment till the time of writing, even though chief minister Naveen Patnaik had made a quick visit to a neighbouring area.
Kammudu and her husband were among those who had left home a day before the cyclone with their two small children and a month-old baby girl whom they have not even named yet. Their meagre food stock is ruined and Kammudu has been feeding her children only chatua and biscuits. According to the local accredited social health activist M. Parvathi, there are 25 pregnant women and 145 young children in this village of 1,700 people.
According to government figures, the crop loss is to the tune of Rs 4,005 crore. Prahlad Sethi, a farmer who owns a four-bigha plot in Venkatraipur village, is desperate because he has lost 90 per cent of his coconut, chiku and plantain crop. "One coconut tree used to fetch me Rs 3,000 annually, now there are only five of them standing; my chiku and mango trees too have been destroyed," he says. "We have no recourse but to borrow or beg now." In the same village, 60-year-old Kalagang­amma sits desolately in the veranda of her damaged house. She says she doesn't have a BPL card and there is nothing to eat in the house. Village after village, it is the same story; people are alive but desperate, having lost their houses and livelihoods. Socially excluded groups like the Hadis, along with women, children and disabled people, are the worst hit.
---
By Valay Singh Rai in Ganjam
(Rai works for Save the Children and is currently helping with cyclone relief in Orissa.)