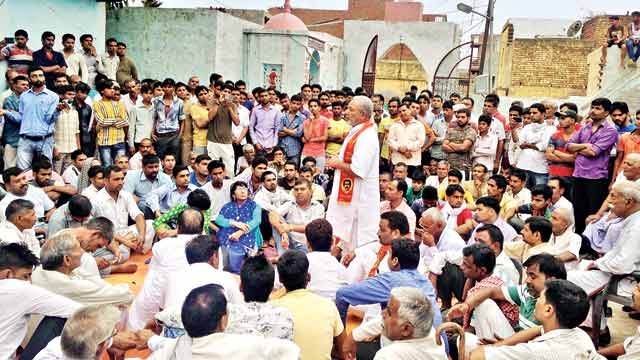 Members give 20-day ultimatum to UP govt to file case of cow slaughter against slain Akhlaq and his family
A few speakers at a panchayat, organised in Dadri's Bisada village on Monday to demand the filing of a case of cow slaughter against Mohammad Akhlaq, who was beaten to death last September by a mob on rumours that he ate beef, called for violence and extolled the virtues of cows.
Mahesh Kumar Ahuja, a Shiv Sena leader, even asked people to have more children, so that they can be enlisted in the army. Organised by local BJP leader Sanjay Rana, it was attended by around 100 people, including members of Shiv Sena's western UP unit, who did not shy away from making controversial remarks.
"Wherever Muslim population is about 10%, there is no trouble. When their population exceeds 10%, trouble starts," said Ahuja, who identified himself as the chief of Shiv Sena's western UP unit.
"In India, youth form 65% of the population. I would request people to have more than two kids. If you people do not have more kids, who will join the army and the police?" he said.
The panchayat issued a 20-day ultimatum to the Uttar Pradesh government to register a case of cow slaughter against the family of Mohammad Akhlaq. Among the speakers were family members of those arrested for allegedly beating up Akhlaq to death at his residence in Bisada and attacking his family as well.
"The Mathura lab report has revealed that it was cow meat. This proves that we are the real victims," said local BJP leader Sanjay Rana, whose son and nephew have been accused of leading the mob that attacked Akhlaq's family.
"We are giving 20 days to the UP government to register a case against Akhlaq's family. If it is not done, no one can stop our anger. Whatever decision is taken at the mahapanchayat that will be held after 20 days will be the responsibility of the UP government," Rana said.
Rana's son Vishal and nephew Shivam have been accused of announcing from a temple loudspeaker that a calf had been slaughtered and asking people to gather outside the residence of Akhlaq. As per the case diary accessed by dna, Vinay, a UP home guard and an accused in the case, had said that Shivam had claimed that the meat being pulled by a dog was thrown to the street by Akhlaq.
Vinay's father, Om Mahesh, who also spoke at the panchayat, said: "My son was innocent and was given a clean chit earlier but was arrested under pressure. I got his name removed from the statement of Akhlaq's daughter but later his (Akhlaq's) son (Danish) was made to name my son. The UP government is doing injustice to us. Do Hindus not vote at all? Do only Muslims vote?" said Mahesh.
Om Prakash, father of another accused, said: "It is not Akhlaq who has been killed but a killer of a cow".
The panchayat took an even more bizarre turn when village elders began to speak. While Vijay Pratab Sisodia lamented the loss of a blacksmith (Akhlaq was one), he said that Akhlaq did not die of beating but due to mob fear. Bhag Singh, former village head of Bisada for 15 years, received quite an applause when he said, "marenge nahim, marenge (we will not die, we will kill)", if UP government does not take action against Akhlaq's family.
There was heavy police deployment in the area, which has been under Section 144 since last year's panchayat election. Meanwhile, a juvenile-accused was released on bail on Monday.http://www.dnaindia.com/india/report-have-more-children-shiv-sena-leader-at-dadri-panchayat-2220717