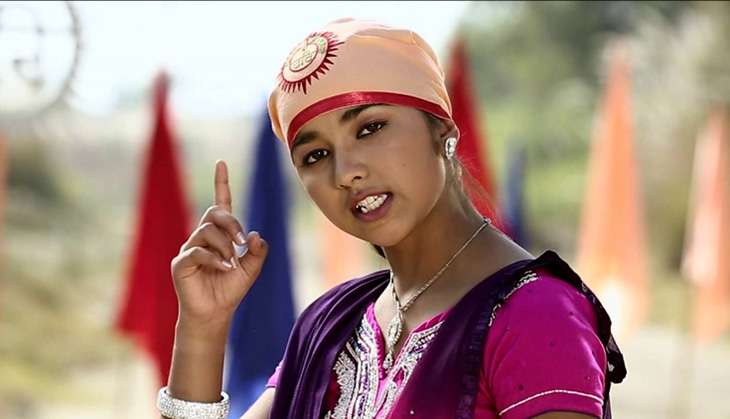 Ginni Mahi, the Dalit singing icon as she known in the media, is a star. She's unapologetic, the lyrics of her songs are true to her Ravidassia beliefs, and her singing is powerful.
Her brand of music, called Chamar Pop, is super catchy, much like the Punjabi rap we're so accustomed to, minus the general misogyny and expletives.
Mahi sings about the Dalit identity, the constitution, and, most of all, her idol – Babasaheb or BR Ambedkar. Her music videos, despite being educational, aren't boring or clinically insensitive like our textbooks in high school. Rather, they're pretty subversive.
In Danger Chamar, a song about how her people are seen as 'danger', she is seen singing in her powerful voice as half clothed men flex their muscles in the background.
Her favourite song though, is one she performed at a recent event in New Delhi – Fan Babasaheb Di. The lyrics spell out the need for a young Dalit female voice like hers to be heard.
GINNI'S AUDIENCE
As irony may have it, she performed at an event focusing on gender empowerment, on recognising the struggle of marginalised communities, all from the comfort of one of Delhi's most expensive hotels struggling from a colonial hangover – The Imperial.
While the rest of the day was spent in debates carried out in the most polished English between upper caste members of society, with only fleeting glimpses of women who have struggled at the grassroots. Barring the thundering voice of adivasi activist Soni Sori, which she made heard by vacating her seat on the stage for the podium, and a few discussions with rural women thanking Google for changing their lives, the representation of change makers in disenfranchised communities was minimal.
Ginni Mahi was no different. She was brought in to sing, entertain, eat and leave. As she left the stage, keen on talking to the media, ushers kept guiding her to the lunch area. "Ginny, (pronounced in the anglicised Ginny Weasley way) please go have your lunch first. It's served."
Not only was she not speaking at the event, an event meant for discussions, but she was left with no breathing room to respond to the media.
This is, of course, indicative of the larger culture of the upper class applauding an individual of the marginalised community to clear their conscience. It's a problem that she, despite being a 17-year-old as every article about her reminds us, isn't even given the space to interact as she pleases.
Amid the repeated calls for "Ginny", Catch managed to ask her how she really pronounced her name. "Ginni," she replied, smiling.
"Why's no one calling you that?"
"Koi baat nahi, didi." (Never mind, didi.)
But really, would there be a mix-up in names with any other celebrity on that stage? Probably not.
GINNI'S STORY
Ginni Mahi or Gurkanwal Bharti – Bharti being a name her father picked for her to reject caste and embrace a nationalist identity – doesn't write her own music. And nor does she intend to stick to her devotional brand.
"Honestly, I'm just an artist, but those who love and support me identify me as a Dalit singer," Mahi tells Catch, adding, "This is also because, so far, my music has focused on the Dalit identity, and that's because it is my identity and I understand it. That's why."
Mahi is often criticised for not being political enough, despite her huge following. "See, I've tried my best to reach out to the masses. I've also tried my best to represent the marginalised," she says.
"As for those who continued to be silenced, and this includes not just the Dalits, as far as I know, I'll stand for their rights," she adds.
Also read – Mainpuri: why the Dalit couple's brutal killing wasn't about Rs 15 debt
Mahi, in an interview to The Indian Express, talked about how she never grew up feelingotherised. "I've heard my grandparents talk about it," she said.
Now this is visibly problematic as her music is being touted as one that represents the Dalit struggle. But Mahi can't be blamed for that.
She's marketed to please a certain audience. Her words, her appearance, her performances are all tailored to fill the gaping hole that is Dalit representation.
"Because I've talked about Dr BR Ambedkar Babasaheb in my music, and because there are very few artists doing that, people are forgetting him and his teachings. My music reminds [my listeners] of him. That's why people listen."
But Mahi doesn't want that to be her sole agenda in the music industry. "I'd like to sing every kind of song but my songs will be such that all family members can sit together and listen to. I won't have the sort of perverse [lyrics] that makes one family member get up and leave. My music shouldn't embarrass anyone," she says.
"Yeah, so I'll try my very best to excel with every sort of music in the future."
http://www.catchnews.com/entertainment-news/dalit-pop-icon-ginni-mahi-wants-to-break-free-of-the-mould-1476788584.html/fullview