Written by P.S. KRISHNAN |
New Delhi
| Published:January 29, 2016 12:11 pm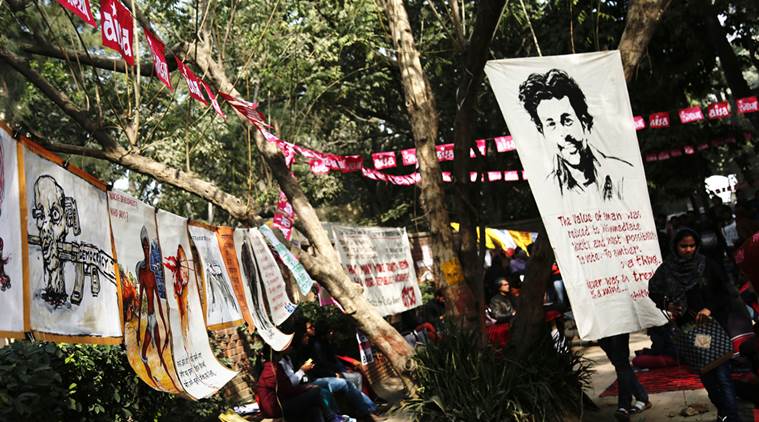 Various students associations congregate and protest at the Arts faculty, Delhi university over the suicide of Hyderabad University student, Rohith Vemula in New Delhi. (Source: Express Photo by Tashi Tobgyal)
The significance of what led to Rohith Vemula and many other students belonging to Dalits, Adivasis, and also Socially and Educationally Backward Classes (SEdBCs) to end their life can be understood on the background of socio-historical facts.
Clearly, these suicides are the outcome of Indian Caste System-with-"Untouchability", still omnipresent and omnipotent, and not a thing of the past, confined only to some remote areas. This menace prevails everywhere, to deprive SCs and STs, and to some extent also SEdBCs, of all opportunities; to keep SCs as agrestic slaves/serfs in the past and agricultural laborers and urban unorganized workers now; STs in their remote homelands in vulnerable conditions; and SEdBCs in their traditional position of self-employed artisans, suppliers of marine food, service-providers and tenants without any rights. Atrocities are being committed regularly against SCs and STs, as an extension of "untouchability", to tie them down into submission unconditionally.
Pt Nehru referred to SCs as India's agricultural proletariat. Unfortunately, when he came to power, he did not do holistically and comprehensively what needed to be done to release them from that plight. Limited land-reforms gave some power to former tenants, but very marginally touched landless agricultural labourers.
The same neglect continued in the Centre and States, irrespective of differences of governments and ruling parties. Though limited benefits were made available to them, transformation of society and social relations was not attempted. Part of the limited benefits became available on account of pressures and agitations of these three deprived classes.
On account of limited developmental and welfare measures, mainly on account of reservation (introduced in 1943 at the Centre for SCs, which was later extended to STs after Independence) and the Post-Matric Scholarships (PMS), the SCs and STs made some educational progress and entered the sphere of higher education to the chagrin of upper castes.
Their entry into professional institutions, with the aid of reservation and in some instances, which are growing, through merit lists, as in Rohith's case, made the upper caste elite feel threatened. They could not bear children of erstwhile labourers and bonded-labourers, denizens of forests and remote plateaus, and of providers of services, becoming their equals. They try to do everything to undermine and reverse the Ambedkarite nationalist, egalitarian, humanist path of equality and advancement of deprived classes shoulder to shoulder with socially advanced castes.
Along with governments and major party leaders and the social elite, belonging predominantly to upper castes, the respected professors, also predominantly of upper castes, too inherited from the past the same mindset. This transferred to higher educational institutions the treatment which was traditionally accorded and is being accorded in villages and towns to the SCs, STs and SEdBCs. This is an automatic process. It made institutions oppressing and suffocating spaces for Dalit students. When they protest, they are taught lessons through harsh punitive and disciplinary measures like expelling them from hostels and other common places of the institutions and stopping their stipends, harking back to the caste-based social and economic boycotts of the past. It is easy for educational institutions to do this to the children of agricultural and bonded labourers.
Many of the HCU suicides in the last 10 years (6 of the SC and one of ST) could have been prevented
If the strengthened SC and ST (Prevention of Atrocities) Amendment Act 2015 had been passed and effectively implemented from the time I first pushed for strengthening the original Act of 1989
– some of its provisions including social and economic boycott can apply to Rohith's case –
if action had been taken as soon the early cases of suicides emerged in the campus.
Rohith could have been saved if Prof. V. Krishna Committee's Report, after the suicide of Venkatesh in 2013, had been fully implemented.
If legislation for reservation in private medical and other professional educational institutions had been passed in 2006 along with the Central Educational Institutions (Reservation in Admission) Act or as a separately legislation, in obedience to the Constitution (Ninety-third) Amendment inserting Clause (5) in Article 15, containing strong regulatory and monitoring frame for fees, etc.
It would be appropriate for the then PM Dr Manmohan Singh and important ministers like P Chidambaram and Kapil Sibal to explain why the private sector part of the Bill was detached from the Bill prepared by the HRD Ministry under the late Arjun Singh covering both government and private educational institutions or why a separate Bill was not introduced for reservation in private sector educational institutions, facilitating collection of extortionist fees by them, which led to suicide of three SEbC girl-students in Tamil Nadu on 23.1.2016 and the little noticed suicide of a poor Madiga (SC) student in Vijayawada.
What should Government do now?
In Rohith's case, diligently pursue due process and allow the POA Amendment Act to take its course expeditiously.

Rehabilitate fully the survivors of the present tragedy and previous tragedies.

Undertake a national campaign, vigorously and persistently led by PM, calling for an Achuti-Mukth Bharat, Atyachar-Mukth Bharat, Asamanata-Mukth Bharat and Jati-Vyavastha-Mukth Bharat, like his campaigns for Swatch Bharat and Beti Padhao, Beti Bachao, bringing the Chief Ministers to lead State campaigns.
The anti-"untouchability" campaign part of this should be given the highest priority. The PM and other leaders need to tell the people, particularly the upper castes that caste system is evil, anti-national and a national shame, and that they should cooperate with the Dalits, Adivasis and SEdBCs in creating an egalitarian caste-free society for India's rapid progress.
Human rights education, with anti-caste focus, should be introduced in all educational institutions, including those for teachers training and training for IAS, IPS etc services. Teachers should be taught to behave like parents towards students and concerned and solicitous parents towards SC and ST and other students from deprived background.
An independent Ombudsman/Lokpal-like authority, not accountable to principal/vice-chancellor or any ministry, should be set in every university, IIT, IIM, etc. and other professional and other educational institution to receive complaints and issue orders binding on all authorities, including suo-motto corrective orders to any teacher or officer whose conduct towards SC, ST and SEdBC students deviates from the standard. Persons selected to man these Authorities should be reputed to be impartial and devoted to Social Justice, and should be apolitical.
A legislation should be enacted on elimination of casteist, "Untouchability"-based and discriminatory and biased behavior towards students of SCs and STs and other vulnerable classes and categories, similar to the Act for prevention of sexual harassment of women at workplaces.
The Act should contain strong penal provisions and institute independent enquiry system (could be the Authority referred to above) and provision for severe punishment.
Dalit and Adivasi student representatives and teachers and impartial experts concerned with social justice should be consulted before finalizing the Act.
The present government has till now been following the previous government's footsteps in the non-enactment of legislation for reservation in private educational institution. It should immediately introduce such a legislation to prevent future suicides and other harassments, incorporating fee regulation and probation of delaying or stopping stipends/scholarships/fellowships, and non-collection of fee from Dalit students directly and instead its payment by the Government to institutions, and other regulatory measures and monitoring system.
The government should take a holistic picture not only of suicides but also every form of harassment and humiliation being inflicted on SCs, STs and weaker SEdBCs.
This is an emergency and should be treated as an emergency. Failure to do so will hamper India's optimal progress and the various goals that the Government has laid down for this purpose. There is no time to lose.
With my 6 ½ decades of experience in social justice for SCs, STs and SEDBCs and their women and children, I am in a position to give all necessary help and support without any remuneration.
See more at: http://indianexpress.com/article/blogs/dalit-suicides-socio-historical-facts-and-remedial-and-corrective-measures/#sthash.bSIEgvV5.dpuf