A Dalit woman brought small yet significant change to Wagholi village of Osmanabad district in Maharashtra – with little gain to herself
The table was meant for the sarpanch. But just a few weeks after Shalubai Kasbe, then 44, was elected to the five-year post in 2011, the young men of Wagholi village lugged a huge bust of Chhatrapati Shivaji into the panchayat office. This, they decided, could only be placed on that very table.
And so the elected sarpanch of this village in Osmanabad district, a Dalit woman, sat on a chair without a table for all five years of her tenure. To sign official panchayat papers – the only symbol of authority conceded to her by the dominant castes – she sat where any other villager would.  Across the table from the clerk handling the office registers.
When Satish Khadke, the man who would be her 'deputy', asked Shalubai to contest the sarpanch post in 2010, her husband and two sons demurred. They knew she would have no say in running the panchayat, but only the symbolic power of signing papers, including contracts for development work. In the real world, Khadke himself would hold the reins, put those papers up for clearance.  It did not help that Shalubai was illiterate, and had only just learned to sign her name.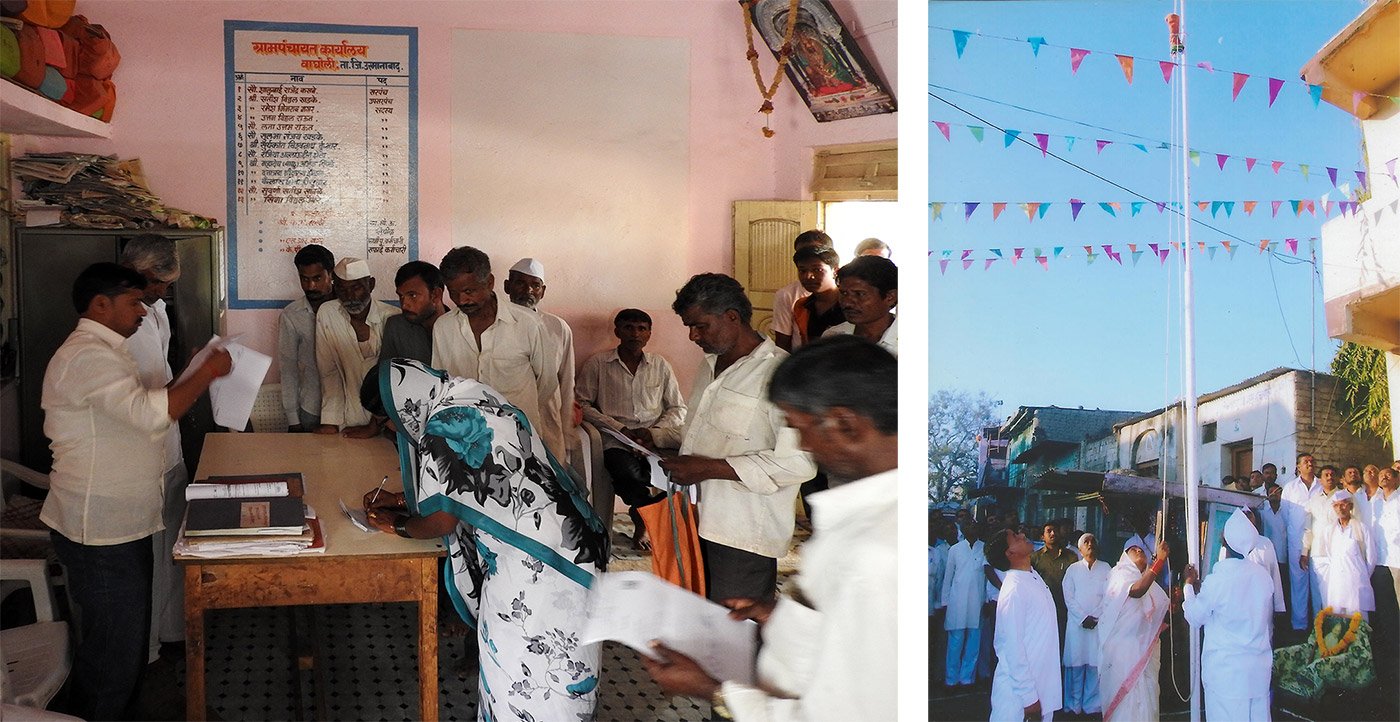 Shalubai signing papers at the clerk's table in the gram panchayat office (left) and hoisting the flag on Republic Day (right; photo courtesy: Wagholi gram panchayat)
Yet, it was an offer she could not refuse. Khadke, an upper caste Maratha, was one of the landowners this agricultural labourer depended on for work in this village of 1,746 people.
Did becoming sarpanch bring any change in Shalubai's life? Did it help her Dalit community, the Mangs?
It did, in many ways. A photograph of Annabhau Sathe, the renowned writer, folk poet and social reformer of the Mang caste, now hangs in the panchayat office. A young man, a political party worker from the community, put it up after Shalubai became sarpanch.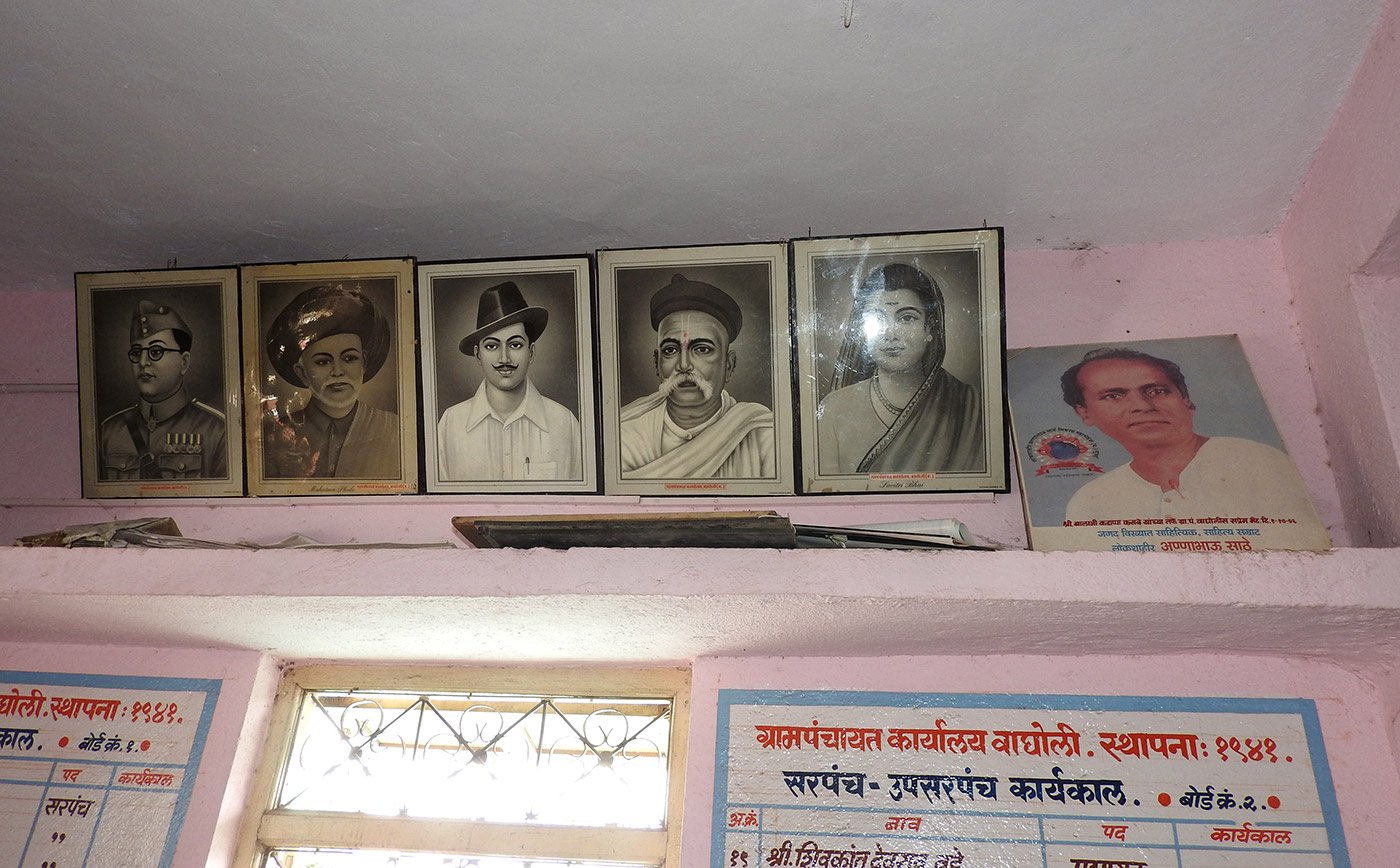 The photo of Annabhau Sathe (extreme right), social reformer from the Mang community, found a place in the panchayat office alongside photographs of Subhash Chandra Bose, Jyotiba Phule, Bhagat Singh, Lokmanya Tilak and Savitribai Phule
Before her election, the Mangs could not publicly celebrate the birth anniversary of their revered leader. Now, every August 1st, they take out a procession through Wagholi's streets – but only after having fought for it. In the first year, when they gathered in the village street, upper caste men forced them to abandon the procession. The following year, Shalubai enlisted the signatures of 20 Mang women on a petition and presented it to the police patil (a quasi-judicial principal official of the village), requesting protection. This time, a police van accompanied them. The upper caste men again tried to break up the gathering – but the cops were a deterrent. Since then, no one has tried to oppose the procession.
From the panchayat office, Shalubai takes us to the small Shiva temple beyond the village square. "Earlier, our community had to pray from outside. But after my election, some of the panchayat members together prayed at every temple in the village. I stood outside, but they ushered me in. Being the sarpanch brought me that honour," she says.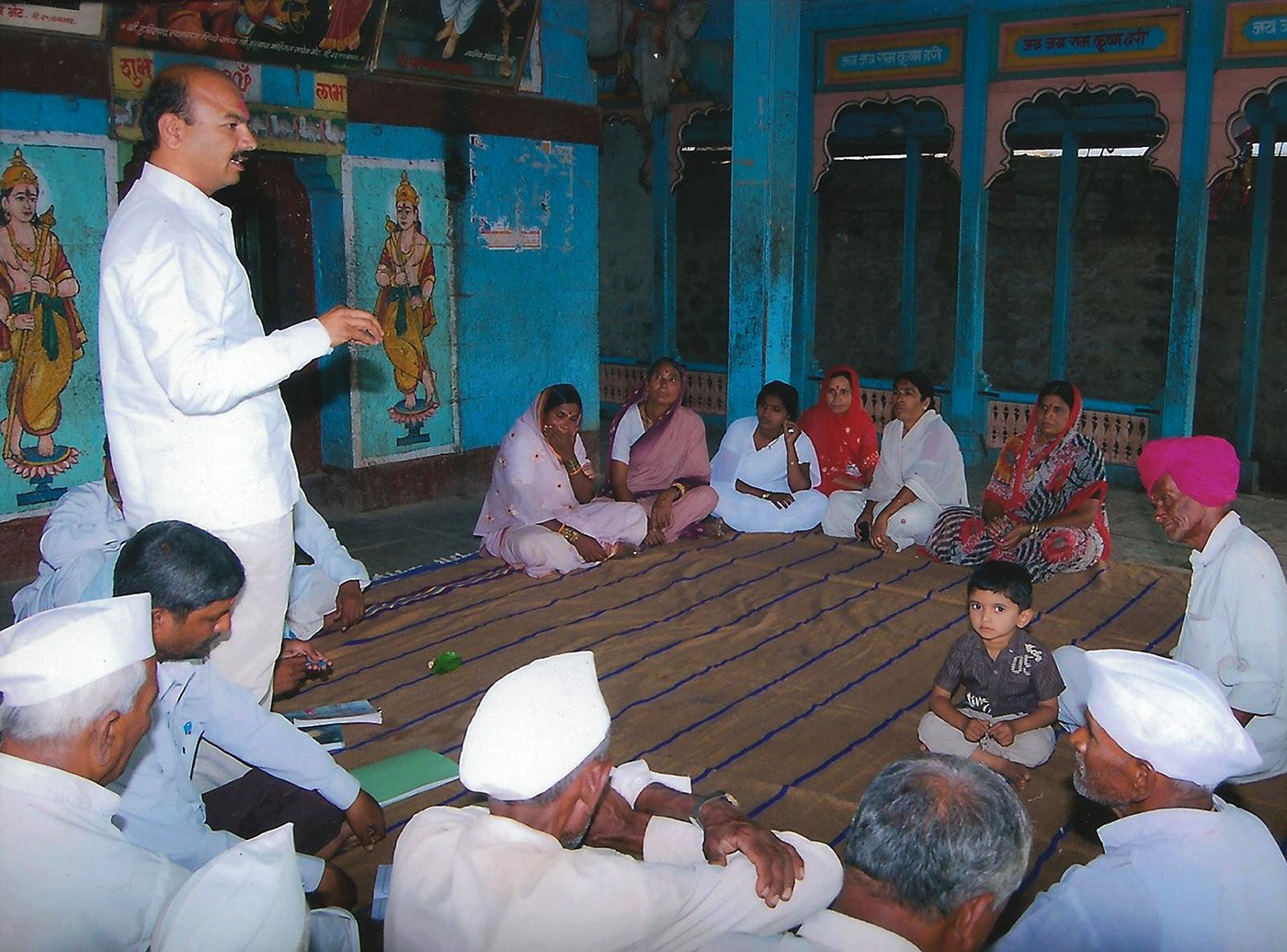 At extreme left is Shalubai, among other women at her first gram sabha meeting as sarpanch in the big Maruti temple (Photo courtesy: Wagholi gram panchayat)
The changes though are clearly limited: the Mangs and the Mahars of the village continue to live separately, in Wagholi's Dalit colony. Shalubai's tiny home is at the end of the street in this colony. Its roof and four walls are made of corrugated tin sheets. It has two doors but not a single window. Within those walls are all the family's possessions: clothes on a string, a single bed, a television atop a small cupboard, a gas cylinder and two-burner stove on the floor, a metal rack for utensils and provisions, and a few large tins for storing grain. The house is crammed with her extended family, eager to tell their stories.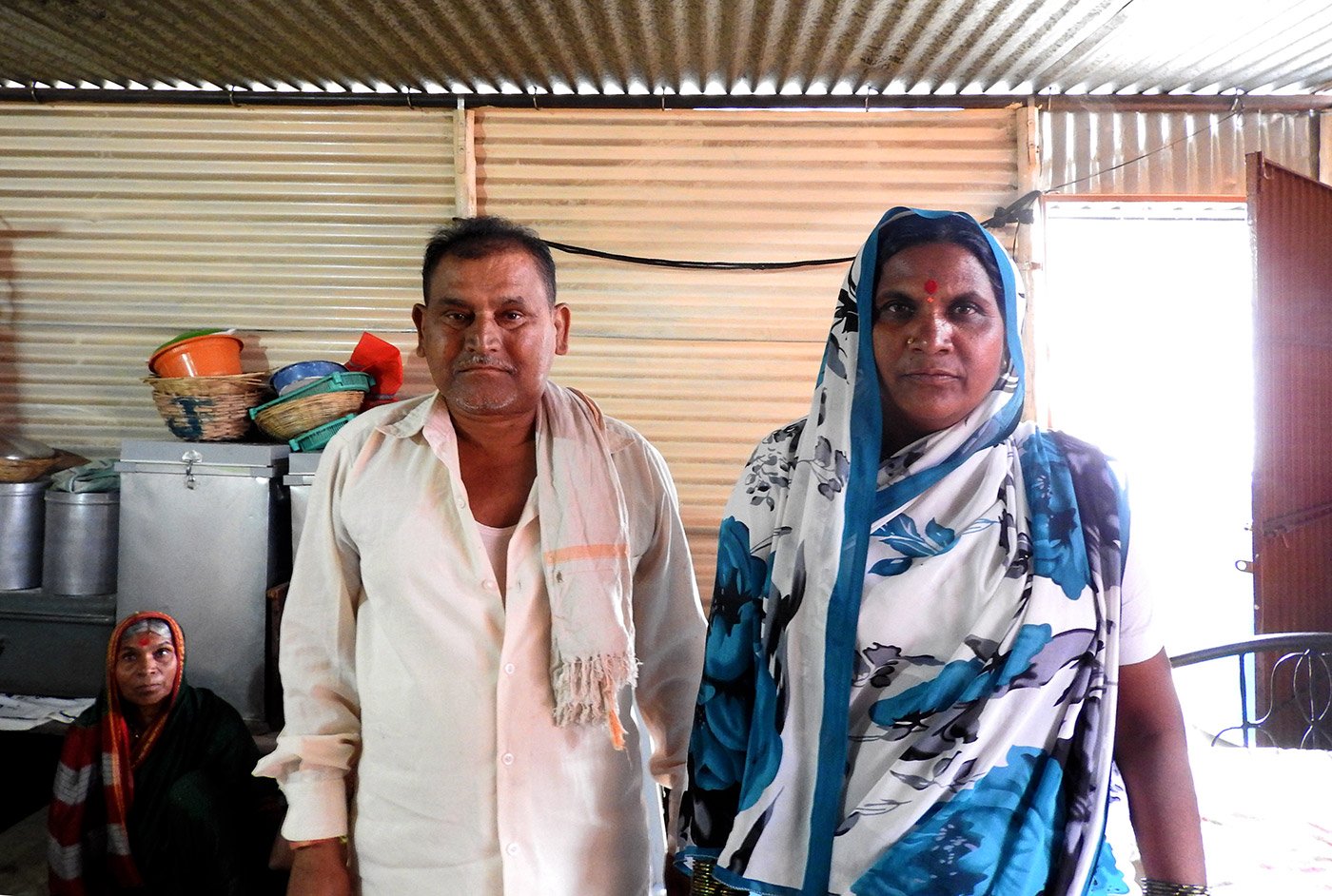 Shalubai with her husband Rajendra Kasbe inside their tin-sheet home; her older sister looks on
"We built this house just after I became sarpanch," says Shalubai. "The old mud and brick structure collapsed one day. The sharp edge of the tin roof gashed my husband's thigh and he needed several stitches.
"But we haven't got a proper house even now.  You get one only if you are BPL [below poverty line]. We have no land, property, farm, or cattle – but we are not BPL." Her honorarium as sarpanch was just Rs. 600 per month. "How can one manage on that?"
From 9 a.m. to 11 a.m. Shalubai worked in the panchayat office and after that in the fields like any other agricultural labourer. Women here get Rs. 150 a day for shelling soybean or weeding the fields. Men get twice that for digging, ploughing and sowing.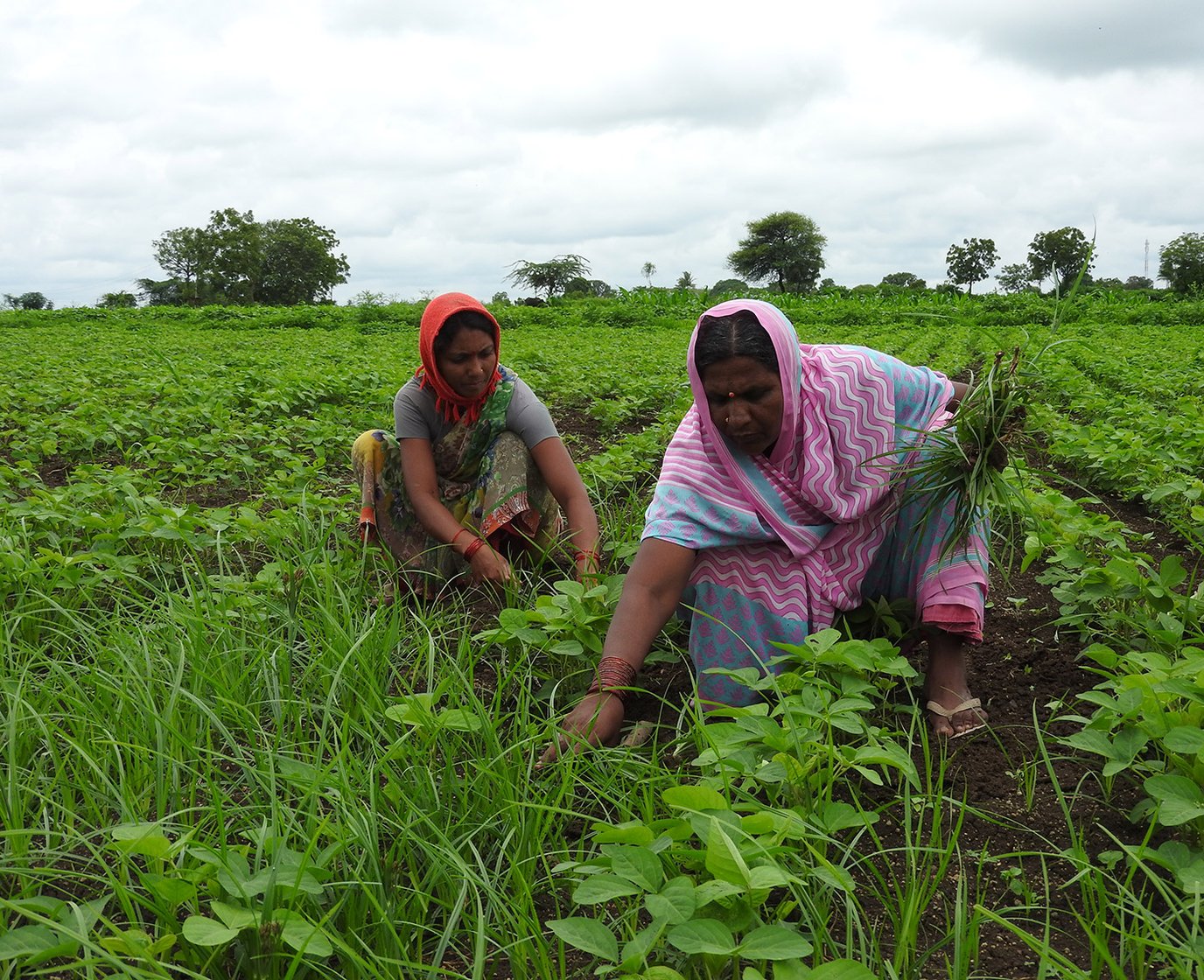 Weeding a field of soyabean plants

Shalubai's older son Sachin, 29, who has two children and has studied up to Class 12, says it was impossible for his mother to run the affairs of the village as sarpanch. She tried though – and was accessible to her community members for signatures on their documents at any time, unlike her upper caste predecessors.
"The Marathas rule us,"  Sachin says. "They will not allow us to prosper. They are in a majority and control everything." Opposing them would be asking for trouble. "They will bar us from the fields and block us from any other work."
Shalubai interrupts her son. "What is the use of confronting them? They own the lands we work on. They are okay with me because I gave them no trouble for five years."
Deputy sarpanch Khadke, a landowner and qualified engineer, isn't too sympathetic. "It is very difficult to explain things to illiterate women," he says. "And even if they learn to read and write, it is not the same as being educated."
Shalubai had hoped her sons would get stable jobs after she became sarpanch. That didn't happen, and Sachin continued to work as an agricultural labourer during her tenure.
Shalubai was elected under the 73rd amendment (to the Constitution, related to Panchayati Raj) in the reserved category. She completed her term in November 2015.  She had to spend her own money to get elected and hosted meals and even sold the family's lone buffalo to finance her campaign. "My own sister demanded a new saree to vote for me," she says, pointing to a smirking older sibling with some annoyance.
"The people in the village won't let me come up. All the 'big people' [upper castes] only let their own kind enjoy prosperity and make money. We are all maagasvargi [backward] people. Protest and they'll say: 'We will throw you out of the village'. And where will we go then? So we shut up."
Still, Shaluabi says she will always cherish the honour of having been the sarpanch. In practical terms though, the family's life did not change much. They remain poor, landless and living on the edge of the village and dominant social groups.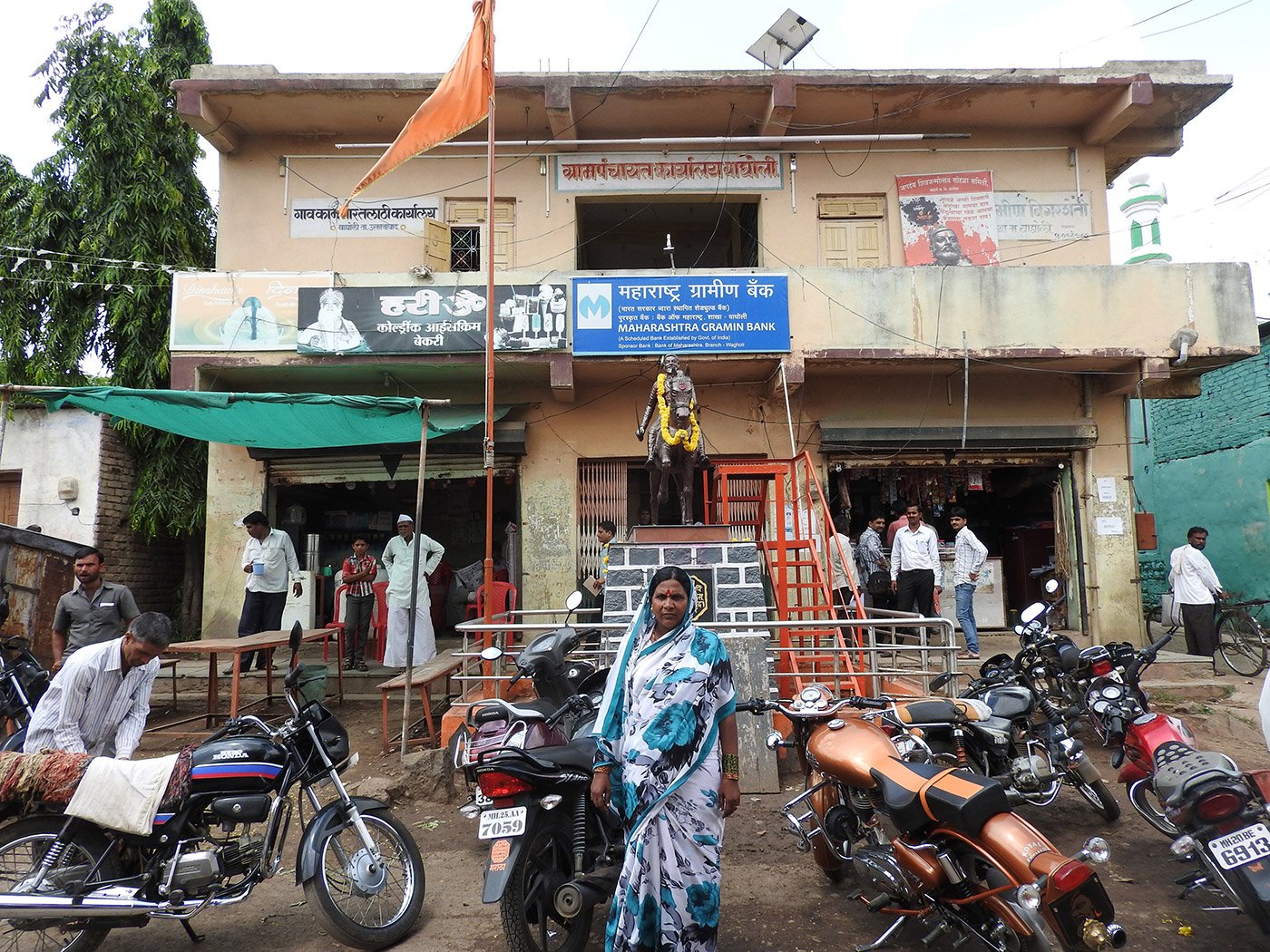 Outside the Wagholi gram panchayat office, Shalubai stands in front of a statue of Chhatrapati Shivaji 
All other photos: Namita Waikar.
Postscript: Shalubai's husband Rajendra Kasbe had a malignant tumour for which the family sought treatment at multiple hospitals. To cover these costs, they borrowed a substantial sum from a local moneylender and smaller amounts from neighbours. He died in April 2016. Soon after, Shalubai's two sons virtually abandoned her. She now lives alone, and is constantly harassed about the debt by her neighbours. The moneylender is insisting she hand over her tiny house or work as a bonded labourer to repay the loan. 
Thanks to Bharat Patil,  formerly with ABP Mazha, for his help reporting this story.
Namita Waikar is a writer, translator and the managing editor of PARI. She is a partner in a chemistry databases firm, and has worked as a biochemist and a software project manager You can contact the author here:@NamitaWaikarhttps://ruralindiaonline.org/articles/when-shalubai-won-the-chair-but-lost-the-table/