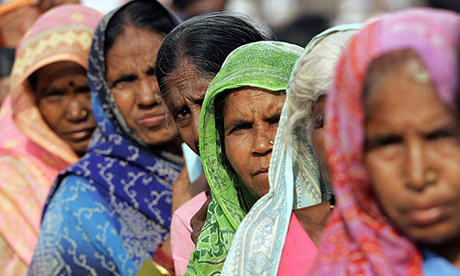 Thousands of landless Dalit and other landless agricultural laborers in the district and Adima Shakthi Dalit Women Federation ASDWF has organised a protest rally on 19th June,2012-Tuesday  from Kolar Inspection Bunglow (IB) to Deputy Commissioner's (DC) office from 11 am to 1 pm, in order to demand land right .

Despite 64 years of Indian Independence, the caste system and untouchability practice continue to exist. Also there is no significant change in land holding pattern. Both these factors are highly condemnable. In order to change unequal distribution of land and accumulation of resource by the dominants, Dr. Baba Saheb Ambedkar had suggested nationalization of land and redistribution and decentralization of resources. The system has not responded to the suggestion of Dr. Baba Saheb Ambedkar.
As a result the landless grass-root communities are constantly subjected to social, economic, political and cultural exploitation, atrocity and oppression. Moreover in the guise of industrial development, special economic zone(SEZ) even the smallest piece of land and shelter that this community owned is being continuously and systematically robbed by Government, foreign and local companies and feudal. Landlessness is the prime reason for infant mortality and malnutrition.
Land ownership is the prime source of livelihood and in this regard Dalits, landless agriculture labors in Kolar districts are subjected to atrocity every day. Land has been granted to Toti's, Neerugantis, however have not received their record of land rights. In this struggle of to get these entitlements the Dalits and landless agricultural labors of this district have to pledge their life.
Thousands of landless families in the district have been cultivating the excess land such as Gomala's(grazing land), Kharabu(waste land) and darkhastu(Government allotted  ) land. Such landless families have given application to the Government for granting such cultivated lands under form no. 53.  They have also submitted application under form no. 53 to grant such piece of land. As on 30/04/1999, the information under KPFLR(Karnataka) India status of Land Legislation in Karnataka pertaining to form no. 53, in Kolar district alone 71,829 people have applied for grant of 1,87,114 acres of excessive land. Only 3109 applications are under the process of granting 4,603 acres. What is shocking is that 14,788 applications pertaining to cultivation of 34,460 acres land have been rejected! 61,521 applications pertaining to cultivation in 1, 60,901 acres of land are pending!
As on 31/01/2006, information on Regularization of unauthorized cultivation of lands under section 94-A pertaining to Form no-50 applications were filed to regularize 1,89,903 acres land during the period 19/09/1991. Out of those applications 41,079 applications pertaining to 39,558 acres land were regularized. It is disaster to know that 46,271 applications pertaining to 11,554 acres and 36 cents were rejected from regularizing! And 352 applications are pending.
The situation of these grass root communities is schizophrenic and don't even own a 6 feet x 3 feet space to bury the dead bodies. In this context, Adima Shakti Dalita Women Federation understands that land is our mother and our livelihood and organized this  protest rally to demand land rights.
Major demands of the protest rally
Inspect all applications submitted under form number 53 and grant land along with the record of rights to the eligible applicants.
Inspect all applications submitted under form number 50 and regularize the land that is being cultivated by eligible applicants.
Those who are enjoying the land but not filed applications must be given space to file applications now.
All the applications that are rejected or pending under form no. 53 and 50 must be re inspected/re examined and grant or regularize land that is being cultivated by eligible applicants.
Toti, Neerganti and Inamti lands under other's possession must be given back to the actual beneficiaries.
Those Dalit villages that lack burial grounds must be given land for burial. Those burial grounds given to Dalits that are encroached must be evicted and fenced.
Dr. B.R. Ambedkar Development Corporation must set aside other programs/schemes and prioritise to purchase land and distribute them to the landless Dalit families.
Identify Government land in the district and distribute 5 acres of land to each landless Dalit families. The land khata (Record/Ownership)  must be registered jointly in the name of husband and wife.
In each Taluk land granting committee must be formed.
Like in Kerala and West Bengal, legislation on land ceiling must be implemented in Karnataka too.
Adima Shakti Vidyarthi mattu Yuvajana Vedike, Adima Shakti Krushi Kooli Karmikara Okkoota, Samaajika Janandolana, Samata Sainika Dala, Dalita Sangharsha Samiti(Ambedkarvada), Rajya Raita Sangha, Dalita Kraista Okkoota, Dalita Sangharsha Samiti, Janavadi Mahila Sanghatane.
More in formation- conact
M.Narayanaswamy
Executive Director – TREES & Founder
Adima Shakti Dalit Women Federation &
State Convener
Samajika Parivarthana Janandolana,SPJ
Deshi Halli, Bangarpet-563114
Kolar District
Mobile: 94485 18396