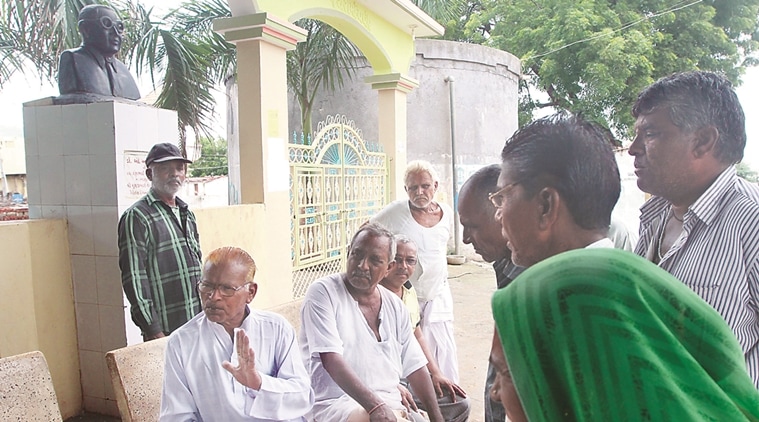 Punjabhai Kuberbhai Chamar (left) with others outside the anganwadi for Dalits; the village has seven, each for a different community. Source: Javed RajaThere was… a meeting of Garo, Vankar, Camär, Senavä and Tidagar (the Bhangi were considered to be too low to be invited at all)… in 1939 in the village of Ilol. The resolution urged abstinence, as alcohol was seen as detrimental to physical and moral health. As against that, carrion was sought to be given up not on inherent grounds but because it lowered one's status in the eyes of the higher castes.
— Shalini Randeria in "Carrion and Corpses, Conflict in Categorising Untouchability in Gujarat", European Journal of Sociology, 1989, Cambridge University Press
The road to Ilol passes through lush green paddy fields. It is the largest village in Himmatnagar taluka of Gujarat's Sabarkantha district, a stretch of 12 km beginning with the homes of Muslims, the dominant population at 70 per cent and land-owners here, with a Dalit vaas at its other end.
Dhanabhai Gobarbhai Vankar, who retired as a schoolteacher, is looked up to among the Vankars, the largest sub-caste among the Dalits followed by the Chamars. "Since Independence, there has been no untouchability here," says Dhanabhai, who remebers Ilol as once dominated by upper castes, mainly Vaniyas and Brahmins, who are now settled in towns.
The village today has a 14.8 per cent Dalit population, with every sub-caste represented — Vankar (traditionally weavers), Chamar (of whom many still clear carcasses and are in the tanning business), Garo (or Pandya, priests who do rituals), Tirgar (arrow makers), Senwa (basket weavers), Valmiki (cleaners). Many of the Dalits are educated — Ilol has a 95.2 per cent literacy rate among men and 82.25 per cent among women — but complain there are no jobs for them.
The flogging of Dalits in Una has them thinking about giving up the leather trade.
"Look what happened in (Mota) Samadhiyala," says Somabhai Dhanabhai Chamar. "These so-called Hindus, they call Mohammedans home for meals, people who slaughter goats… But we remove carcasses, they never call us home, they bully us."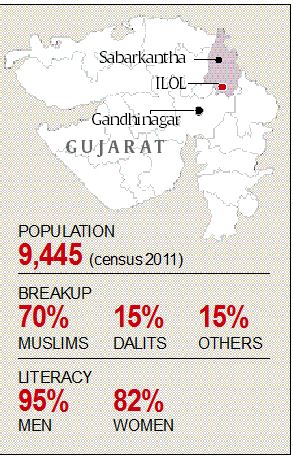 The Dalits say Muslims, however, do not discriminate against them. They feel the chemistry could be because both communities eat meat. Besides, the Muslim farmers employ them for labour. "They give us Rs 60-70 a day," says Somabhai.
The presence of Muslims also makes them feel secure from gau rakshaks. "They call themselves gau rakshaks, but don't even keep a calf at home. They fear the Muslims, so they are quiet," says Somabhai.
The elder of Somabhai's sons, Mahesh, is an MA and vice chairman in Sabar dairy's Ilol branch, a job that is only to fill quota requirements, according to his father. His younger son is in college.
Punjabhai Kuberbhai Chamar, 68, a taluka panchayat member, is dressed in a spotless white kurta and yellow dhoti. "Don't judge me by my clothes, I wash them every day," he jokes, pulling out its pockets to show they are empty.
The father of three sons, he adds, "To get one job for our boys, we need a Rs 7-8 lakh donation. And we have not even seen Rs 5,000 at once."
He says the pointsperson in Ilol for the leather business is Kalabhai Chamar. "Every Chamar still in the business has a contract with 10-odd homes. The animal is skinned, the hide treated and collected by Kalabhai who sells it to a trader," Punjabhai says.
Kalabhai is uncomfortable talking about it. "I get nothing from this business, most of the money is spent on the labour," he says. None of his children wants to take charge of his business, he says.
Dalits are not sure if they will stop the carcass clearing job after the pledge in the Dalit rally in Una. "The skin job fetches nothing. The labour charge for hauling the cow is Rs 300, the rickshaw will charge Rs 200, and Rs 50 for loading. The skin would sell for Rs 700-800," says Somabhai. As an afterthought, he adds: "Now we are ready to become Muslim. or Buddhists like Babasaheb."
Ilol is incidentally home to retired IAS officer K G Vanzara who is additional secretary in the Gujarat government's department of social justice and empowerment, as well as D G Vanzara, the retired IPS officer now out on bail in alleged fake encounter cases.
The Ilol gram panchayat has 19 members, of whom five are Dalits. The village has three primary and two higher secondary schools one of which is run by a Muslim trust.
And it has seven anganwadis, each for a different community. "Only Senva, Tirgar, Chamar, Pandya and Vankar children come to our anganwadi,"says Jassiben, who runs the anganwadi for Dalits.
Ilol sarpanch Ashraf Dantreliya says the anganwadis are located only for "convenience of distance" and not really demarcated by caste.
Dantreliya also vouches for "communal harmony" in his village and says that only three to four persons are in the leather business.
Vinodbhai Motibhai Parmar, 72, who retired as a government schoolteacher, has two sons, one a BA who drives an auto. He applied for the job of a bus conductor but failed the test. "They want donations, so they fail you in the orals," says Vinodbhai. The second son has been jobless since Bayer India closed operations there.
At least 20 per cent of the labourers in the village are listed under MNREGA, says Somabhai, "but there are no jobs".
Most of the women labour in the fields, cutting grass to feed their buffaloes. Newly built toilets under the Swachhata Mission stand out outside their modest homes. "Our girls are grown, and we cannot send them outside, so we built some toilets on our own after taking loans," says Pushpaben, as she leads a group with sickles into the fields.http://indianexpress.com/article/india/india-news-india/dalits-gujarat-cow-skinning-leather-business-want-government-jobs-una-thrashing-gau-rakshak-3005016/