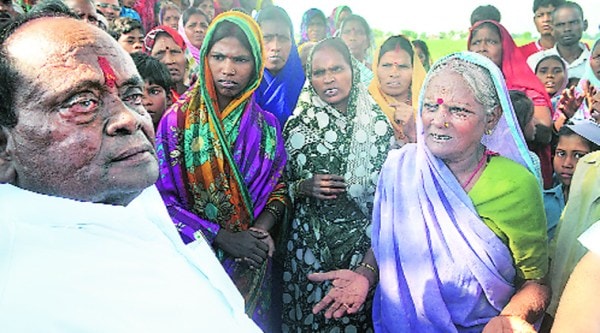 Dalit leader Ramai Ram at Mohanpur where a boy was burnt alive, allegedly by upper-caste men.Source: Prashant Ravi
Written by
Santosh Singh
| Patna | Posted: October 19, 2014 2:36 am | Updated: October 19, 2014 7:20 am
The Dalits who mobbed Bihar minister Ramai Ram in Sasaram on Wednesday do not have knowledge of the state's latest crime statistics but their anger is backed by numbers.
There has been a remarkable spurt in violent crimes against Dalit communities in Bihar this year. The numbers since 2005 are bad enough — 32,395 cases of atrocities till this August — but it's the 10,681 cases in the past 20 months that point to an alarming uptrend. It gets worse from this January to August: 4,322 cases, including 361 cases under the Prevention of Atrocities against SC/ST, the highest in the past nine years.

Fingers are being pointed at state Chief Minister Jeetan Ram Manjhi, himself a Mahadalit, for lack of a proper response but observers see reasons beyond inept running of the police machinery. A state with a dark history of oppression of its lowest-caste poor may be seeing a fragmentation of the "social coalition" of Dalits and upper castes after the split in the governing NDA in June 2013.
Veteran Dalit leader Ramai Ram was in Mohanpur village of Rohtas district to hand over a compensation cheque of Rs 2.8 lakh for the death of Sai Ram, 15, who was burnt alive, allegedly by upper caste men on Wednesday. But there was no gratitude, only angry words.
"We have been at the receiving end even after Manjhi became CM. A leader like you (Ram) has been a lackey of Lalu Yadav and Nitish Kumar for 25 years but done little for our empowerment," a resentful villager told Ramai Ram. "There are no toilets for us. Our women suffer humiliation when they go to upper-caste people's fields."
When a villager tried to praise the visiting minister, an angry protester slapped him. A sobered Ram said: "I can understand their anger. They have real issues we need to address."
The rising crime numbers since January last year have been brought in sharp focus by three big back-to-back anti-Dalit incidents in the month: rape of six Dalit women and minors in Bhojpur earlier this month; over 150 in Gaya being forced to leave their village after clashes with dominant upper castes in September-end; and Manjhi's highly publicised accusation that a Madhubani temple was cleansed after his visit.
The main accused in the Bhojpur rapes, for example, was a member of the disbanded landlord army Ranbir Sena and all three belonged to upper castes.
Manjhi may have been inaccurate in reporting this personal insult but since he became CM in May, more than 20 anti-Dalit atrocities have been committed. This includes a Dalit chief engineer Narayan Paswan, who was beaten by an upper-caste contractor at a Patna office after he was reportedly denied a contract.
Politicians, police officers and social scientists said "dalits are being made targets". LJP chief and Union minister Ramvilas Paswan told The Sunday Express: "Manjhi has failed to inspire as Dalit leader and made offensive remarks that will only break social cohesion. Recent incidents of atrocities do suggest social goodwill achieved in past few years is breaking."
A senior police officer said it should be also kept in mind that cases under SC/ST Act were not lodged during RJD rule. "There are at least 200 murder cases between 2000 and 2005 in which SC/ST Act was not added," he said.
However, Shaibal Gupta of ADRI, a social research group, differed: "One thing behind the attacks on Dalits is noticeable — all are done in a demonstrative manner, as if to send a message of the break-up of ties between two social extremes of Dalits and upper-castes, achieved when BJP and JD(U) were together."
He said upper-caste people bore the brunt of OBC anger during Lalu's first term and they are now unwilling to accept Manjhi as CM. "Upper-caste people had registered their anger against Nitish by not voting for JD(U) in the Lok Sabha elections. Now the chasm is wide open."
RJD vice-president and former Union minister Raghuvansh Prasad said: "It is true that Dalits are being targeted. Our support to JD(U) is driven by a combined fight against BJP but we are not happy with the way things are going."
The Congress, which support the JD(U) government, is also displeased. Bihar Congress chief Ashok Kumar Choudhary, also a Mahadalit, said: "Recent incidents clearly suggest disintegration of social bonds. Dalit leaders and the state government have to make serious efforts."
Bihar Human Right Commission member and former state police chief Neelmani said: "Police responses have been prompt but issues of social disharmony need to be addressed. That a Mahadalit is CM is a great sign of empowerment but social disharmony is continuous work."
– See more at: http://indianexpress.com/article/india/india-others/dark-days-of-violence-on-dalits-return-to-haunt-bihar/99/#sthash.zUjbOGDb.dpuf