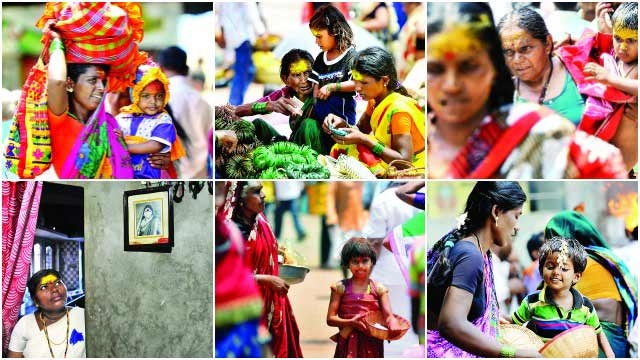 As the drought tightens its grip and the struggle for everyday survival becomes increasingly difficult, the devdasi tradition of dedicating girl children to Goddess Yellamma is making a comeback. Yogesh Pawar travels to the parched lands of Karnataka and Maharashtra to document lives caught in a vicious cycle of poverty and desperation
The crowds are thinner than the full-moon festival of Bharat Hunnime in January, but there's still barely any space to move. The streets leading to the famed Goddess Yellamma temple in Saundatti, Karnataka, are lined with shops selling fruits, garlands, bangles, coconuts, camphor, incense sticks and saris, along with the huge mounds of vermillion and dry yellow dye that is smeared on devotees.
Done with their darshan, devotees gather under the cool shade of a neem tree to get some respite from the oppressive summer heat. Some cook, some settle down to lunch and others rest after a clearly tiring pilgrimage.
Whether from Telangana or Rayalaseema in Andhra Pradesh, Gulbarga and Bellary in Karnataka or Marathwada and Solapur in Maharashtra, they talk of little else but the worst drought of the century that has gripped their villages.
It's this – crops failing, jobs drying up along with sources of water and widespread hunger – that has led to crowds swelling at the temple dedicated to Yellamma, the goddess associated closely with devdasis. The tradition of dedicating girls from lower castes created by upper castes to sexually exploit them is making a huge comeback across the drought belt, notwithstanding the law, say activists and priests too.
Says BL Patil of Vimochana Devadasi Punarvasthi Sangha (VSPS), "There are nearly 50,000 plus devdasis according to the union ministry of women and child development. These women end up becoming conduits to bring girls from families under duress for dedication. Between selling them directly to the flesh trade and dedication, the latter is preferred because it is given sanction by religious tradition."
Unmindful of her mother's calls to lie down, little Soubhagya Humbe from Chincholi village in Maharashtra's Latur district runs around while her maternal uncle haggles for a better price for their humble lunch of jowar rotis and chilly chutney. Dedicated to the goddess as a child bride, the nine-year-old doesn't know what lies ahead. For now, she's excited about her first visit outside the village.
Once dedicated, rights to virginity are auctioned and young girls like Soubhagya are pushed into prostitution, just like her grandmother Lakshmi was, and later, when they are old, reduced to begging with a basket bearing a brass bust of the goddess.
Lakshmi curses her son-in-law who went to find work in Pune last year after the crop failed. "He never came back. I'd used all my life savings in getting my daughter married and now she's back with two children. My son's let them stay, but for how long? Ultimately, we had to find a way out," she weeps, pointing to Soubhagya and recalling how she became a devdasi and was pushed into prostitution to support the family. "Looks like this is what Mother Yellamma wants for us."
According to priests at the temple, in Karnataka's Belgaum district, this is the first time girls are being brought to be dedicated to Yellamma in April. "It'd happen only between October and February. Also, until about 10 years ago, the numbers had reduced to a trickle, but there's been a surge in dedications over the last three years," said one of them on condition of anonymity.
Offering girls as child brides to the Goddess had been made officially illegal since 1984. "All it has done is make everything hush-hush and increase corruption," he says.
Brushing off any guilt, he laughs. "I'm not here to be a social reformer and make enemies of other priests. Look at the cops, they simply need Rs500 to look the other way. They're happy, the girl's family is happy, the temple's happy. I don't want to stick my head out to disturb that."
***
This desire to not disturb the status quo plays out in a cruel narrative over 400km away in the Matang settlement, off Latur's last village Mamdapur on the Maharashtra-Karnataka border. Barely 10, Ratna stands out. Dressed in traditional parkar-polka, there is something characteristically stylised and acquired about her posture as she tucks into her meal.
"I dedicated her as a devdasi in January," her mother Mahadevi Arasale says. "She eats before all of us, even the men. We don't want Yellamma to be angry." The fiery tang of the hot brinjal curry makes the kajal in Ratna's doe eyes run. The mother calls out to her youngest, Mallikarjuna, to fetch some jaggery from a neighbour. Her octogenarian father-in-law Hirappa sits outside, staring glassy-eyed through the door at the girl eating. "He spends all the Rs600 he gets from the government as pension for elderly on his drink and bidis. The son's died and left this wretch for me to take care of," Arasale yells, slamming the tin door. "Don't stare! You'll give her an upset stomach."
Her voice edgy and trembling, the mother of four daughters and a son rationalizes the decision she has made for Ratna, "It's not like the old man's earnings. I have to think of everyone."
Arasale says the dedication came after several hardships over the last five years. Landless labourers like her family have found work increasingly hard to come by. "With successive droughts and crop failures, rich farmers who'd otherwise vie to hire us, have lesser and fewer days of work even as far as Narayangaon over seven hours away in Pune district."
She still thinks of the picturesque town on the Pune-Nashik road as cursed. That's where she had lost her husband to jaundice in 2012. "If it wasn't for financial support from my sister Netravati in Aurangabad, I don't know how I'd survive."
But why dedicate her own daughter?
"Netravati, who was also dedicated very young, suggested it."
The visiting elder sister spits out her paan and says, "That's right. Blame me. I'm the bad prostitute." Unapologetic and open about her sex work, she shakes her head. "It's all Her doing. When Mother Yellamma shuts a door, she opens another."
After it was decided that Ratna would be offered to the goddess, a benefactor was found to fund the trip to Saundatti and to buy the gold stone in the mangalsutra.
Both Arasale and Netravati are full of praise for Arjun Patil, the benefactor. "Right from hiring the jeep to go to Saundatti, to sending us Rs1,000-1,200 every other month, he's been very generous. He even sent ear studs for Ratna this Yugadi."
***
The story of desperation finds echo across the region.
The settlement of Lambani nomads outside Alur village in Osmanabad in drought-hit Marathwada is an assortment of straw huts and shanties. An old cow sits in the hot sun, her ribs jutting. "She can't bear calves, so there's no milk and now, thanks to the beef ban, no one wants to buy her. Since I can't sell the cow I had to sell my daughter Kaveri," weeps Kamalibai Nayak.
Guilt-ridden with the dedication of her daughter last October at Saundatti, she equates it with selling. "If I go back on my word, I'll have to return nearly Rs20,000 to the saukar's (moneylender) who funded the dedication. That's a lot of money. Also, it'll invite the Goddess' wrath."
It all began in 2011. "Because of drought, we had no work. When my husband developed a growth in the groin which needed surgery, I had to find money."
When his condition turned critical around Diwali last year, she borrowed money from a local money lender (who works for Arjun Patil) for surgery. He asked her to join a jogatin(middle-aged)-devdasi, called Tipamma, on a pilgrimage to Saundatti where a deal for 11-year-old Kaveri was struck.
Unlike a shy Ratna, Kaveri won't stop talking. "I want to continue going to school but now after the dedication in January, my mother won't let me." She remembers it being very cold and the water in the holy tank at Saundatti being filthy. "But my mother told me that if I didn't agree to it, I'd lose my father." After the ritual bath, she was draped in a neem branch skirt and made to trudge up the hill with a pot of water. "I was dressed there like a bride in new sari and cowrie shell necklaces and the priest kept asking me to make vows. I was scared and simply said yes to everything so that it'd be over quickly."
She was then asked to quickly change into regular clothes and was brought back home. "We have to keep it quiet since it can lead to police problems," points out the mother.
***
Across the Karnataka border, we meet 16-year-old Renuka Mallikarjuna outside Raichur's civil hospital, where she was brought for an STD infection. "A client who knew he was infected beat me up when I asked him to wear a condom. He forced himself on me and hurt me on my vagina with a blade," says the teen, who was dedicated five years ago.
Though on a break till she heals, she doesn't want to go home visiting her mother two hours away at Salaguna village in Sindhanur tehsil. "She's herself a devdasi and knew what this means. Yet she dedicated me. I was only 14 and resisted the touch of men, fighting them off. After months of being beaten senseless, kicked in my chest, tied spread-eagled and raped, I had to make peace with my destiny."
The story of brutality finds echo 280km away, in Mahalingpur town of Bagalkot district. "My grandmother and mother were both devdasis and told me to decide whether I want to be a doll in others' hands or run my life on my own. In their view, being devdasi meant more freedom than married women," recalls Suvarna Indugoundru, who is in her late 40s.
Articulate and vocal about livelihood issues, this strong voice of the local sex workers' community is just back from an Ambedkar Jayanti rally in Miraj town, 100km away. "I am fed up of the condescension and patronising by Mahar leaders. They never fail to underline how the devdasi-turned-sex workers are Dalit and how the clientele are upper caste and ask me to work as a domestic help instead," she points out. "When I tell them to match my earnings in sex work and hire me as a maid in their homes, they just shut up. Upper castes just want sex, but the moralising by Mahar leaders is often worse."
As someone well connected with the community network, she observes, "Dedications are going up again over the last three-four years. Unlike us, who'd never seen the insides of a school, shockingly many of these young girls are often pulled out of school."
According to her, the network of middlemen on the prowl has increased its presence. "Whenever there is a calamity, they appear, knowing that this is the best time to pick girls for brothels in Mumbai and Pune. The family gets a pittance compared to the money they make."
***
About 30km away in Jamkhandi, we meet Arjun Patil for the other side of the story. Everything from his metal-tinted glares, all-white outfit, shining Bullet at the door and the bevy of young sidekicks in Being Human knock-offs, screams money. His own family deity, the Goddess Bhavani of Tuljapur, does not enjoy as much of a pride of place both in position and size as goddess Yellamma on the wall behind him. Across the room, Ajay Devgn stares down from a wall. "All that you see is Yellamma's blessing," says the the 35-year-old, a class nine dropout.
The woman of the house who comes bearing plates of susheela (poha-like preparation of puffed rice) is told to shut the door behind her and he lets Katrina Kaif finish gyrating to Chikni Chameli on TV before continuing his boast. "This year's Neeramanavi Yellamma jatra in January at Saundatti was exceptionally good. I sponsored nine dedications to Yellamma."
Isn't that a lot of money? "Yes it is. But you know, it is an investment. It'll all come back several times over. In fact, in some cases like the fair-skinned and light-eyed Kaveri or the dusky but sharp featured Ratna, I'm happy to give the family a little something every month or two to keep them tied to me till they get their first period."
Once the girls reach puberty, their virginity is auctioned to local businessmen, landlords or brothel-keepers, Patil explains matter-of-factly. While he refuses to discuss money, he's more forthcoming when asked what happens to the girls later. "After that, it is their destiny. Some end up becoming regular keeps of the well-to-do till they're young and desirable. With the exception of a rare few, later, most join the others who become prostitutes. Unless they are smart, by the time there are in their mid-40s, most go back to begging."
***
So is there no way to break this vicious cycle? The answer to that depends on who one is talking to. "Yes," says anti-trafficking activist Shyam Kamble, who works with the community of jogatins. "We will have to mobilise and raise awareness about how this socio-cultural practice is yet another way for upper caste men to sexually exploit lower-caste women."
Meena Seshu, of the National Network of Sex Workers (NNSW) who runs SANGRAM, a grassroots health and human rights NGO for sex workers for more than two decades, has a different view. She speaks of the need to look deeper into systemic causes like inequitable distribution of water, rural poverty and lack of income generation avenues. "That is causing the distress that pushes young girls into being dedicated. Till we address those, anti-trafficking intervention won't work."
She says many women find being a devdasi empowering. "The jogatin or devdasi enjoys all rights and privileges patriarchy reserves for men. When they feel free like that, who are we to tell them they are wrong?" What needs urgent addressing, according to her, is the exploitative paradigm. "The women should get to live their lives on their terms without someone else making money off them."
Ratna, Kaveri and Renuka would like that…
The history
The Agama rules of Hindu temple worship make music and dance an essential part of propitiating deities. Accordingly, references to temple dancers at Ujjain's Mahakaleshwar temple can be seen in found in Kalidasa's Meghadoot (5th century AD). Several Puranas too suggest enlisting services of singing girls for temple worship. By the end of the 10th century, the number of devdasis in a temple indicated its wealth and prestige.
During the early medieval period, too, they were seen next only to priests. What began as occasional invites to dance at royal courts changed the grammar of the tradition to please the male gaze.
As Hindu temples fell to west Asian invaders, devdasis were forced to depend on kings and other patrons. With the arrival of the British, who frowned upon what they called "debauchery and decadence", things changed. Due to devdasis being equated to prostitutes, they also became associated with the spread of venereal disease, leading to increased crackdowns. This forced the women further into poverty and prostitution.
The tradition was once almost pan-India – including the devdasis of the Chola temples in Tamil Nadu, the jogatins of Maharashtra, Karnataka and Andhra, those of the Mangeshi temple in Goa, the Mahari devdasis of Odisha and the ones attached to temples in West Bengal and Assam.
Though curtailed to great extent, sizeable numbers of devdasis are still found in several southern states as well as Maharashtra, despite the law.
What they said:
Maneka Gandhi, union minister for Women and Child Development:
"I am glad you brought this to my attention. I will ask my counterparts in the states for details and undertake suitable intervention."
Arun Nirgatti, head of Belgaum District Child Protection Unit (DCPU) of the women and child welfare department:
"This is an issue related to the rehabilitation of devdasis, not generic children, so you will have to speak to the concerned authority."
MK Kulkarni, Belgaum district officer of Devadasi Rehabilitation Programme:
"We have not had any such complaints. Our officials and the temple priests are vigilant. We immediately inform the police and take the child into protective custody if we get details.
I don't think any of the senior devdasis who've seen the misery of their life will push their children into this hell."
N Jayaram, Belgaum collector:
"I will alert our officials to increase vigils in tandem and anyone indulging in illegal activities like dedication of girls will face strict action."http://www.dnaindia.com/lifestyle/report-daughters-of-drought-the-vicious-cycle-of-poverty-in-the-parched-lands-of-karnataka-and-maharashtra-2207788