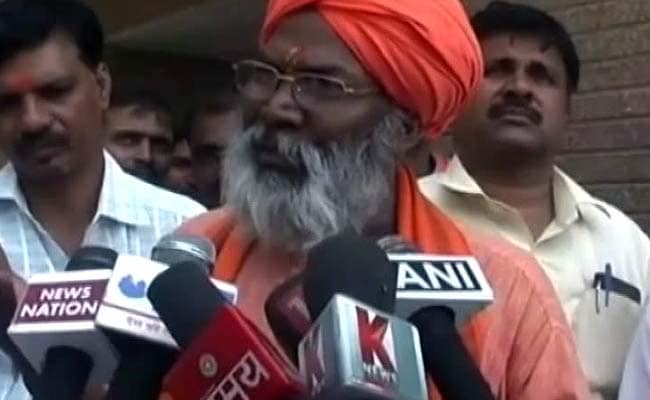 BHUBANESHWAR: 
 Controversial BJP lawmaker Sakshi Maharaj today pitched for a law that provides for death penalty for cow slaughter and defended his party
MLAs
beating up Sheikh Abdul Rashid in the
Jammu and Kashmir
assembly as a "natural reaction" to the independent legislator's action.
Strongly advocating protection of cows, the BJP MP said, "A strong law should be put in place to hang people responsible for cow slaughter."
He also backed Haryana Chief Minister Manoharlal Khattar's controversial "Muslims should quit eating beef" statement, saying there was nothing wrong in it.
Defending his partymen's action in Jammu and Kashmir's Assembly, Sakshi Maharaj said, "J&K independent MLA's assault was just a reaction. His action hurt the masses and he was beaten up."
"Leaders need to change their mindset or get beaten up by the people in full public view," the BJP MP from Unnao in Uttar Pradesh said addressing an event organised by International Hindu Mahasangha.
Mr Rashid was recently assaulted in the state assembly after he allegedly hosted a beef party in Srinagar. On the Ram temple issue, Sakshi Maharaj said the temple would be built during the tenure of the Narendra Modi government.
"It may not be today or tomorrow, Sri Ram Mandir will certainly be built during Modi government's tenure. We have completed just one year in office, four more years are to go," he said.
http://www.ndtv.com/india-news/death-penalty-for-those-who-slaughter-cows-bjp-lawmaker-sakshi-maharaj-1233403