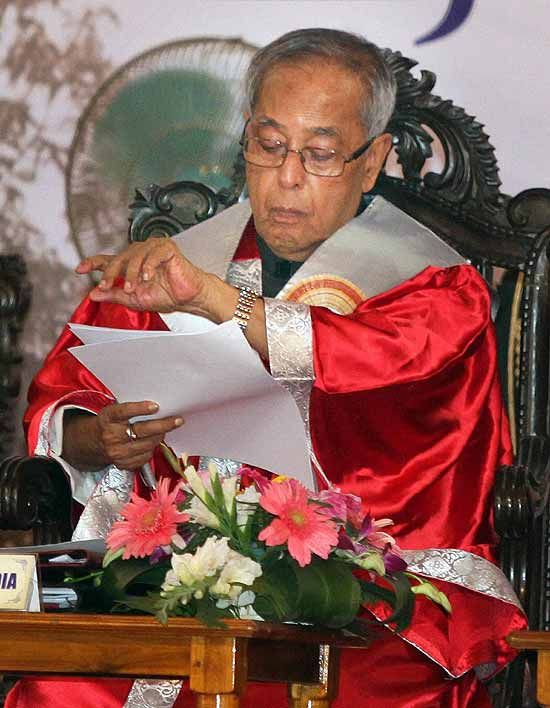 NEW DELHI | APR 12, 2013, outlook
There was a long delay in deciding mercy pleas by the Presidents, which was also highlighted by the Supreme Court today, but the situation changed when Pranab Mukherjee took charge on July 25 last year, disposing of petitions of 16 condemned prisoners within nine months.The petitions for clemency filed by sandalwood smuggler Veerappan's elder brother Gnanaprakash and his aides Simon, Meesekar Madaiah and Bilavendran were rejected by Mukherjee on February 13. The four had then obtained a stay on their execution from the apex court on February 18.
Besides the four, the others whose mercy pleas have been rejected by the President since taking charge are — Suresh, Ramji, Gurmeet Singh, Praveen Kumar, Sonia and her husband Sanjeev, Sundar Singh, Jafar Ali, Dharampal and Saibanna Ningappa Natikar.
Except Dharampal and Natikar, the others had moved the apex court on April 6 and obtained a stay on their execution for four weeks.
Mukherjee also commuted the death sentence of two death row inmates, including Atbir, to life imprisonment.
Atbir was convicted for murder of his step-mother, step-sister and step-brother over property.
Dharampal was convicted for murdering five members of the family of a girl he had raped. He had committed the murders while out on parole in the rape case.
Sonia and Sanjeev were awarded death penalty for killing eight members of her family, including her parents and three children of her brother in 2001.
Gurmeet Singh was convicted of killing 13 of his family members in 1986. Jafar Ali had murdered his wife and five daughters. Suresh and Ramji killed five of their relatives.
Natikar was awarded death penalty for killing his wife and daughter, Praveen was convicted for killing four members of a family in February 1994 and Sundar Singh was convicted for murder of five members of his brother's family in June 1989.
A recent study by Amnesty International reveals that death penalty resurfaced in India, during 2012, after a long lull in execution at the gallows, while several other nations are opting for penal system free of capital punishment.
Full Story:
In its recent report based on extensive study, Amnesty International has revealed that the death penalty has resurfaced in India in 2012.
Amnesty International claimed in London that the resumption of the death penalty was facilitated by public pressures and political motives in India.
[Jan Erik Wetzel, Death Penalty Advisor at Amnesty International]:
"The resumption of the executions in India is most likely based on a variety of reasons. One of which is public pressure and another one would be political considerations by the government in place."
[Ravi Prakash, Senior Advocate]:
"Death sentence acts as a deterrent and therefore, death sentence has been retained in the Indian Penal Code and by our legal system. But the court has said that it should be given only in a very rare of the rarest circumstances and not keeping in view that way of the retribution, you are conferring the death sentence on anybody."
In November, India carried out its first execution since 2004 when the country hanged Mohammad Ajmal Kasab, the lone survivor of the militant squad that killed 166 people in the 2008 attacks on the financial capital Mumbai.
Kasab's execution sparked off celebrations across India.
People burst firecrackers and exchanged sweets among themselves to hail this execution as a justice for the victims of Mumbai attacks.
India had also recently approved a tougher new law to punish sex crimes, including death for repeat rape offenders, after the fatal gang rape of a student in December.
That event sparked unprecedented protests over the treatment of women in the country.
[Abhas Kumar, Student of New Delhi]:
"Death punishment in India is necessary to warn and evoke fear in the minds of people. Criminal activities are increasing. Criminals here are not afraid to commit crimes because they feel that they will be released from jail in two or three days and above all, the trial against them takes a long time."
The Amnesty International study said that besides India, executions resumed in other countries of the Asia-Pacific region including Japan and Pakistan, after it seemed that they had done away with the punishment.
[youtube=http://youtu.be/cko9iiWjR1s]
Related articles