TUESDAY, DEC 16, 2014, Pamela Philipose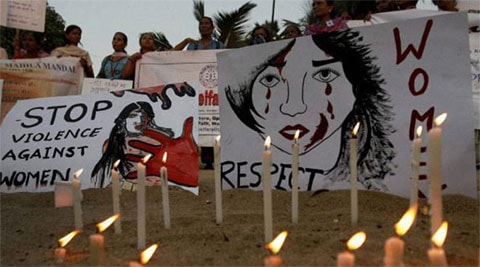 The report could help in removing those obstructions but it will first have to be dusted down from the shelves of national amnesia.
Written by 
Pamela Philipose
 | Posted: December 16, 2014 12:06 am | Updated: December 16, 2014 8:27 am
Voluminous tomes of inquiry that seek to address variegated national crises usually end up as expensive paperweights. This is because the very intent behind instituting committees of inquiry is essentially performative, not prescriptive. They are expected to bury the truth, not uncover it. Meanwhile, history continues to play out in concentric cycles of tragedy and farce — riots recur, social tensions rise, criminal acts and sexualised violence breakout like unstoppable forces of nature.
There is a curious circularity to the outcry caused by the recent sexual attack on a Delhi woman who happened to hail a public taxi on a GPS system. In a miniature way, it mimicked the outrage the country witnessed exactly two years ago. The gangrape on a bus that took place in the capital on December 16, 2012, and the public outrage that followed demanded desperate measures and, in time honoured fashion, an inquiry committee was set up.
That's how far things went according to script. The three-member Justice J.S. Verma Committee, mandated to examine existing laws dealing with sexual violence and propose amendments, did something unexpected: it re-ordered its remit. Consequently, its 631-page report, emerging in a record 29 days, became the first serious attempt by the government of India to address in a holistic fashion a blight that had become part of the national DNA: gender violence. With all its inadequacies, and there were many, this was a new-age document shaped by an unprecedented level of offline and online engagement with stakeholders — some 80,000 responses in all.
While some of its recommendations did help shape the Criminal Law (Amendment) Act passed in 2013, the report was received by the ruling elite with eloquent silence, even as the army brass flew into high dudgeon over sunlight being trained on unconscionable acts of sexual assault perpetrated during military operations. In time, it became clearer that the panel's most radical suggestions had been put on ice. Today, there are not many in government or Parliament who refer to the report or show themselves as being cognisant of its recommendations, which, incidentally, included procedures to keep sexual predators out of legislative chambers.
What was it that made the Verma Committee report so historic? It achieved five conceptual breakthroughs. First, it situated sexualised violence not just in the amorphous terrain of law and order but firmly within the four walls of the Constitution. This was not only about good policing, even though a responsive, bias-free police force was seen as crucial; this was about guaranteed statutory rights that the state was obliged to protect, even when private entities were involved in service delivery.
The inability of women to claim equality in society had the committee asking whether the state existed at two levels — one for those who can access constitutional protections, the other for those who lived under the "silent domination of the superior will of tradition, customs and practices which are derogatory to women". Factors like caste, class and location, including that of disability, marked that domination.
Structured silences and gaps in planning and policymaking only deepened it. The lack of women's representation in legislative bodies, the low value accorded to women's labour, the indifference to infrastructure that impacts women's safety directly, like safe public transportation in cities or sanitation facilities in rural India, are instances of such absences. The Uber case would not have surfaced if the committee's recommendation that drivers of public transport vehicles be security vetted had been heeded.
The second conceptual breakthrough was in framing sexual assaults as expressions of power, not crimes of passion.
The shame-honour paradigm that marked the response to such incidents needed to be dismantled, the committee observed, and the stigma inherent in them directed not at the assaulted woman but at larger society. The framework it posited — based on an understanding that such acts were assaults on a person's right to free movement, bodily integrity and sexual autonomy — was dynamic and applied not just to rape but acts like stalking, acid attacks, stripping and even voyeurism, increasingly common in the age of new communication technologies.
Remarkable, too, was the committee's clear-eyed appreciation of the need for reform in the so-called touchy areas. The resistance to categorising marital rape as a crime was traced to a notion of marriage that regarded wives as their husbands' possessions, which erased the idea of consent that was central to any relationship of equality. Other hallowed responses of the state also met with similar scrutiny, including sexual violence perpetrated by the military — the committee had no hesitation in recommending that such crimes come under the purview of ordinary criminal law. It also decried the state's failure to acknowledge the equal sexual rights of people with different sexual orientations.
The committee deliberated at length on the intimate link between sexual violence and socialisation. There was the recognition that practices normalised over the centuries had resulted in one gender being invested with disproportionate power and a naturalised sense of entitlement. It observed: "We live in a 'cult of masculinity'… Touching, harassment and forced intercourse are all seen as normal to masculinity." This led it to suggest that, among other measures, child-sensitive sex education must be urgently instituted in school curricula so that children are equipped with the requisite understanding and confidence to transit into adulthood.
The fifth important conceptual breakthrough was the enlightened manner in which the committee envisaged the justice delivery system. Firmly rejecting cries from the street for the castration and hanging of rapists, it suggested that for extreme crimes, a life term could be interpreted as imprisonment for the entire life of the accused. It also rejected the demand that the age of juveniles under the Juvenile Justice (Care and Protection of Children) Act be brought down, arguing there are important psychological reasons why a child should be considered an adult only after reaching 18.
One of three jurists on the committee, Justice Leila Seth, in her new book, Talking of Justice, poignantly recalled that Justice Verma, who died three months after the report was submitted, began the committee's first meeting on December 26, 2012, by reading from a small handwritten note. One of its lines went: the truly "humiliating aspect of the crime against a woman is that her status in the hierarchal structure of society also (obstructs) the way of securing justice for her".
The report could help in removing those obstructions but it will first have to be dusted down from the shelves of national amnesia.
The writer is senior fellow at the Indian Council of Social Science Research, Delhi, researching media issues [email protected]
http://indianexpress.com/article/opinion/columns/the-clamour-the-silence/99/