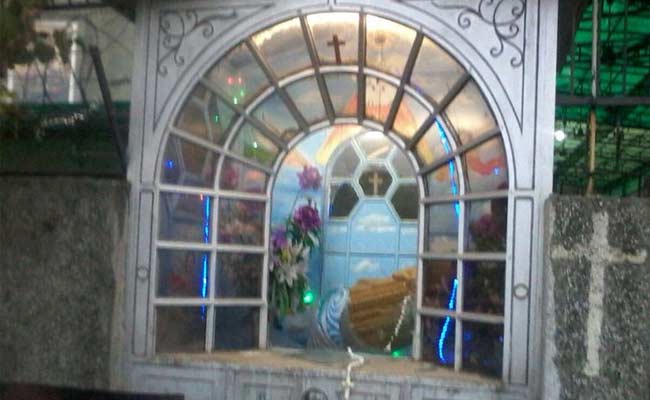 NEW DELHI: 
 Hours after a church in Delhi was vandalised today and the perpetrator was caught on CCTV, Delhi's Archbishop alleged a clear pattern was emerging in the attacks. This was the fourth instance of churches being targeted in the city.Father Balraj of Vikaspuri's Our Lady of Graces Church – which was attacked early this morning – said the footage from the building's CCTV made it clear that it was a deliberate act of vandalism.
"One person came on a scooter, broke the glass, then returned a minute later and toppled the statue," he said.
The police, who received a call from the church at 7.30 am, are examining the footage.
"A clear pattern of orchestrated attacks is emerging as more and more churches are targetted, vandalised and set on fire," Archbishop Anil JT Couto said. "This is very disturbing and we request the authorities to take adequate measures to bring to book the miscreants who are threatening to weaken the social fabric of this great nation."
Earlier this month, a minor fire was reported from a church in Rohini in Outer Delhi. The Christmas crib placed outside the building was completely charred.
The head priest, Father Cyril Patrick, told NDTV it was a "deliberate" act. But "I don't want to blame anyone or any particular group," he had added. The case is under investigation.
Last month, a church in East Delhi's Dilshad Garden area, the St Sebastian's Church, was burnt down in a fire that the police confirmed was a case of arson. A forensic team found traces of kerosene inside the church premises.
At the time, Archbishop Couto had written to Prime Minister Narendra Modi and Union Home Minister Rajnath Singh, asking for a judicial inquiry into the incident.
Christian groups had held protests and the matter was raised in Parliament. The Home Minister had ordered a special investigation team to look into the matter.
http://www.ndtv.com/article/india/church-vandalized-in-delhi-archbishop-says-there-is-a-pattern-in-attacks-648687