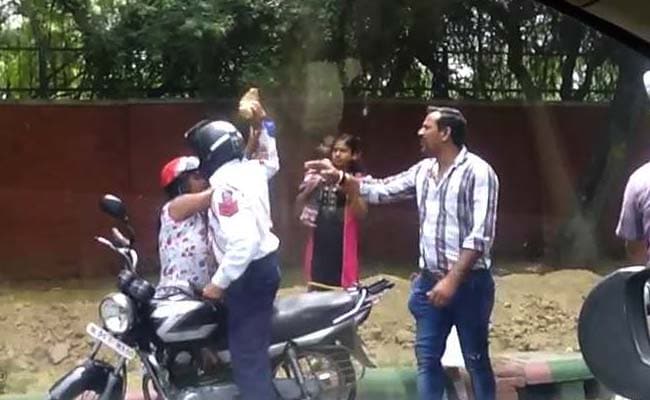 NEW DELHI: 
 A
Delhi
policeman
has been arrested and dismissed from service after he was caught on camera attacking a
woman
with a
brick
in front of her children.
The woman was driving a two-wheeler and was on her way home after a meeting at her daughter's school when she was stopped by the policeman, Satish Chand, for allegedly jumping a traffic signal.
"The policeman demanded Rs. 200. I said I want a receipt but he refused to give it," the woman said. She alleges that the policeman kicked her scooter and attacked her.
"My wife said she had a license, registration and was wearing a helmet so she would not pay. She said she was in a hurry as her children were with her, and asked him to send a notice and she would pay the fine," said the woman's husband. He alleges that the policeman kicked the two-wheeler to stop her. "She said you broke my bike, I will break yours," he said.
A mobile phone clip recorded by a passerby shows the woman picking up a brick and hurling it at the policeman's bike. The policeman is seen striking right back with another brick, which hits the woman on her back. He allegedly also twisted her arm.
"I screamed and then people gathered. This happened to me in broad daylight, how can we be safe?" the woman said.
Her daughter was the one who dialed the police.
Police chief BS Bassi said a criminal case has been registered against Satish Chand.
"Strict action will be taken against him. We regret that such a shameful act has been committed by a traffic policeman," Mr Bassi said.
The woman was taken to hospital for injuries on her arms and back.
"It is necessary to send the constable on compulsory retirement. You cannot have angry, stressed out policemen on duty," said former IPS officer Kiran Bedi.
http://www.ndtv.com/delhi-news/delhi-cop-caught-on-camera-attacking-woman-with-brick-762172