NDTV  | Edited by Nadim Asrar | Updated: December 27, 2013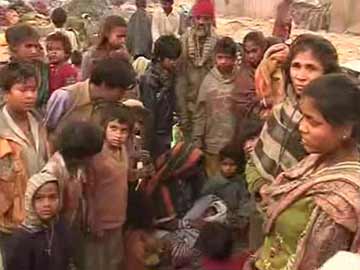 New Delhi:  At least four women gave birth in the open yesterday night after their hutments were demolished in a drive conducted at the peak of winters in the national capital.
Over 500 children – with nearly half of them being less than three-year-old – were also left homeless in the near-freezing temperature as municipal authorities bulldozed their shelters in the middle of the night near the Mansarovar Park Metro line in northeast Delhi.
"I gave birth to a daughter at 4 am. By 8 or 9 am, some bulldozers arrived to demolish our houses," a woman said.
"I have 3 children and my husband is handicapped. Where do we go? We were lying here in the cold all night long," said another.
To add to the agony, parts of Delhi experienced early morning showers today resulting in further dip in temperature.
Delhi Lt Governor Najeeb Jung has asked for the immediate rehabilitation of the slum dwellers displaced in yesterday's drive.
Meanwhile, in neighbouring Uttar Pradesh, a senior state official thought the freezing cold is no big deal. "Nobody dies of the cold; if people did, then nobody would survive in Siberia," AK Gupta said when asked about children dying in Muzaffarnagar relief camps.