All India | Reported by Tanima Biswas, Edited by Surabhi Malik | Updated: January 16, 2014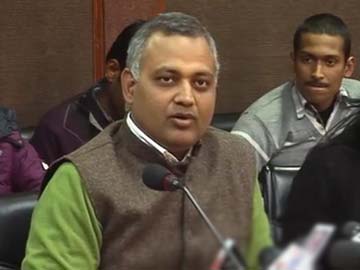 New Delhi:  Delhi's new Law MinisterSomnath Bharti acknowledged today that he accidentally named the Danish woman who was gang-raped in the heart of Delhi late on Tuesday night.
In a press release last night, Mr Bharti, who is a member of the Aam Aadmi Party (AAP), revealed the identity of the tourist, which is against the law.
He said today that he sent two clarifications minutes after that press release was emailed to the media, in which the woman's name was removed.  In his media statement, the minister acknowledged that the foreigner, who left Delhi yesterday after "identifying the rapists using pictures" "collapsed at the airport." Mr Bharti's statement said that security officers at the airport did not allow officials from the Danish embassy to accompany the woman to her plane.  (Read the press release)
The Aam Aadmi Party, which is barely a year old and formed the Delhi government just weeks ago, is having a trying week, with critics alleging that the inexperience that seemed refreshing is now proving to be a serious liability.
The gang-rape, which followed the abduction of the 51-year-old tourist near the main railway station, forced the party onto the defensive. (51-year-old Danish woman allegedly raped at knife-point in Delhi) 
A party leader named Vinod Kumar Binny has attacked Chief Minister Arvind Kejriwal for functioning as "a dictator" and reneging on basic pre-poll promises. (AAP vs AAP: Vinod Binny's charges scripted by BJP, says Yogendra Yadav)

The group has also been publicly criticized by Captain CR Gopinath, the founder of the low-cost Air Deccan, for deciding that it will not allow foreign super-chains like Wal-Mart to set up stores in Delhi to sell directly to Indian consumers. This reverses a decision taken by the Congress government headed by Sheila Dikshit.
Mr Bharti, as Law Minister, was at the heart of another controversy earlier this week when the media reported that he had been indicted last year by a judge in Delhi for trying to tamper with evidence in a corruption case that he was arguing.  He has denied the charges.