Jawaharlal Nehru University students' protest against the government over missing student Najeeb Ahmed turned violent on Sunday near India Gate when police took the protestors back to their buses in order to prevent any clash. Shocking visuals, which appeared all over social media, showed Najeeb's mother Fatima Nafees being dragged by Delhi Police personnel from the protest site.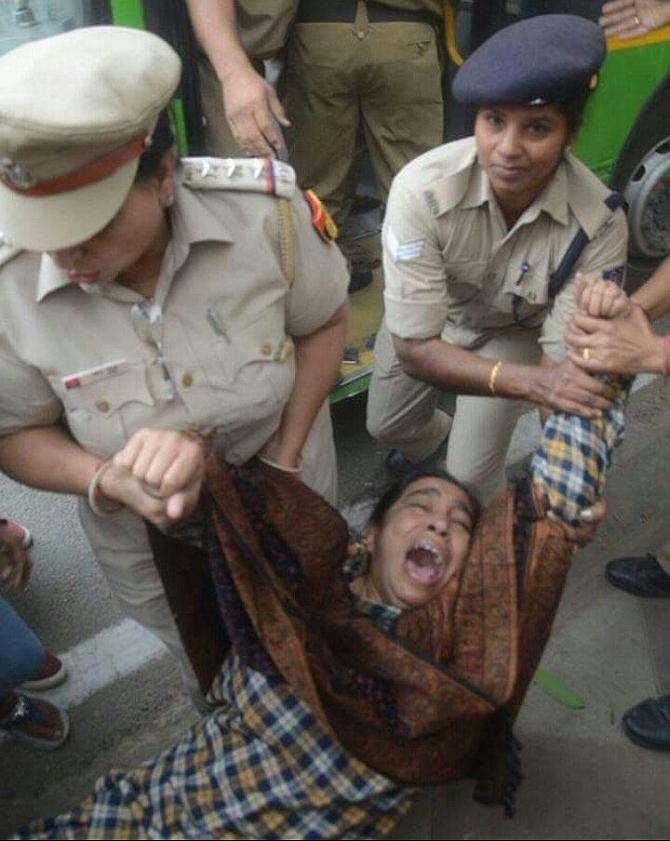 Najeeb Ahmed, a first-year MSc student at the School of Biotechnology in JNU reportedly went missing on October 15 after allegedly being beaten up by a mob of 20 students comprising ABVP members, who had gone campaigning to his room for hostel elections. Fatima has been camping in Delhi since last month, after coming from Badaun in Uttar Pradesh following a frantic phone call from her son on the evening of October 14.
"The shameless Delhi Police, which failed to find Najeeb for the last 23 days, have misbehaved with Najeeb's mother. She was beaten up and dragged into the police van. His sister is also detained," said Satarupa Chakraborty, general secretary of Jawaharlal Nehru University Students' Union, slamming Sunday's police intervention in a peaceful rally.
According to media reports, members of the Akhil Bharatiya Vidyarthi Parishad allegedly entered into the protest area and indulged in a scuffle with JNU protestors. This invoked the police to stop the protest and take the students inside the buses. In the process, Najeeb's mother got injured.
Defended the action on protestors, the Delhi Police said no permission had been granted for the protest and that Section 144 was imposed in the India Gate area because of Chhat Puja.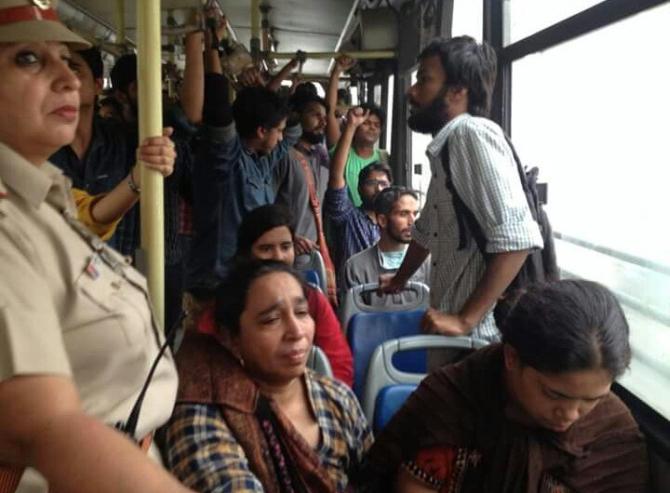 Delhi Chief Minister Arvind Kejriwal, however, strongly marked his dissent against the police.
Speaking to the media, he urged the Delhi police to not convert the city into a police state, and instead put its resources into finding Najeeb.
Earlier in the day, Kejriwal met President Pranab Mukherjee to seek his intervention into the matter.
Speaking to the media after meeting with the President, Kejriwal pinned the blame on Delhi Police, accusing them of refusing to take action after coming under political pressure.
The chief minister further said that President Mukherjee had assured him of seeking a report both from the JNU administration and the Delhi Police as well.
Photographs: Twitter
http://www.rediff.com/news/report/delhi-police-drags-detains-missing-jnu-student-najeebs-mother/20161106.htm?sc_cid=fbshare