by ADMIN on DECEMBER 27, 2012 ·http://www.dalitweb.org/
Madhuri Xalxo
I am a bit shaken by what outrages the mainstream media on rape. The incident is horrifying and yet so very familiar to us dalit, bahujan and adivasi women.
In the same Delhi, hundreds of adivasi girls are taken as domestic slaves and get raped, and go missing…Why doesn't the mainstream media even consider that newsworthy? Why is there no uproar for the death penalty for these upper caste men from elite backgrounds raping us? Is it because we are born to get justly raped by the others?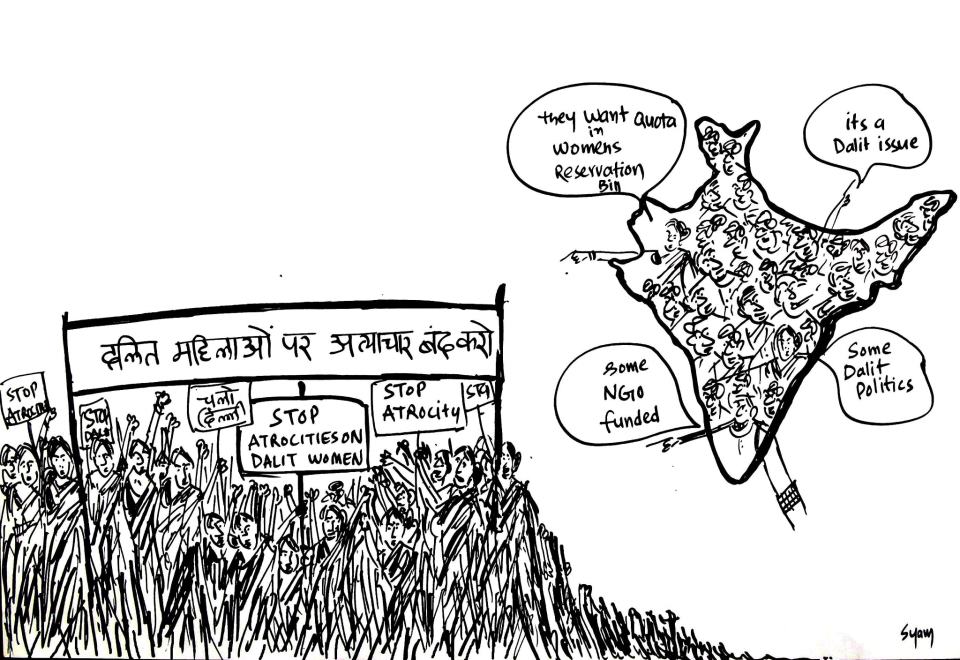 The present protests and silences only endorse the caste hindu paradigm that the upper caste woman's body is sacred and its violation requires the highest retribution while the bodies of dalit, bahujan and adivasi women, and women under military regimes such as Manipur and Kashmir are 'rape-worthy' and the men's sexual depravity on these women need no correctives.
We are trying to grapple with this public display of women leaders' apathy (not the agitating young girls, but senior women's rights leaders who are completely aware of contestations from dalit, bahujan and adivasi women) who have always maintained and continue to maintain an indifferent silence over rapes and gang rapes on us, even when it happens in nearby Haryana and Dalit organizations in Delhi worked so hard to get it into a national conversation, indifference was what we have seen from the ones who are now celebrating these protests.
Documented evidence exists of dalit and adivasi women seeking justice against sexual violence, as individual voices and small groups of dedicated activists, which can be seamlessly connected from one end of the country to the other. And this is only a tip of the iceberg, another vast cache of documents (fact-finding missions and news reports) indicate that many of them are not allowed to reach the documentation stage itself. Soni Sori's case, which is one of the rare adivasi women's cases that have received some public attention, still languishes and she continues to struggle in the jail with her sexual tormentors (men in uniform) having total control over her life. Following the brutal murder of Manorama, Irom's unique, prolonged and painful struggle to highlight the crimes against women by AFSPA fails to generate a national protest or even a sustained conversation. It took 26 years of dedicated and consistent struggle by the adivasi rape victims of Vachati to get justice.The adivasi rape victims of Vakapalli received zero attention from the conscience keepers. I could go on and on about the futility of isolating this urban gang rape from the systemic violence on all women. This is not to emphasize our marginal status versus the powerful upper caste women and their capacities to enhance or silence protests on sexual violence, but to point out that this is also a disservice to women from their own castes and class who happen to be fighting sexual violence inside their homes and sadly also live outside of the 'protest capital'.
Sheeba Aslam Fehmi captured this crisply in an update:
First they Raped the Shudra women and I did not speak out because I was an Upper Caste Hindu.

Then they came for the Muslim women and I did not speak out because I was an Upper caste Hindu.

Then they came for the Manipuri women and I did not speak out because I was an Upper Caste Hindu .

Then they came for the Tribal women and I did not speak out because I was an Upper Caste Hindu .

Then they came for me and there was an outstanding outrage because I was an Upper Caste Hindu.
Their apathy has a structural basis, and they are blatant in the repeated public displays of their intellectual, ethical and moral blindness to caste, tribe, religion, class and gender as intersecting categories that facilitate systemic violence on women and I see no desire on their part to engage with those issues even now. But I definitely would like to engage with community members who are indulging in another kind of apathy, a learned one, one that we hope can be stopped at the initial stages itself. This has to do with dalit, adivasis and bahujan men 'addressing the gender question' and the problematic ways they sometimes choose to do so.
In this article I am drawing attention to the circulation of images of an adivasi woman by many people on social media networks, but I am directing this article at men from dalit, bahujan and adivasi communities who shared these images. I hope this is perceived in the spirit that it is written in – as a constructive conversation on gender relations.
When 'she' was paraded naked years ago, many came out in protest to get her justice. Her name was on the lips of all adivasi MPs/MLAs/NGOs/activists/writers. Her pictures were all over the place but things didn't change much for her after the issue had become cold. With the Delhi rape case, the issue is resurfacing and people are talking about 'her', they want justice for her.
What bothers me is the nature of their concern; all said and done, ours is a conservative society: what kind of a life does it offer a woman who is paraded naked and becomes so famous for that? Will she have a normal life? Why don't these people who want justice for her understand that 'she' needs to be cloaked with a pseudonym, and her naked pictures not be used for their discussion; would they have done the same if it was their own daughter/sister/mother?
This again highlights the contradiction in the much acclaimed 'equal' status of adivasi women: in difficult circumstances, much burden is borne by the adivasi women. When poverty grips the household, she is sold as a domestic servant; in politics, she is made the bali ka bakra, everybody benefits from her labor/discourse, except her.
Here I reproduce portions of a conversation with an adivasi brother:
M X: Others don't care about 'us' – the adivasi women, and I doubt your concern as well…look, look at the delhi rape case…the girl has been shielded by the name of a place despite the fact that her life is disrupted so violently, but you guys along with others will not just use our pictures when paraded naked but also use our real name in your discourse…as if that will get more justice. I'd been thinking about the incident you posted for years now, thinking about her and the temporary political limelight, wondering if anything would change for her and much as I anticipated, things hasn't. In fact it becomes worse. Imagine, everywhere you go, being recognized as someone who was paraded naked.

M X: It's like being paraded naked again and again and again… If people really cared, they should have used a pseudonym, not used pictures of that incident, would have tried rehabilitating her, but no, our adivasi society would rather gain a political mileage by displaying 'our' nakedness over and over again.

M X: IT IS NOT RIGHT, and it was also not right then, but I guess 'we-the adivasi women' are very very few who are articulating and protesting on social media.

N K K: Yes it will not change, at least till we have our children. But there's something else, which is unfortunate, for us adivasis, people from north-east, dalits, etc. to make our voices heard in this country/world we have to come up with a bang!! We have to make the loudest possible sound to get heard and since we are smaller in no. we try drawing (the other) peoples attention by showing these nasty but true pictures, its same as when Tamil Eelam wants to draw the (other) people's attention and want them to believe what they are saying – they have to come up with a proof about the war crimes that Sri Lankan army committed on them. Watch the documentary "KILLING FIELDS OF SRILANKA". So like the Tamil eelam people who are a minority and marginalised just like us adivasis, one has to always come up with a proof, so that THEY believe us. It's a sad reality.

M X: No, this cannot be justified at all! One wrong cannot be made right by another wrong and the sooner we understand the better. People who don't believe of injuries given to us will not take us seriously even if we show pictures of the injury.

N K K: Yes, absolutely, it cannot be justified; it's just that these two harsh realities are at conflict. I'm glad that you raised the issue or else we'll be carrying out with 'this' kind of protests and will not think of a better alternative. For a change it's important that somebody feels that what's been happening and the way things are being taken care of, and the way people are going about things, the method is wrong and why. And the Adivasi men in this issue, sadly are (as it seems) protesting only for the 'Adivasi' part not the 'Adivasi Women" as a whole.

M X: Thank you so much for agreeing. We, the adivasi men and women should be co-laborers in this fight for dignity, access and equal rights and trust me, we are increasingly becoming an unjust group by subjecting this other gender (I refuse to call us weak) to subjugation for the supposed benefit of the whole adivasi society.
The gendered nature of the premeditated caste violence against dalit, bahujan and adivasi women is not a new phenomenon — it is historic. The dalit, bahujan and adivasi women (and men) were and still are subjects of bestial and shocking violence by the dominant classes. Being raped, castrated, and paraded naked are only a few forms of visible physical violence committed against us.
There was nothing novel in one of us being stripped naked and beaten when participating in a rally seeking special rights based on adivasis' collective identity. There were people laughing at her, people taking her pictures, media reporting the incident, NGOs pointing at her injuries, adivasi leaders talking of justice – and what is most disturbing is, in all this no one thought of shielding her nakedness.
If getting her justice was the agenda on the cards of all concerned, what we as a group of dalit, bahujan and adivasi women would like to know is – why didn't people think of using a pseudonym, and why do they still continue to use her original name? Who gives the right to educated people on social media to abuse her dignity with a click of a mouse to lure instant audiences? Why are her pictures of nakedness flashed again and again and again in public to list atrocity upon dalit, bahujan and adivasi women? When will this assault upon us by the social media so concerned about our oppression stop?
When will the dalit, bahujan and adivasi men cease to use our nakedness as a symbol of collective oppression and stop displaying those pictures, uncovering our wounds, and allow us to heal?
While we appreciate dalit, bahujan and adivasi men showing support for women's issues on social media networks, we have a few requests: please wait for the women to speak on issues, please do not take our silence for inability to articulate, please do not second guess our thoughts, but mostly please attempt to listen, to consult with dalit, bahujan and adivasi women before raising gender-related issues. Finally, please extend the courtesy we accord you as fellow travellers against oppression- do not attempt to enter our subjectivity and 'imagine' our experiences.
We would like the above requests to be considered seriously by dalit, adivasi and bahujan men, as we are all part of the politics of the marginalized which constantly self-corrects from taking erroneous routes to emancipation. We are heirs to a history that is guided by principles of human equality and a progressive vision of a gender just society bequeathed us by dalit, bahujan and adivasi leaders and movements.
~~~
Madhuri Xalxo is a student pursuing her LLM.
Cartoon by Unnamati Syama Sundar.
Related articles