Justice (retd) Kolse Patil said, "We will now hold it on January 30, at the Ganesh Kala Krida Manch in Pune. And if not there, we will hold it on the streets. If not allowed to do that, we will fill the jails."
By:  | Pune |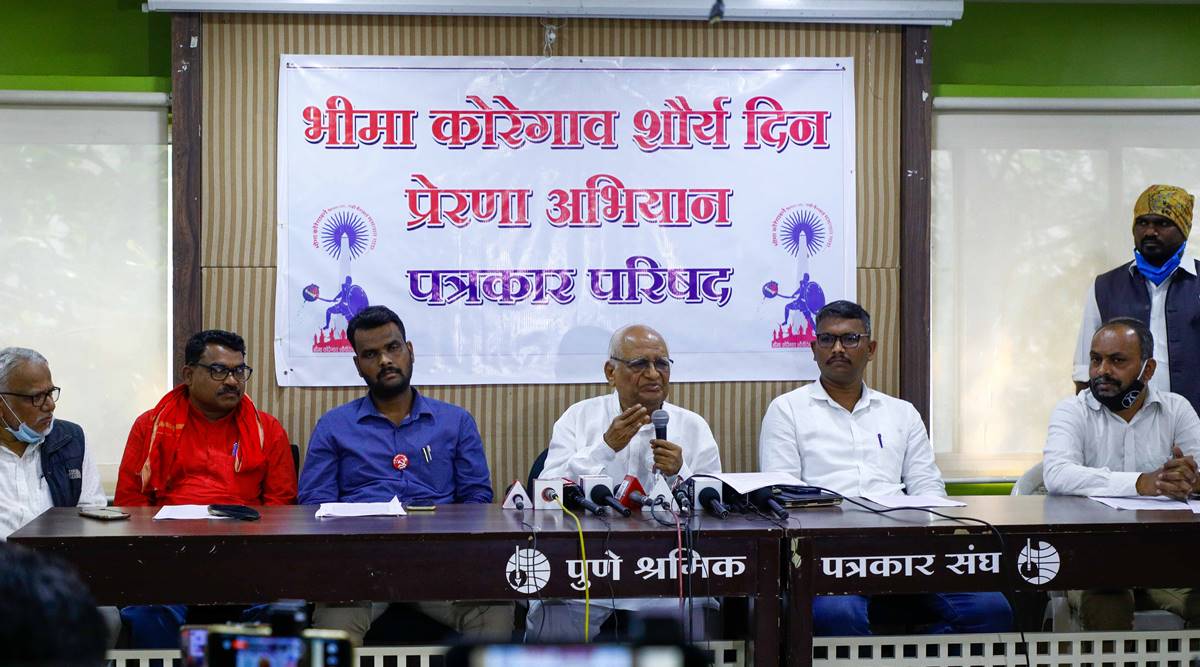 The members of Bhima Koregaon Shaurya Din Prerna Abhiyaan along with retired HC judge BG Kolse Patil addressing the press conference in Pune December 31. (Express photo: Ashish Kale)
Organisers of Elgaar Parishad, who were denied permission by Pune City Police to hold the conference on December 31, have said they will hold it in Pune on January 30. They also said that if police deny permission for the conference again, they will hold the conference "on the streets".
Earlier, on December 20, members of Bhima Koregaon Shaurya Din Prerna Abhiyaan — an umbrella body of various organisations that had organised Elgaar Parishad on December 31, 2017 — along with retired High Court judge B G Kolse Patil, also one of the conveners of the 2017 conference, had held a meeting in Pune. They had decided to organise another Elgaar Parishad on Thursday, December 31, ahead of the 203rd anniversary of the Battle of Bhima Koregaon on January 1.
Pune City Police, however, denied permission for the event, citing the Covid-19 pandemic and law and order issues.https://aa691d6b7306f8f7bd3a86e2064b7cc0.safeframe.googlesyndication.com/safeframe/1-0-37/html/container.html
Addressing a press conference in Pune on Thursday, Justice (retd) Kolse Patil said, "The aim of organising Elgaar Parishad has always been to bring the focus of politics on the basic needs of common citizens, along with health and education, and take it away from casteism, communalism and religious divisions. We could not hold it on December 31 as planned, so we will now hold it on January 30, at the Ganesh Kala Krida Manch auditorium in Pune. And if not there, we will hold it on the streets. If not allowed to do that, we will fill the jails."
Akash Sabale, another member of the body, said, "We have now planned to hold the Elgaar Parishad on January 30 at Ganesh Kala Krida Manch and have also given an application in this regard. The date coincides with the birth anniversary of Rohith Vemula. The conference will be held from 11 am till 10 pm, and will be addressed by a large number of social activists and thought leaders from across the country."
Bhima Koregaon Shaurya Din Prerna Abhiyaan had organised the 2017 Elgaar Parishad at Shaniwar Wada in Pune on December 31. Next day, on January 1, 2018, violence was reported in Koregaon Bhima area, in which one person was killed and several others injured. Pune Police had claimed that "provocative" speeches at the conference were among the factors that led to violence at Koregaon Bhima, and arrested several human rights activists from across India in connection with the case.
The 2017 conference was addressed by Gujarat MLA Jignesh Mevani and student leader Umar Khalid, Rohith Vemula's mother Radhika Vemula, Vanchit Bahujan Aghadi leader Prakash Ambedkar, activist Soni Sori, and Bhim Army's Vinay Ratan Singh.
The Elgaar Parishad case, currently being investigated by the National Investigation agency, has led to the arrests of organiser Sudhir Dawale and several activists including Sudha Bhardwaj, Gautam Navlakha, Varavara Rao and Stan Swamy, over their alleged links with the banned CPI-Maoist.
Siddharth Dive, another member of the body who addressed the press conference, said, "January 30 is also the day when Nathuram Godse shot dead Mahatma Gandhi… it can be termed as the first act of terrorism in the country. The conference will also be in solidarity with the thousands of farmers who are protesting the farm laws brought by the government. We will also demand the release of 16 activists who are currently in jail in a false case, and the arrest of real culprits Milind Ekbote and Sambhaji Bhide."
Activist Harshali Potdar, one of the organisers of the 2017 conference, and one of the accused in the Elgaar Parishad case, was also present at the press conference
courtesy IE