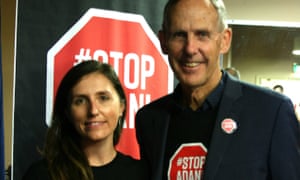 Veteran conservationist compares situation to a nationwide action he led against the Franklin Dam in Tasmania in the 1980s
Veteran conservationist Bob Brown has criticised the "destructive wealth and arrogance" of Indian mining group Adani at a Sydney protest against the Galilee Basin mine.
The Adani chairman, Gautam Adani, announced this week that the company would break ground on it's $16.5bn coal mine in Queensland in October.
Brown has joined calls for the federal government to rule out helping fund the "devastating mega project" through a loan from the Northern Australian Infrastructure Fund.
He says Adani, in a "heightened arrogance", has been signalling that the $1bn loan was already secured despite no confirmation from the Turnbull government.
"A message back to Mr Adani – you're welcome to this country," Brown told a summit in Sydney on Saturday.
"But you're not welcome to bring your destructive wealth and arrogance to ride over the majority opinion of Australian people who don't want you to have that loan and won't let you get away with that mine."
Brown predicted a revolt against the Turnbull government if the loan and mine went ahead and said protesters were willing to physically sit in the way of machinery.
"If push gets to shove … people want to take action against this monstrous Adani mine," he said. "This is a big vote-changer."
The former Greens leader compared the current controversy to a nationwide action he led against the Franklin Dam in Tasmania in the 1980s – a battle eventually won by conservationists.
"This is the biggest environmental, heritage, Indigenous and lifestyle issue I have seen come along in decades in Australia," he said. "It's galvanising people everywhere."
The Stop Adani group will hold a national day of action against the project on 7 October.
The company decided to move forward on the project after the federal court dismissed two legal bids – from traditional owners and environmental groups – to stop it from going ahead –
The Environmental Defenders Office has said it will continue to examine the lawfulness of the mine.
https://www.theguardian.com/environment/2017/sep/02/destructive-wealth-and-arrogance-bob-brown-hits-out-at-adani-group