Thursday, Dec 19, 2013, | Agency: DNA
If you look at the Devyani Khobragade issue through a gender lens, what do you see? Swarna Rajagopalan delves into this rather sensitive issue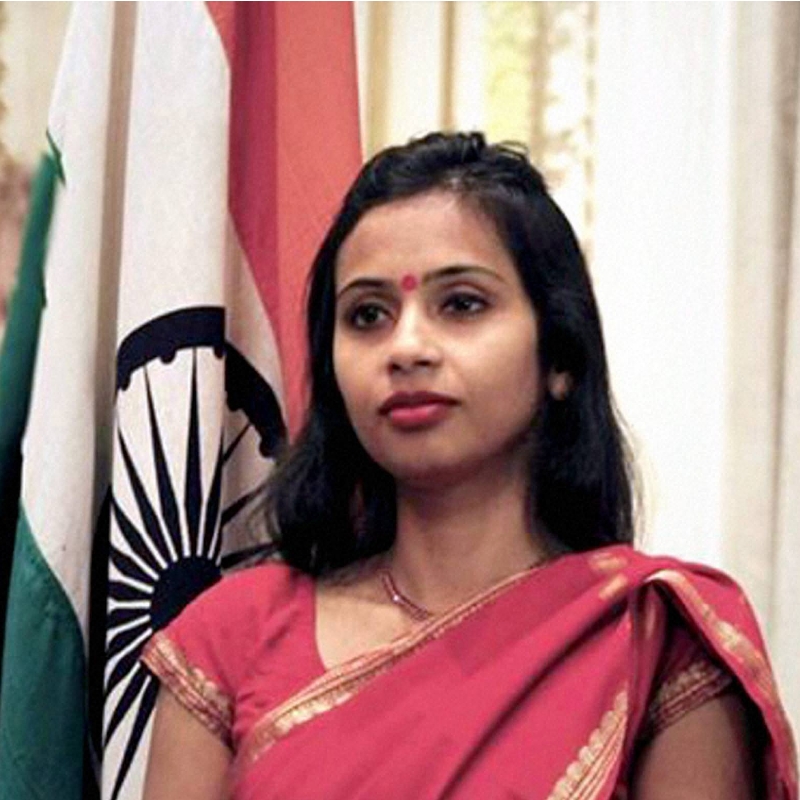 Devyani Khobragade
This week, the object of our collective outrage is the way local law enforcement in New York handled the case of IFS officer and Indian deputy consul general Devyani Khobragade who allegedly underpaid her domestic help and also committed visa fraud. This is not the first incident in which a diplomat's behaviour has raised questions about whether immunity has come to mean impunity for a range of offences, from unpaid parking tickets to disorderly behaviour to domestic violence to child sexual abuse.
What is diplomatic immunity? A select group of foreign officials and representatives are exempt from the jurisdiction of local government and laws. Diplomatic immunity would protect the channels of communication — which diplomats fashion and facilitate — from interference and insecurity. The government that posts them can waive immunity and the government that hosts them can simply declare them persona non grata (an unwelcome person), so there is nothing sacrosanct about that status. None of this is contentious; what is usually the problem is how the two governments view the alleged offence.
Two years ago, news broke about a domestic violence case involving one of the most senior members of India's London mission. The police had intervened following reports of screaming and fighting from the diplomat's home. The 'he said, she said' that followed was fairly typical of domestic violence cases, but the difference was that the London police had to seek a waiver of diplomatic immunity, which India refused. The official Indian response was painfully paternalistic and predictable: this is a personal, sensitive family matter. The diplomat was recalled. (See this and this).
After that, none of us read much about the case. Indeed, this was one of the concerns articulated at the time — that in India, the victim would never really get justice as the case would get swept under the carpet. Research for this article revealed the diplomat has returned to his cadre, and had two short postings before heading out for training abroad. He has not been debarred from central deputation or from foreign training. Life goes on.
With this New York case, the reports of the diplomat being handcuffed and strip-searched have obfuscated the original allegations of labour exploitation and visa fraud. India's multi-dimensional (and disproportionate?) response has been to transfer the diplomat to the UN Mission where she will enjoy full immunity (see US Department of State guide on Diplomatic Immunity). There is virtually no aspect of this news story not attracting commentary.
I want to write here about the story behind these stories. It is a story about women in the world of international relations. Not just the women at summit meetings (still alarmingly few) or those in the foreign ministry, or those who report foreign affairs. The world of international relations is still mostly male, and relationships — work and personal — are still largely set up in a patriarchal mode. The men (and now women in those work roles) go out and do the grand work of foreign relations (from brokering peace deals, rarely, to processing visa applications, everyday). The trappings surrounding their work include entertaining and hospitality in modes that presume an army of domestic support services — from within the family and without.
Higher up in the diplomatic hierarchy (as in military hierarchies), spouses — mainly wives — play an important role to supplement and complement the official outreach by their husbands. This may include ceremonial attendance, social work or return hospitality. At the bottom, this includes a range of invisible support tasks, including cleaning the chancery, answering phones, making tea (and cleaning the tea-service), clerical and secretarial assistance, cooking, domestic help and teaching the local language. Diplomatic spouses also mediate between the person with the important job and all these facilitating service providers. Without all this support, even in this day and age, it would be hard for a diplomat to function because of the way their profession operates. Diplomatic immunity does cover families (presumably up to a point); but does concern for diplomatic staff and their families extend to the many who make their work possible and to their working conditions?
This is where the inside-outside, private-public distinction in patriarchal politics really kicks in. Reproducing patriarchy's gender hierarchies in interpersonal relationships and in work, we tell ourselves we cannot be concerned beyond a point. Diplomatic work, or any official work for a government, belongs to the public sphere — the sphere where we still mostly expect to see men. (And if you have ever sought a usable women's toilet in a public building, you will have seen the evidence for this.)
Women remain interlopers even when they come to occupy important offices. Their true sphere is (assumed to be) the home, and in facilitating a supportive environment for public work. Domestic violence, child sexual abuse, labour exploitation and disorderly conduct belong to this private sphere. When we learn about them, we are disoriented. We are not supposed to be reading or discussing in the public sphere, what happens in the private sphere of a public person or public servant's home. Our reactions are mixed because it sullies our lofty notions of work in the public sphere and hits very close to home, making us ask uncomfortable questions about our own practices.
And then in this New York case, there is the matter of the diplomat being a woman. Some questions to which I do not know the answers but which I cannot ignore: We hear that the way the visa paperwork was handled is not unusual; then why is the first person to be hauled over the coals a female diplomat? The Manhattan attorney states that the diplomat was not handcuffed and strip-searches are standard operating procedure. However, the idea that a female Indian diplomat was strip-searched — that someone who is not just an official representative of India but also, like all women, embodies community honour — surely has affected India's response? Both the complainant and the accused here are women; and both (should) embody national or community honour. But then because we value work outside the home (associated with men) more than household work (associated with women), the work done by these two women creates a hierarchy between them. Men or women may do the work or inhabit these roles, but it is the work and the roles that are gendered as male and female, and therefore, more and less important respectively.
When you start looking at the world through a gender lens, then things that appear to be straightforward and simple turn out to be a complete mess — like turning around a length of perfect-looking embroidery to see the tangle of knotted, coloured threads on the underside.
Diplomatic immunity is a professional convenience and protection; questions about justice, especially gender justice, are sometimes utterly inconvenient. Pressed, diplomatic immunity looks like a front for impunity — which was really never the intention. With mostly privileged men usually making decisions about immunity, it is the kind of battle anyone on the wrong side of gender, class and caste equations will always be likely to lose.
In the long run, social justice is served by re-thinking professional practices and lifestyles built on privilege (of gender, race, class and caste, for instance) so that the foundations of our work are democratic and humane. But today offers a teachable moment to critically examine how different kinds of hierarchies and privileges reinforce each other, and force us to react in ways that we might ourselves eschew in their absence.
Swarna Rajagopalan is a political scientist who writes about gender and international relations. Much of her research is on women, violence and conflict. She is also the founder of The Prajnya Trust, a non-profit centre working on peace, justice and security issues, including women's rights and violence against women.