Medics treating child refugees with serious illnesses in Bangladesh say they do not have enough beds to treat them.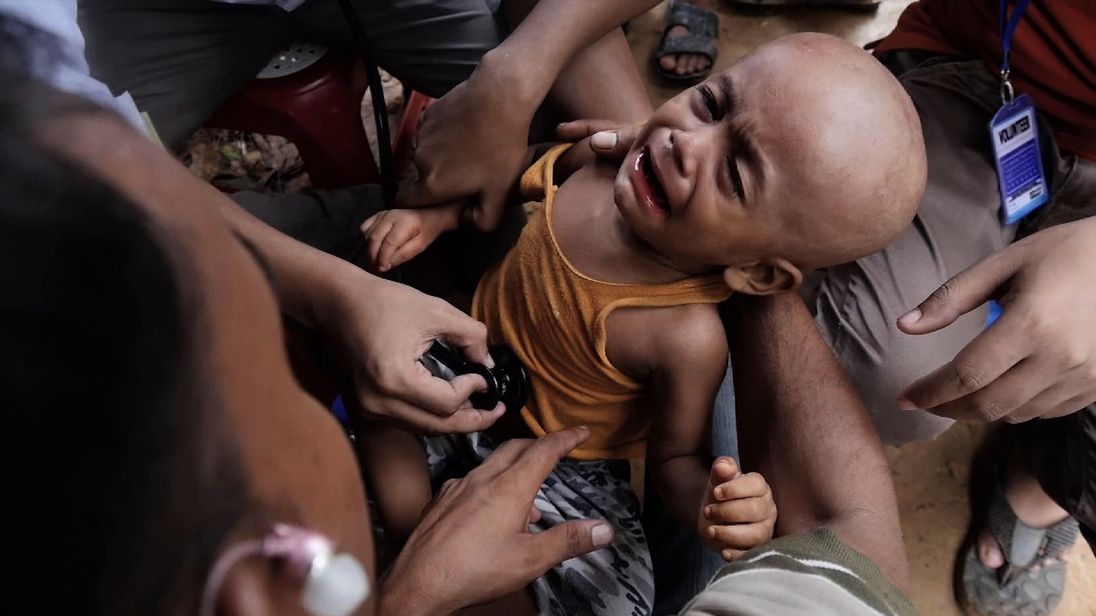 The lines are long but the waiting Rohingya parents are desperate to have their sick children examined by a doctor.
So they stand patiently under a blistering hot sun.
Because this will be the first time in months, if at all, their children have been examined professionally by a trained medic.
There are thousands of sick children inside Kutupulong refugee camp, near Cox's Bazar, Bangladesh.
Many have arrived in the last few days or weeks after their parents made the difficult and exhausting journey across the border from Myanmar.
:: UN braced for 'further exodus' of Rohingya from Myanmar
Dr Dhira Hussein is a volunteer doctor from Dhaka.
He is examining a small boy called Yaseem at a makeshift clinic set cup on the side of a road. It is nothing more than a piece of tarpaulin strung from some bamboo poles.
The child is howling in pain.
"He is malnourished," Dr Hussein tells me. "He has a heavy worm infestation in his intestines."
Yaseem has a shaved head that exposes a large, red sore. "It's an infection inside his scalp," I am told.
I ask Dr Hussein how long Yaseem has been suffering.
"Probably for six months or so," he replies.
Yaseem is still crying. I'm told he is two years old. But his body is small and his limbs are thin. His head looks like it belongs to an older boy.
All the young medics at this clinic are barely out of university. They are overwhelmed.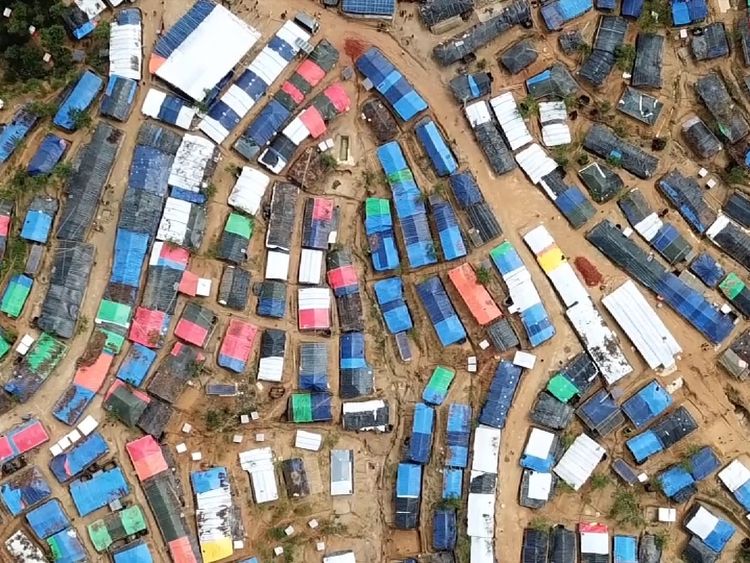 More than 500,000 Rohingya have fled a brutal crackdown by the Myanmar military. They have crossed the border into neighbouring Bangladesh. Kutupulong camp is now home to more than half of these refugees.
It has grown into one of the largest displacement camps in the world. It is a sprawling tarpaulin city of inhumanity that is growing by the day.
There is little fresh water and sanitation is almost non-existent – the perfect breeding ground for potentially deadly outbreaks of infectious diseases.
"On a daily basis we are seeing more than 20 to 30 cases with a single doctor," Dr Hussain says.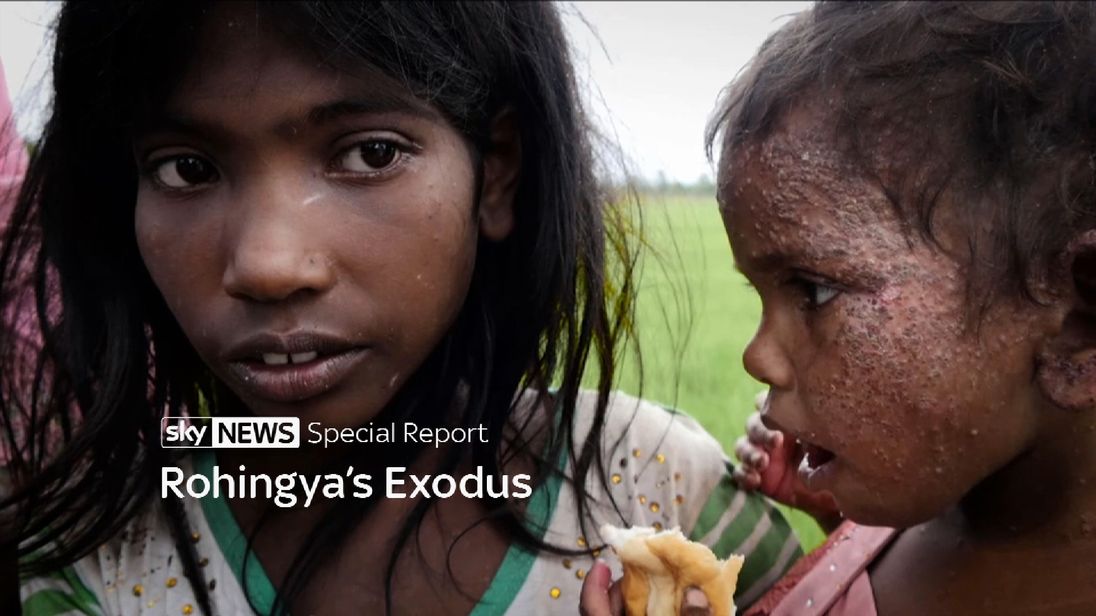 "We have 10 doctors in our clinic so that's 200 to 300 cases per day, every day. And that's counting just the children that we see."
His colleague is examining another boy nearby. He is about eight years old. The doctor tells me the child is very sick.
"He is malnourished, is vomiting and has diarrhoea," says Dr Faran Tanvi. "His stomach is infected with worms too."
The boy's list of ailments is long. Pulling up his shirt sleeve, the doctor exposes a rough, scaly skin.
"He has scabies too. It's very common," he adds. "It's highly infectious and spreads easily because of the cramped and humid conditions inside the camp."
Dr Tanvi then exams the boy's eyes.
"They tell me a lot," he says, talking about the eyes. "He is anaemic and is suffering from dehydration. That's why he is so lethargic."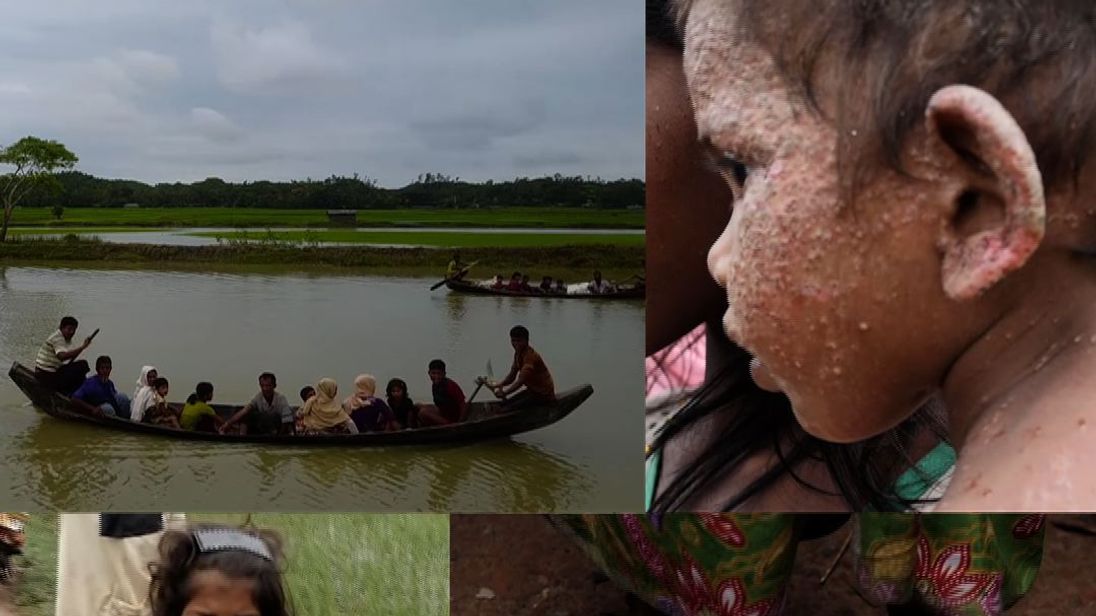 I ask if this boy should be in a hospital bed, getting some rest.
"Yes, he needs special care. But there are no beds available. There are so many people, so many children. We just give them emergency treatment. There is no long treatment available.
"We need fast and massive support from the international community. We are getting some help but (it is) not enough. Bangladesh is a very poor country.
"But, with our small resources, we are trying."
http://news.sky.com/story/doctors-treating-myanmars-sick-rohingya-children-call-for-international-support-11082281