Millions of domestic workers are forced to work up to 22 hours a day, unprotected by laws governing minimum wage, maternity leave and other rights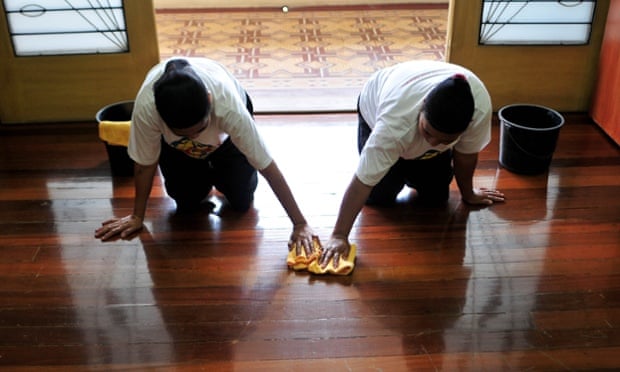 An estimated 53 million people – the vast majority of them women – are employed as domestic workers around the world. These workers are an increasingly powerful economic force: worldwide, they account for nearly 4% of all wage employment and 7.5% of female employees.
Yet, though critical to the functioning of national economies, 90% of domestic workers – around 47 million – do not have the same basic labour rights as workers in other sectors. A quarter of all domestic workers are not afforded any legal rights at all. They are effectively invisible, isolated behind the closed doors of private households.
Global ILO data shows that more than 21.5 million domestic workers do not benefit from minimum wage regulations covering other types of work, and have no protection against being paid whatever their employer decides. A further 3 million are entitled to a minimum wage, but one that is less than that set for other workforces. The overwhelming majority of domestic workers in Asia and the Middle East are entirely ignored by minimum wage laws.
More than half of all domestic workers – about 30 million people – are also excluded from laws setting out normal working hours and almost half (44.8%) are not entitled to rest periods in the form of days off or holidays. When it comes to maternity rights, domestic workers are also significantly discriminated against, with more than one-third of female domestic workers left with no rights to maternity leave and almost 40% with no entitlement to maternity pay.
In countries throughout the world, human rights campaigners have documented accounts of domestic workers being abused, beaten, forced to work up to 22 hours a day, and not being given food or paid for their work. When domestic workers are so systematically denied the basic labour rights afforded to other workers, employers cannot be held accountable for the mistreatment of those working in their households. Workers themselves also have no way of protecting themselves from exploitation.
When national laws ignore the rights of millions of employed people, the message that these are not "real" workers filters down, adding to the vulnerability and abuse experienced by domestic workers. Unless this changes, there is no way truly to hold those responsible to account.
http://www.theguardian.com/global-development/2015/apr/02/domestic-workers-47-million-people-worldwide-denied-basic-labour-rights?