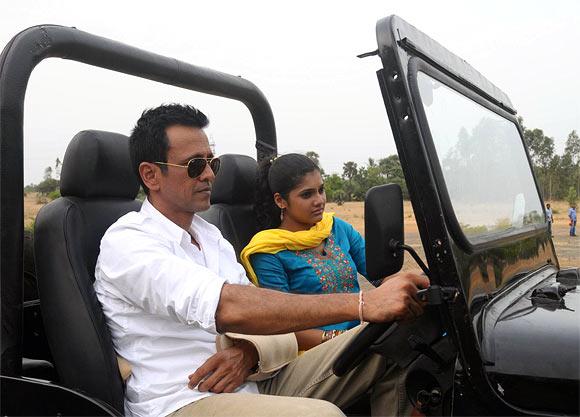 Chennai, April 16 (IANS) Don't divide cinema region-wise, says actor Kay Kay Menon, who is moving from Hindi cinema and theatre to the south with the Tamil film "Udhayam NH4".
"There is absolutely no need to divide cinema region-wise. Except for the language, I don't see any difference in cinema made in any part of the world. By dividing cinema based on its region, we are only taking that language for granted," Kay Kay told IANS.
"We have catered enough to the masses with stupid films. Time has come to make films with certain calibre. I can understand Malayalam, Marathi, Tamil and Bengali. I'm ready to do films in these languages if I find something off the beaten path," he added.
He admits language is a barrier when you do not understand it and adds: "One of the reasons I chose to work in 'Udhayam NH4' is because I can understand the language. I hate to mouth dialogues in a language I don't understand."
Why didn't you do a Tamil film all these years?
"Honestly, I haven't been approached. Moreover, I have been extremely busy with Hindi films. I have finally decided to diversify because I'm bored of being part of films that are made only to churn profits," said Kay Kay.
The 45-year-old, who's a management graduate, worked in Bollywood ventures like "Black Friday", "Sarkar", "Silsiilay", "Gulaal", Life…In A Metro" and "Honeymoon Travels Pvt. Ltd".
His first Tamil film "Udhayam NH4" is a road movie. The upcoming film also features Siddharth Suryanarayan, Ashrita Shetty, Deepak, Ajai, Kalai and Karthi.
The film's story has been penned by National Award-winning director Vetrimaaran; it is being directed by debutant Manimaran.
"I agreed to work in the film because of Vetri (Vetrimaaran). I consider him a modern-day filmmaker. He had a clear-cut view about what they were making and what they want from me," he said.
"The personality of a director reflects in his or her cinema. I have heard about Vetri's National Award-winning film 'Aadukalam', but I haven't watched it yet. However, when I met him, I knew from his personality that he is not one of those directors catering to a particular type of audience," he added.
Kay Kay plays a character who realises the power of love while chasing a couple across three states.
"It's a road film that takes the characters on a journey from Karnataka to Tamil Nadu via Andhra Pradesh. Two lovers are being chased by the character I play and how in the process my character realises the power of love. This forms the story," said the actor.
As far as work culture is concerned, Kay Kay doesn't find any difference between Bollywood and the south.
"Bollywood has made good and bad films; so has the Tamil film industry. Even the organisation structure and work process in both these industries are much similar. The only difference I find is the language," said Kay Kay.
The trend of remakes doesn't excite Kay Kay.
"I always want to be part of something new and original. If a film is really worth being remade for larger audience, then I would love to be part of it. I wouldn't mind being part of a remake if it's done effectively with a purpose, but we all know why remakes are made."
(Haricharan Pudipeddi can be contacted at [email protected])
IANS 2013-04-16 13:21:13
Related articles