By – Rohini Bakshi
For the last three years, a dedicated community of Sanskrit learners have been following something called #SanskritAppreciationHour (SAH) on Twitter. On it, experts and enthusiasts translate shlokas, stotras and subhashitas. Beginners get to see the verses unfold and ask questions about grammar and vocabulary. It was developed as – and continues to be – a platform to promote the Sanskrit language.
But the naive verve with which SAH began had to come of age quite rapidly. Apparently, loving Sanskrit was not enough. There were challenges I had to meet. One was to demonstrate that learning Sanskrit can be apolitical and inclusive. The bigger challenge was insulating the fledging effort from the self-appointed bosses of Hinduism and Sanskrit.
My Twitter bio reads 'Sanskrit junkie, Founder #SanskritAppreciationHour, Womens' Empowerment, … Devout Hindu, Egalitarian, Liberal'.
An army kid growing up all over India, nothing in my upbringing or later in my professional life suggested that these were incompatible beliefs. That there were sides, and I needed to pick one. That if I were a devout Hindu, I was expected to subscribe to a version of Hinduism. That if I taught Sanskrit, I had to be a certain type of Hindu and subscribe to a particular political opinion. And any deviation from the "party line" meant that I was a traitor to "the cause" of Hinduism and Sanskrit. In short, if I were a devout Hindu and taught Sanskrit, I could not be a "liberal".
My motivation was put under a scanner. I was pressured Twitter trolls to denounce academic affiliations, disrespect teachers I respected. Even the texts I chose to translate on SAH had to be of a specific variety to prove my "Hindu" credentials. For instance, verses from the Ramayana which talked about the physical beauty of Sita would elicit comments like "Kyon lafda kar rahi ho? raat ka waqt hai (Why are you creating trouble? Anything can happen at night)" or "Don't talk about Sita mata like that." To which I would responded by saying – discuss this with Valmiki please, I didn't write it, I'm only translating it. I was made to feel that I was not a good Hindu unless I denounced everything those self-appointed bosses of Hinduism and Sanskrit thought was inimical to the faith.
A refusal to comply brought on tremendous unpleasantness. Threats, abuse, personal attacks. More than once, I decided to give up the effort. Till a woman journalist friend said to me, "I get threatened with rape and acid attacks regularly for my views. You are lucky – you can leave. I can't because meri toh naukri hai (that's how I earn my living). But if you leave, remember, you've let them win." And that was the turning point.
I became doubly determined to make #SanskritAppreciationHour succeed on my own terms. Ironically, my life line became a group of highly learned, orthodox Brahmin Acharyas on Twitter who shared my love for and commitment to Sanskrit. Since they were so well-versed in the scriptures, they knew I was not manipulating ancient wisdom. They were confident in their knowledge such that they did not feel threatened by any topic or selection of texts. We differ openly and widely on many social issues, but it has not lessened our respect for each other. They not only support but even teach on Sanskrit Hour. And without fail, I notice a pattern. The more Sanskrit-literate someone is, the less likely he or she is to misunderstand the intent, content and approach of #SanskritAppreciationHour.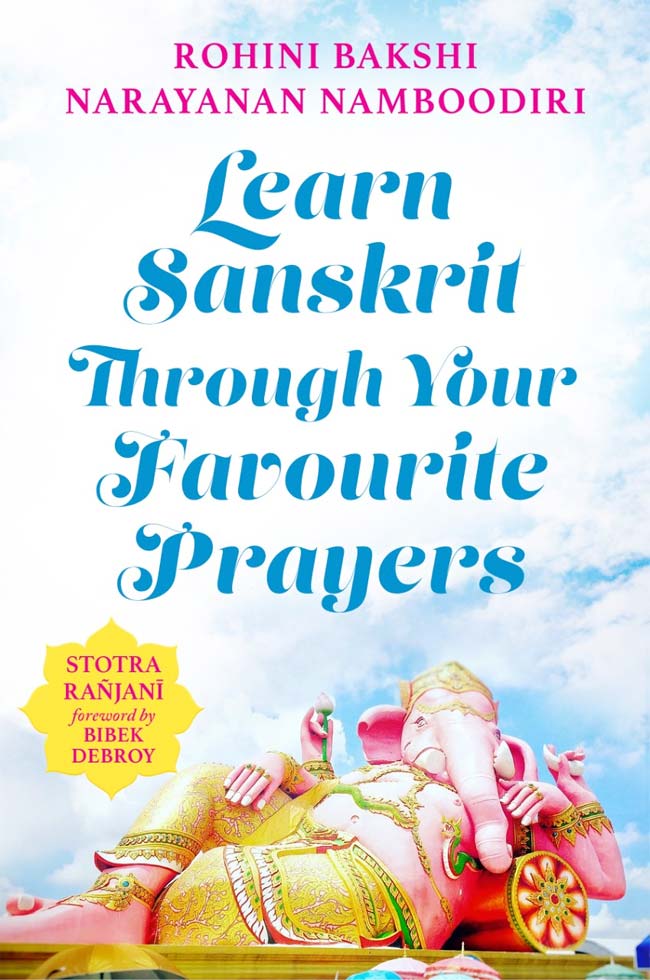 Cover of Rohini Bakshi's book Learn Sanskrit Through Your Favourite Prayers
The aforementioned journalist friend, who was a devout Hindu, has now rejected her faith and her ishta deva. She no longer goes to the temple she went to religiously for nearly 40 years. She says that the belligerence of certain Hindus has ruined Hinduism for her. That their bullying and their horrific attitude towards minorities makes her sick. To her I say what she once said to me: "If you leave, you've let them win." Hinduism has always been about a multiplicity of paths and co-existence. In my own family, my father is a kattar (hard-core) Arya Samaji (no idol worship), and my mother the product of a sanatani mohyal Brahmani and a Sikh father. We did murti puja every Diwali as a family, went to a gurudwara on every Gurpurab, and had a havan for every important event. My sister and I have different ishta devas, and are equally comfortable in Northern and Southern Indian temples, having lived in both regions for extended periods of time. Who is anyone to tell us what the right way of being Hindu is?
My love affair with Sanskrit is an old one (despite nearly flunking at school because it was taught so badly!) My way of being a good Hindu is to learn Sanskrit and read all the books that are considered holy – in their original form. The Gita, the Ramayana, Mahabharata, the Upanishads. To imbibe from them that which makes the spirit soar. That which makes one a better human being. I don't agree with people who say Sanskrit is a language of oppression, nor do I bend to pressure to make it an exclusive one. I do not bow to those bosses who say there is one way of being a good Hindu – their way. Nobody owns Sanskrit or Hinduism. We can only serve them, each in our own way. And I believe my way is as good as anyone's.
5 mantras for every occasion from Rohini Bakshi's new book Learn Sanskrit Through Your Favourite Prayers
Want to get a good start to your work week? Recite the Ganesha Pancharatnam.
Said to be composed by Adi Shankaracharya, you can invoke Lord Ganesha for protection, liberation and the removal of obstacles. Worship of the elephant-faced god gives us both intelligence and good sense (buddhi), and success and achievement (siddhi).
It's the middle of the week and you're getting bogged down with pointless emails, excel sheets and phone calls? Listen to Bhaja Govindam even if you cannot recite it in full.
Also believed to composed by Adi Shankaracharya when he encountered a pandit memorising grammar rules. Amused, the Acharya spontaneously said that grammar would not save the pandit when the appointed hour of his death arrived. He then composed verses advising humanity not to waste precious moments on routine activities. Only adoration of Govinda will bring liberation.
Don't have time to pay a visit to the temple? Too much to do? Just take a little time off at your desk or in the kitchen and think of Hari.
Shri Haryashtakam was composed and recited in praise of Hari by Prahlada, one of the greatest devotees of Hari. It says just reciting the two letters, 'ha' and 'ri', is equivalent to all the good deeds prescribed for liberation like pilgrimage to sacred spots, performance of various yajnas and giving away precious offerings.
Feeling sick thanks to the changing weather and smoky air? Recite the Vaidyanathashtakam.
Shiva is worshipped here as the lord of physicians (vaidya-natha). He is worshipped as such particularly at Vaiteeswaran Kovil (Tamil Nadu), a temple rich with legend. Shiva is also worshipped in this form at Parali, Beed, Maharashtra, one of the twelve jyotirlingas. It is believed that Jatayu was cremated here by Rama, that Skanda got his spear (vel) here, and that the planet Mars, afflicted by leprosy, was cured at this very spot. This powerful mantra serves as a prophylactic as well as a curative for the devotee.
Exhausted by the end of the day? Still have work let to do? Meditate on the Aditya Hrdayam.
This energising stotra to the Sun God was imparted to Rama by the sage Agastya immediately before his final confrontation with Ravana. It is believed that anyone who is disheartened, fatigued, or faced with a seemingly insurmountable obstacle or enemy will be triumphant if they recite this stotra while meditating on Surya.http://www.ndtv.com/blog/i-teach-sanskrit-on-twitter-and-encounter-many-haters-1622384