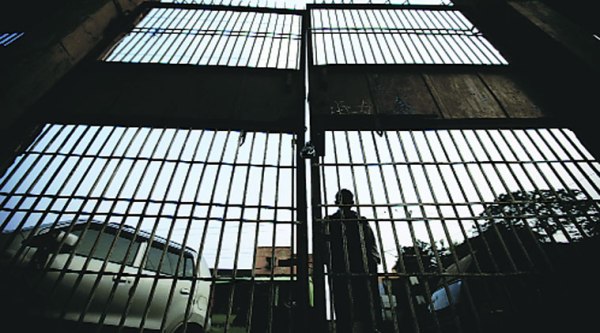 Maheshwari Inter College, the venue indentified by RSS for its Ghar Wapsi event in Aligarh on Dec 25. (Express photo by Praveen Khanna)
The biggest ever 'Ghar Wapsi' of the RSS in Aligarh is now 12 days away. Sangh affiliate Dharam Jagran Samiti has announced it will "reconvert" 4,000 Christians and 1,000 Muslim families that day.
In this city on the edge, mindful of what happened in Agra, 88 km away, there are at least 30-odd people watching that event bemused. The residents of the Dalit-dominated Haridsapur village on the city's outskirts, they had been among those "reconverted" by Sangh activists at a similar event six months go. Their protests that they were "already Hindus" were ignored, and after the 'Shuddhikaran' event was over, they didn't hear from the Dharam Jagran Samiti again. As for their status as "new Hindus", Vishal, among those "reconverted", says, "We know we are Dalits. Everyone treats us as outcastes even now."
The RSS local unit claims to have carried out approximately 40,000 "reconversions" in and around Aligarh, including 2,000 Muslims. Haridaspur is among the areas on its wishlist for Ghar Wapsi on December 25 this year too.
It were Vishal's brother and his sister-in-law Geeta who had hosted the 'Hindu hawan' in Haridaspur. "It was later that they told us it was a reconversion hawan. Hum Dalit hain, ab tak to yahi pata tha. Yeh aaye aur bole Hindu hawan hai, baithna hai (Till then, we only knew we were Dalits… They came, said it was a Hindu hawan and we had to participate). Around seven-eight of us Dalit families were there," says Bimlesh, Geeta's brother.
The Samiti claimed at the time that it was bringing "Christians" back into Hinduism. Vishal laughs at this. "There was no such conversion to Christianity. Geeta's daughter who studies in a Christian school had just started wearing a cross for fun."
An angry Bimlesh says the RSS outfit had even splashed their photographs across newspapers. "The girl's cross too was photographed."
Haridaspur's population of roughly 2,000 lives in mostly kuchcha structures and survives on odd jobs such as brick laying and rearing pigs. The only structure that stands out is a Church-run, English-medium school, which is also facing RSS ire.
On Thursday, the Dharam Jagran Samiti was in another part of Aligarh, in a narrow lane off one of the city's upmarket areas, looking for "lost brothers" to "reconvert" on December 25.
Their target was a small colony called Khwarsi. Like Haridaspur, it also has mostly Dalits, some of whom admit to having converted to Christianity.
A 45-year-old who has now attached "Messi" to his name says he got baptised with his family three years ago. Messi's house, painted in bright green and pink, pales before a much-larger orange-yellow house next door. Pointing to the house, he says, it belongs to "upper castes who shoo away his children if they go too near playing".
A sari strung like a curtain serves as the door to his house, and inside hangs a picture of "Yesu Massiah (Jesus Christ)".
Messi says he was troubled when he heard the Dharam Jagran Samiti had come to his home on December 11, asking about the family's religion before inviting them for the Christmas Day event. He was away at work, his 14-year-old son received them.
"A man asked me about the number of Christian families in the colony. He did not offer any inducement," recalls the son.
The dismissive convenor of the Dharam Jagran Samiti, Satprakash Navman, says that it is easy to identify the "converts" as they still retain their Hindu first names. "They also celebrate Hindu festivals, but modify them. We need to have their Ghar Wapsi," he says.
vcvv z s d          ty  ;.'mm iooo                    book   7                            The son of former three-time MLA K K Navman, Satprakash adds that the population of those "returning to Hinduism" is increasing every year, and that their first target are the "new Christians". "We will take on the Muslims slowly."
Messi believes that for the Dharam Jagran Samiti, he is little more than a "target". All his life as a Dalit Hindu, he adds, "I felt like an outcaste and rejected. Teachers at school failed us deliberately and beat us repeatedly. I left studies in Class V. My parents would tell me this was our fate and I should not feel bad. But I decided that religion and caste would not bog me down. When my children faced the same problem in school, I decided to switch religion," he says.
Since the conversion, Messi adds, his colleagues allow him to sit next to them. His daughter, a Class XI student, says schoolmates no longer avoid her.
He adds: "Hindu hamein insaan nahin samjahte hain (The Hindus don't see us as human beings). We don't want anything to do with a religion that doesn't give us love but only rejection. They are ready to hold animals on their lap but don't have any place for us. Even if they call us for the havan, we will not go."
Some people scare him saying no one would ever marry his daughter, Messi says. "I tell them if my today is so bad, how will tomorrow be better?"
Agra accused gets BJP MLA backing
BJP Agra South MLA Yogendra Upadhyay on Saturday met Agra SSP objecting to charges levelled against Nand Kishore Valmiki over the controversial conversions in the city, saying "conversion was not a crime under IPC". Upadhyay also claimed that all the "reconverts" were Bangladeshis, and their papers should be checked.
Valimiki, who is on the run, had earlier been jailed for alleged smuggling of liquor and also booked under Gangsters Act in 2001. He was out on bail
http://indianexpress.com/article/india/india-others/dont-want-a-religion-that-only-rejects-us-say-the-aligarh-dalits-on-rss-list/99/