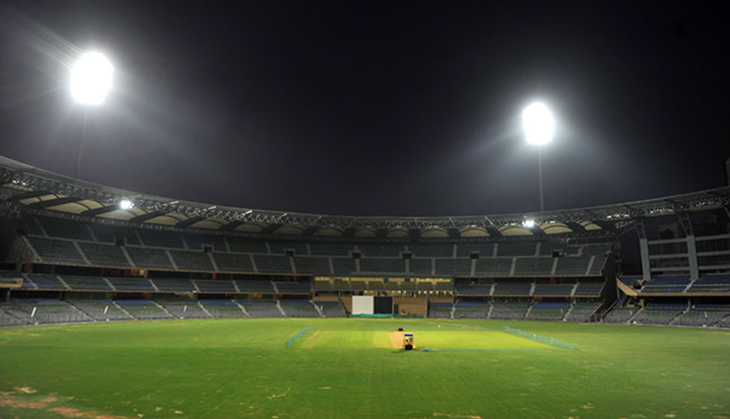 The Indian Premier League is finally taking place in Mumbai. The iconic Wankhede Stadium will eventually host the ninth edition of a large party many shy from calling cricket.
As we know, the inaugural match at Wankhede almost got canned. A petition before the Bombay High Court questioned how IPL could be allowed in three cities of a state that is facing a crippling two-year drought. In another city of Maharashtra, Latur, the government has anticipated a water-war-like situation.
Read- Ground report: Drought-stricken Marathwada limps from bad to worse
This coming face-to-face with ground realities is a rare occurrence for the IPL. Understandably, it threw many out of gear. .
Senior sports journalist Jaideep Ghosh, a regular contributor to Catch, has published a piece here titled 'Nothing to gain by shifting IPL. Get involved parties to help drought cause instead.'
I would typically ignore it. But because Catch has otherwise stood for using water judiciously, I feel compelled to expose Mr Ghosh's problematic arguments.
YOU CAN'T SEPARATE IPL FROM PEOPLE

Mr Ghosh's piece stands up to its title of being a monument to privilege.
His argument is that the IPL should be allowed since the drought is not its fault.
In fact, according to him, it is everybody else's fault – the government principally, but also the "burgeoning population" that "eats up whatever is provided, before it is provided, and then asks for more".
He seems to think the IPL is an entity different from the "population".
Well, he makes it pretty clear in the next line: "But there's the chicken and egg situation – more people equal more votes, so political parties won't, even in their weakest moments, discuss this problem. But that's another story."
Does he mean what I think he means by this vote bank jibe? I do not look forward to reading this 'other' story.
So, what is Mr Ghosh's story, after all?
"Silent stadia won't fill the wells and canals. Silent work in the background may," is his closing line.
I'm glad he mentioned wells.
According to a report in The Indian Express, Wankhede Stadium guzzles about 69,000 litres of water a day. Of this, 19000 litres is municipality supply of drinking water, and the remaining from five private tankers of 10,000 litres each.
These tankers fill water from nearby wells. Another story has graphic details on how, when the tankers are being filled, locals scramble to fill water gushing out of the pipe while it is moved from one tanker to another.
They see the rest of the water going across the road to Wankhede and sprinkled on lawns.
Mr Ghosh might think of this as nothing more than a bleeding-heart story. Allow me to shed some more blood.
With that kind of water, you can fill 3,450 buckets.
At least 1,725 persons in rural areas can be given what India's standards call "lifeline" water supply. I say 'at least' because nobody has zero water supply, the likely beneficiaries would be twice or thrice the number.
"One can fill 3,450 buckets with the 69,000 litres of water Wankhede Stadium guzzles every day "
In North Mumbai, a CNN-IBN report found people storing water in large barrels under lock and key. It also said the seven lakes supplying to the metropolis are running dry.
Pune, where another IPL game will be played, already has water supply on alternate days. The city mayor is on record saying that the supply may reduce because the water may be diverted to drought-hit villages.
Nagpur, the third city to hold an IPL, is in the Vidarbha region, also reeling under a drought and farming crisis.
But all this evidence does not make it to Mr Ghosh's piece.
CAUGHT IN THE DEEP
Actually, reality itself has been kept at bay. Much like how the IPL does not qualify as a part of the population, Mr Ghosh's supposed solutions are also the stuff of gods.
He wants us to dig deeper.
"I mean, surely those who can drill for oil and gas have the wherewithal and deep-boring capabilities to drill for water."
"Digging deeper is no solution. Water is not an infinite resource splashing about under the ground"

Does Mr Ghosh not know that the solution to water scarcity is to not dig deeper?

Because water is not an infinite resource splashing about in the earth's crust, waiting for the billionaire's drill. (Well, neither is oil.)
Because it is this mentality of digging deeper that destroyed water bodies of Bundelkhand and Marathwada, and threatens Punjab and Haryana.
His second solution is to follow "some nations in the Middle-East" who "have also begun filtering sea water and using it at least for agriculture, if nothing else"
Clearly he hasn't done his homework on this. The "some nations" expend huge amounts of energy to make salt water usable. The desalination plants outside Chennai are already eroding the coastline. There are still questions on how and where to dispose the waste from these plants.
But do all these questions even matter, when his solution to water crisis is to dig deeper?
But is it even important to say all this?
Because Mr Ghosh subjects us to arguments like this:
"One question – when the flyover collapsed on some poor, unsuspecting people in Kolkata, was the World Twenty20 final shifted out of Eden Gardens? No."
This is followed by comparisons with how the 2004 Athens Olympics and 2014 FIFA World Cup took place despite protests. And that 1972 Munich Games weren't called off despite the attacks.
"I can quite understand the anger about the IPL: the razzmatazz, the dancing girls, blaring music and insufferable anchors."
At this point I begin to wonder if Mr Ghosh even understands what he's talking about.
Does it not bother him that water in Maharashtra (more than elsewhere) is a physically limited resource? That the summer is upon us? A wastage of water is not rhetoric and public anger, it is a physical loss.
IT'S JUST NOT CRICKET
What Mr Ghosh has done is to spin a moral question – of using thousands of litres of water on an inconsequential event when thousands are killing themselves for the lack of water – into a question of throwing cash on sci-fi solutions to water scarcity.
This spin has as its ugly cousin – the implicit assumption that IPL is somehow not "population" that "wants more". This "population" is the poor, the "vote bank", the ones wasting everything and asking for more, while the middle and upper classes, and their IPL games, are raised to a near-mythical level.
It is also important to note that his opinion comes on a canvas of an unforgivable silence by his community of sports journalists.
At what point did they become so blind to the social and physical realities that sports are played under?
I have always wondered why so few spoke out when cricket began its descent from an 11-a-side sport to a crony capitalist orgy. From Shivaji Park to Malabar Hill. From when even Mohammad Azharuddin kept a back-up job in a government-run bank in Hyderabad.
Maybe I'm thinking too much into this. Maybe it is all very simple, that the root of this silence on the IPL fiasco is the shared belief that the answer simply lies in finding the right billionaire to dig deeper.
Well, I hope they do. I hope they dig a well deep right in the middle of Wankhede, a drill so large and deep that it hits the earth's crust. And when instead of sparkling water, hot lava begins gushing out, setting the world on fire, I hope these modern Neros, sitting atop the pavilion, surrounded by "dancing girls", cast their glance away from the mayhem and begin playing their fiddles.http://www.catchnews.com/environment-news/drought-vs-ipl-the-show-must-go-on-let-the-poor-be-damned-1460292843.html?param=yes&rnd=1460293925