Top lawyers succeed in repeatedly appearing before high court
Lawyers with the most access will only take cases that do not hurt interests
Environmental groups, unions and consumer class-action suits out in the cold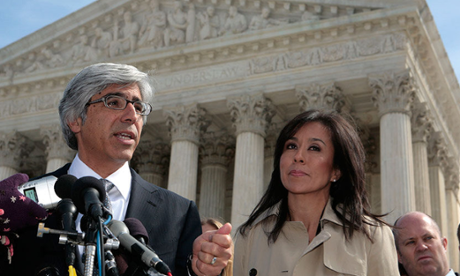 On a March morning in 2011, lawyer Ted Boutrous approached the lectern at the US supreme court. Boutrous represented the world's largest retailer, Walmart, in one of the most anticipated business cases in years: more than 1.5 million female employees alleged systematic gender discrimination.
If the women prevailed, Walmart stood to lose tens of billions of dollars. Yet before Boutrous even began – "Mr Chief Justice and may it please the court" – he had already succeeded in one significant way: As a result of his work on the case, Walmart was becoming a lucrative client of his law firm, Gibson, Dunn & Crutcher.
Today, Gibson Dunn handles real estate, securities, corporate, environmental and other legal matters for Walmart – work that has generated more than $50m in new revenue for the firm, say people familiar with the relationship.
The Walmart case caught the attention of Boutrous in 2004, shortly after a federal judge in San Francisco certified the class of 1.5 million women, the largest class in American history.
A few months after Boutrous made his oral argument before the court, Walmart won. In a 5-4 ruling, the court determined that the class of 1.5 million was too large to prove a pattern of discrimination.
The business community hailed the decision as one that would curtail specious lawsuits. Gibson Dunn posted a letter to clients the day after the ruling.
"This is an extremely important victory for all companies, large and small, and for their employees," the letter said.
During a legal seminar that fall, Gibson Dunn attorneys demonstrated the stakes involved by displaying a PowerPoint slide with the logos of corporations that supported Walmart at the supreme court – FedEx, Bank of America, Microsoft, Cigna, Kimberly-Clark, Walgreens, Dole, DuPont, Tyson, General Electric, Pepsi and Del Monte.
The Walmart case illustrates not only how a supreme court victory helped a firm secure future business, but also how firms look for ways to use the high court to benefit all their corporate clients.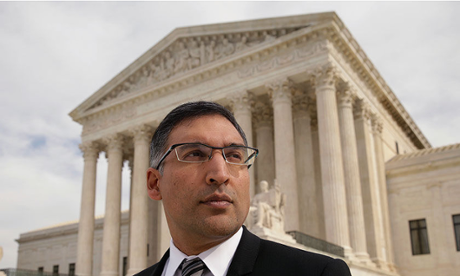 Gibson Dunn is not the only law firm to turn supreme court appearances into gold. After the firm Sidley Austin won a Supreme Court patent case for eBay, it earned at least $10m in unrelated legal fees from the online retailer, say people with knowledge of the account. Likewise, the firm Jones Day secured Westinghouse/CBS as a major client following a successful high court case. In the years that followed, the relationship generated more than $10m in fees, sources say.
Securing profitable, long-term relationships with America's largest corporations is one reason major law firms began creating supreme court practices in the late 1980s and early 1990s.
Now, corporate firms so dominate the supreme court bar that they boast outsized access to a high court that's already inclined to support corporations over individuals.
A Reuters examination of about 10,300 court records filed over a nine-year period shows that lawyers at a dozen law firms, including Gibson Dunn, Sidley Austin and Jones Day, have become extraordinarily adept at getting cases before the supreme court. Although the high court typically agrees to hear 5% of the petitions it receives from private attorneys, Reuters found that lawyers at the top dozen firms were successful 18% of the time.
These firms were involved in a third of the cases the high court accepted, Reuters found. When the justices agreed to hear cases brought on behalf of Big Business, top firms were involved 60% of the time.
A slightly larger group – 31 firms – accounted for 44% of all cases the court accepted.
Disadvantage for consumers
The domination of the supreme court docket by firms that commonly represent business interests has a direct, largely unseen effect on consumers seeking to sue corporations: These individuals must select from a much smaller and, in many instances, less successful pool of lawyers to handle their cases.
The reason: Many elite law practices won't take those cases. The activities of the firms' corporate clients are so broad, and their concerns so intertwined, that the lawyers point to disqualifying conflicts of interest – some specific, some general.
An elite firm might refuse to represent an individual suing a corporation on a labor issue, for example, because it fears that winning the case could create a precedent that might hurt top clients in other industries.
Large firms do take cases pro bono on behalf of the indigent. But those appeals are generally related to criminal law or social causes such as gay marriage – topics unlikely to affect US business interests.
"We do not take cases that could make negative law for our clients," said Jones Day's Glen Nager, who has argued 13 cases before the supreme court.
The heads of several supreme court practices dispute whether public interest or consumer groups are truly disadvantaged when seeking effective counsel.
"There are some practitioners out there who specialize in taking the cases the larger corporate firms can't take," said Jonathan Franklin, a former law partner of now-Chief Justice John Roberts and head of the supreme court practice at Norton Rose Fulbright. "There is a sufficient pool of capable lawyers to take those cases, even if it's a smaller pool."
But for many of the top firms, such conflicts mean declining to represent environmental organizations, labor unions, employees suing employers, or consumers filing class actions; each kind of case might conflict with the general interests of their clients.
"It's not that there aren't lawyers at these large firms who aren't public-spirit minded and don't want to do these cases. It's that their business model won't allow it," said Joseph Sellers, a lawyer for the mid-sized firm Cohen Milstein, who argued against Walmart in supreme court.
"In terms of access to justice, the ability of individuals to get their issues raised in the Supreme Court is more limited," Sellers said. "Our side just doesn't have the resources."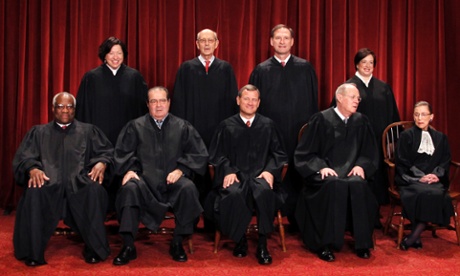 A power bar
At their core, supreme court practices, like many things in the nation's capital, are about money and proximity to power.
"If you want your firm to be viewed as a Washington institution, you have to have a supreme court practice," said Pratik Shah, who leads the group at Akin Gump.
Chris Landau agrees. From his office, he has one of the best power views in Washington, looking directly toward the eastern side of the White House. When he works late, Landau can watch the president's helicopter lift off into the sunset. On the windowsill before this vista, he has placed an autographed picture of himself standing beside Justice Clarence Thomas.
Landau runs the supreme court practice at Kirkland & Ellis, one of the older and most profitable law firms in America. His career arc, as well as the evolution of his firm's high court practice, is typical of peers.
Landau graduated from Harvard Law School. He clerked for Thomas and for Justice Antonin Scalia, and joined Kirkland's appellate practice in 1993, the same year as former Solicitor General Ken Starr.
The evolution of specialized, corporate-focused supreme court practices at Kirkland and other firms came as the justices began taking fewer cases – from about 150 annually in the 1980s to half as many today. That makes competition among lawyers fierce: More than 500 attorneys in Washington tout supreme court expertise on firm websites.
"It's a very cutthroat environment," Landau said.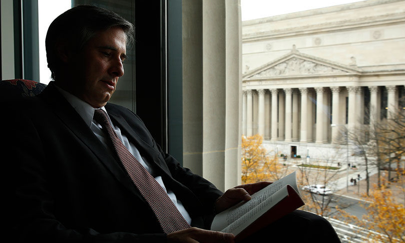 Often, several veteran lawyers said privately, landing a supreme court case is almost as important to their firms as prevailing in court.
On website biographies, lawyers and firms routinely list the number of supreme court arguments they've made and briefs they've filed; rarely do they list a win-loss record. Simply appearing before the top court brings with it prestige and publicity that firms believe help them recruit new corporate clients and lure the next generation of top attorneys.
Most firms brand these lawyers not only as supreme court specialists but as appellate experts. Almost all of the lawyers, including Landau, spend more time arguing in US courts of appeals, one rung below the supreme court. They assist partners in trial courts, and the firms work outside of the courtroom, advising corporations and trade associations on regulatory matters.
With Congress gridlocked, the court's role has become more prominent – so much so that the nation's most influential business lobby, the US Chamber of Commerce, has hired five former supreme court clerks.
Supreme court cases themselves aren't usually as directly profitable as other types of litigation because they generally require fewer lawyers and less research. By contrast, trial and due diligence can involve teams of lawyers to review reams of paperwork and evidence.
In just one month, a large trial can generate $1m or more in fees.
Firms typically charge far less to handle an entire supreme court case: The bill might range from $50,000 to $500,000 but has, in some cases, reached beyond $1m.
Most top firms submitted several dozen opposition and amicus briefs during the period Reuters examined.
Records show their focus seldom varied: Whatever the type of brief, it largely reflected the interests of corporate America.
As with other firms that dominate the supreme court bar, Landau's Kirkland clients are almost exclusively corporations. He has represented Morgan Stanley, BP, Dow Chemical, ConAgra Foods, Raytheon, Nationwide Mutual Insurance, Motorola, WR Grace and Union Carbide.
The roster of clients makes Kirkland extremely unlikely to represent an individual suing a corporation, Landau acknowledged. "The last thing we want," he said, "is to make one of our long-standing clients unhappy with what we do."
Role reversal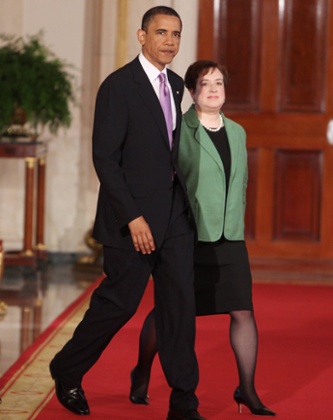 Increasingly, the elite supreme court practices at firms are led by rainmakers –lawyers who have parlayed their government service into private sector profit.
These lawyers are advocates – not lobbyists – but they use their skills, experience, influence and connections in similar ways.
At the very top are many former solicitors general and their assistants. These attorneys gain unsurpassed experience before the supreme court by arguing on behalf of the federal government. Some solicitors general have argued scores of cases. Because this advocate has such a close relationship with the court, the solicitor general has sometimes been called the 10th justice.
Six former solicitors general now play a major role in a supreme court practice in Washington. Another recent solicitor general, Elena Kagan, is the court's newest justice.
Firms and clients covet former solicitors general because they are consummate government insiders. To prepare to appear before the justices, solicitors general and their assistants meet face-to-face with senior officials throughout the government.
Mayer Brown's Andrew Pincus, for example, is a former assistant solicitor general who has argued 23 supreme court cases. Pincus regularly files regulatory comments, testifies before Congress and writes remarks for others on his areas of expertise – antitrust, securities, patent, arbitration and financial issues. Sometimes, he testifies or advocates on behalf of business interests generally; sometimes on behalf of specific clients.
"I tell clients that the same skills I use at the supreme court – oral arguments and writing briefs – can be brought to bear elsewhere in government," Pincus said.
As demand for specialization increases and the elite supreme court bar shrinks, some corporations now compete against one another to secure the top lawyers.
During his stints as the top attorney at Aetna and CBS/Westinghouse, Louis Briskman hired outside counsel in more than a half-dozen supreme court cases from 1989 to 2013.
"It's radically changed in the last 10 years," Briskman said. "Back then, you looked for a specialist in an area of the law. Now … you want the guy who knows the justices and the justices know. There are 12 lawyers and firms that keep coming up."
http://www.theguardian.com/business/2014/dec/09/lawyer-turns-supreme-court-argument-50m-relationship?CMP=edit_2221