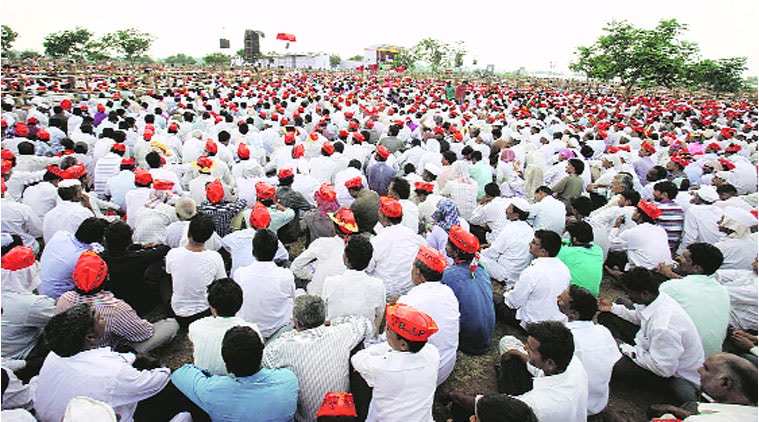 In the Pawar bastion of Baramati, lakhs reportedly attended his rallies. But the BJP candidate was defeated by NCP's Ajit Pawar by a massive margin of 89,791 votes. (Source: Express photo)
BJP president Amit Shah may credit "Modi wave or tsunami" for the party's performance in Maharashtra, but out of the 27 Assembly constituencies where Prime Minister Narendra Modi held rallies in the state, the party and its alliance partners could win in only 10.
At every rally that Modi held, "lakhs of people" had reportedly turned out to hear him. But it seems all those "lakhs" did not translate into votes for the party. In fact, in five constituencies, BJP candidates finished third. The BJP strategists had expected that Modi's rallies will not only help the candidate of that particular constituency but will also boost party's prospect in nearby constituencies. However, the poll results have shown that the strategy did not pay off.
"Except for Nagpur and Nashik, where Modi held rallies and BJP won the two seats and also other neighbouring constituencies, in the other 17 constituencies, the Modi effect was lacking," said Mahadev Sashrabuddhe, a poll analyst.
In the Pawar family bastion of Baramati, Modi's rally had attracted over three lakh people, according to BJP leaders. At the rally, Modi had attacked the uncle-cousin duo of Sharad Pawar and Ajit Pawar, asking people to "free Baramati from gulam-giri of chacha-bhatija" amidst thunderous applause. However, when the counting of votes took on Sunday, the Pawars had the last laugh as Ajit Pawar trounced his nearest BJP rival by a record margin of 89,791 votes.
"We had said it immediately after Modi held the rally here that the people of Baramati would come out in force to vote as Modi had tried to tell lies. Compared to 2009, Ajitdada's margin dipped by only 10,000 votes. That is because this time Congress was not with us. The Congress candidate got more than 5,000 votes," said Kiran Gujar, a close associate of the Pawar family.
Modi had started of his series of rallies from late BJP leader Gopinath Munde's bastion of Beed. Here the BJP candidate lost to NCP's Vijaydutt Kshirsager by 6,132 votes.
Modi also held a rally in Kankavali, considered a stronghold of Congress's Narayan Rane. In 2009 Assembly polls, the BJP candidate managed to win from here by a slender margin of 34 votes. This time, however, the party's candidate lost to Rane's son Nitesh.
In Pandharpur and Tuljapur, where Modi addressed rallies on the same day, the Congress bagged both the seats with comfortable margins.
In Pimpri reserved seat, another constituency where Modi campaigned, BJP's alliance partner RPI(A) finished third. The seat was won by Shiv Sena. "It was for the second time in the last 30 years, that a Prime Minister was addressing a rally in Pimpri. All the roads were jammed. The crowd was between one to two lakh," said Eknath Pawar, BJP's candidate from neighbouring Bhosari. He finished fourth.
In another neighbouring constituency of Pimpri, BJP's last-minute import from NCP, Laxman Jagtap, won by a massive margin of 60,000 votes. Jagtap had lost the Lok Sabha elections and had claimed that there was no Modi wave. But after his victory as the BJP candidate, he largely credited the win to Modi factor.
The another solace for the BJP was Borivali, where party leader and one of the CM aspirants Vinod Tawde won by over 56,000 votes.
http://indianexpress.com/article/cities/pune/of-27-seats-where-modi-held-rallies-bjp-lost-in-17/99/