A look at a decade of the Kalluri model of policing in Chhattisgarh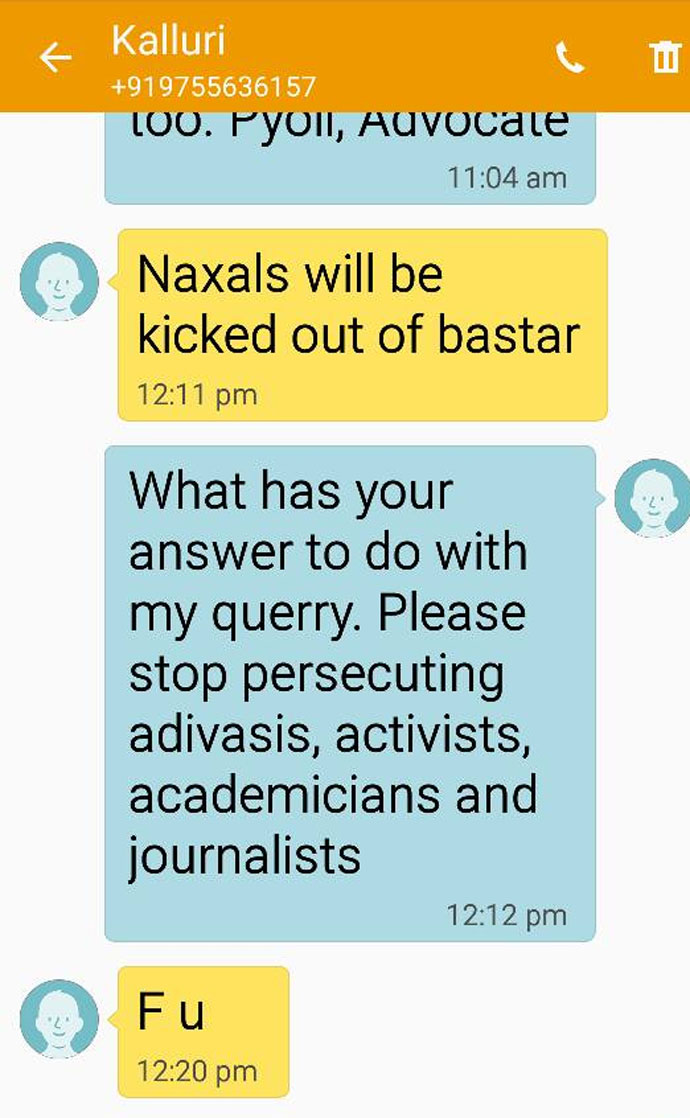 On 2nd February, IG SRP Kalluri wrote on a Whatsapp group, "Bela Bhatia wins." He has been asked to go on "long leave" by the Chhattisgarh State government. It appears that the reign of Kalluri may be coming to a belated, but surely ignominious, end. In light of this, it is important to look at the hallmarks of his career as a police officer who embodied blanket impunity, and flaunted it. At a time when police officers across the country are bent on imitating the reign of terror unleashed by the likes of Kalluri and his cohorts, we need to remind ourselves of what the decade long career in Bastar entailed.
Ledha Bai's statement  against SRP Kalluri in 2007. Ledha Bai is an adivasi woman who was raped in police custody and threatened with death after the police killed her husband in front of her for, alleging he was a Maoist.
"When I reached the Shankargarh police station, I saw Kalluri sahib who, upon seeing me, asked if I knew who he was. Then I said, "You are Kalluri Sahib. I made my husband surrender before you and you got him shot." Then Kalluri slapped me twice. I was carrying my daughter. I fell on the ground with my daughter. Kalluri asked me to take off my clothes. When I refused, two policemen twisted my father's arms and made him stand up, and started beating him. They beat my father mercilessly. Then Brijesh Tiwari unfastened my saree and took off all the other garments. When I was resisting the taking off of my clothes, they started hitting my father forcefully. I took off my clothes. They completely stripped me. They stripped me. My child was wailing uncontrollably on the ground. Then Kalluri said, "Take her inside the room, I will interrogate her." In my nude condition, they took me inside the room in the police station. Then Kalluri raped me inside the police station."
Soni Sori in a letter  from appealing for justice in 2011.
"On the night of 8.10.2011, from 12 midnight to 2:30 am, SP Ankit Garg called me into a room in the police station, gave me electric shocks (current shock), took my clothes off and severely tortured me"
Aman Sethi's article  in the Hindu in 2012:
"On Republic Day, officer Ankit Garwas awarded the Police Medal for Gallantry for his role in a counterinsurgency operation in October 9, 2010, in which about 250 members of the State's Special Task Force and district police ambushed Maoist guerrillas in Mahasamund district […] Mr. Garg was subsequently appointed Superintendent of Police of Dantewada when Ms. Sori was arrested in October 2011 and accused of acting as a Maoist courier."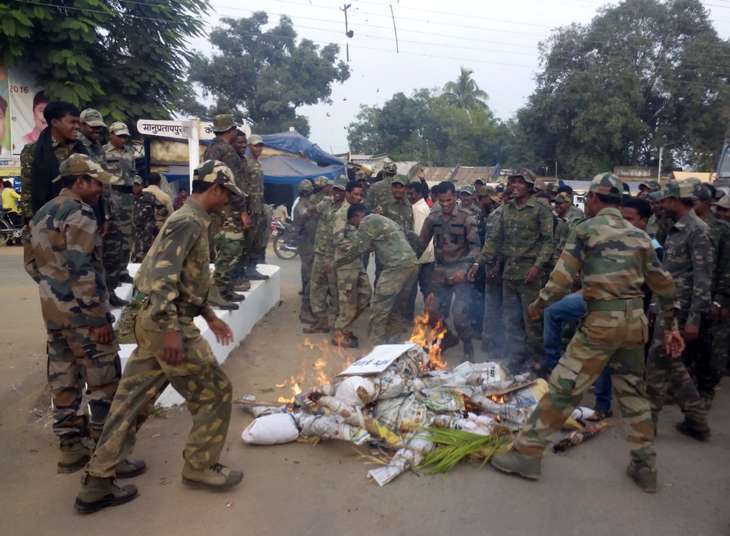 Chattisgarh police burning effigies of activists in Bastar / CatchNews
According to an article  in the Tribune in April 2015, Home Minister Rajnath Singh said:
"We have decided to give them [security personnel] the gallantry award. We have also finalised other facilities to be given (to their family members)."
Shreya, an activist interviewed by Scroll  in January:
"Why is it that it is talking only about compensation and not about disciplinary actions for allowing these crimes to happen?" said Shreya, who was a part of one of the civil society fact-finding teams that brought to light the rapes, which occured in 2015 and 2016.
The Action Group of National Integration (AGNI) on "white-collared Naxals", quoted in Scroll :
While Kalluri was speaking to the media, in another part of the city, a civil vigilante group called AGNI said it would step up its actions to stop "white-collared Naxals" from creating hurdles to Bastar's development. They were referring to human rights activists and others who have criticised violations by the security forces in the region.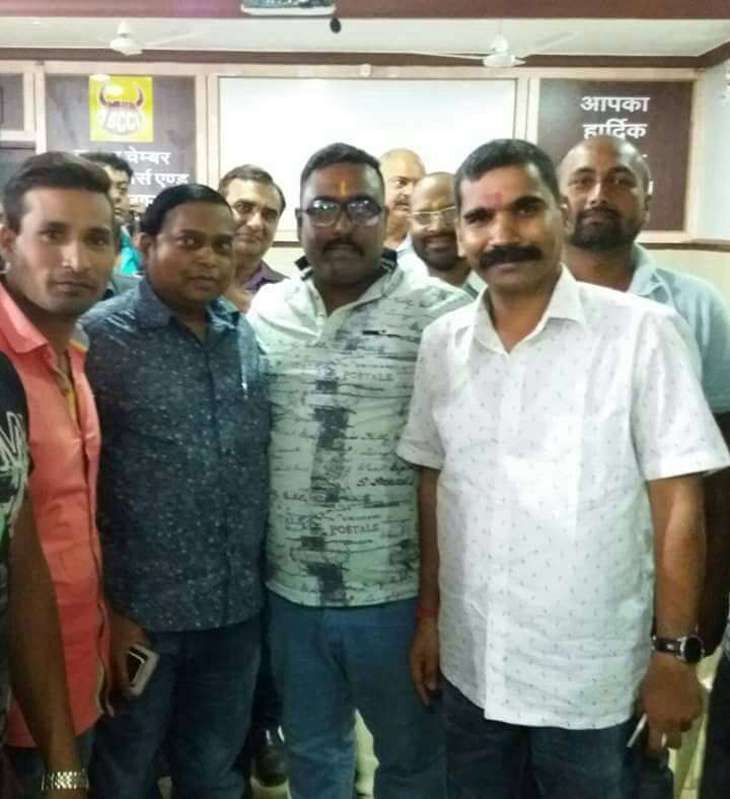 Kalluri with AGNI members / CatchNews
Kalluri, in an interview  with NDTV last year:
"Activists are enemies because they incite people against democracy, and question the sovereignty and universality of India. We oppose their anti-national brigade."
In an article  from the National Herald on Mission 2017:
"[Kalyani Menon] Sen had earlier pointed out that "Defying strictures by the Supreme Court and the NHRC, Kalluri publicly announced the launch of "Mission 2017", an all-out vendetta against all those who were calling the state to account."
The following response  from Kalluri is one of a series of abuses and threats hurled at activists and human rights defenders via text messages when they expressed their concern about the hounding of activist Bela Bhatia:
"Maoists and their dogs like you will be stoned out of Bastar. Beware."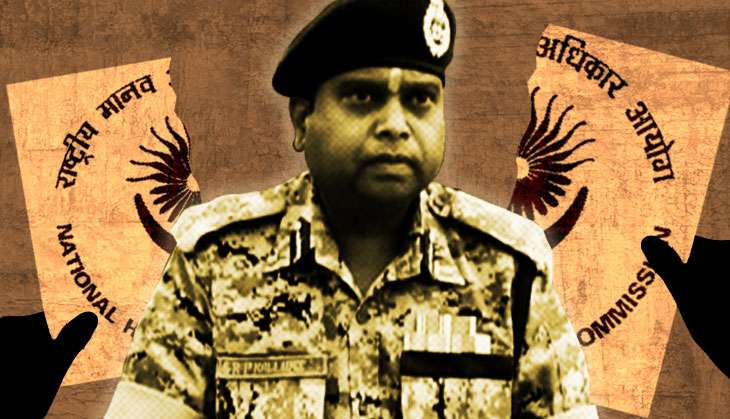 SRP Kalluri / Arya Sharma, Catch News
In 2013, SRP Kalluri was conferred the President's Police Medal for Meritorious Service, just like Ankit Garg, another officer who was given the Gallantry Award despite being accused of rape in Soni Sori's case. These instances of abuse of power under Kalluri's regime in Dantewada, and other districts in the Bastar division, paints a picture of callous disregard for law and order and zero accountability for his actions. Let us not forget that the Kalluri model of policing was supported by the structures of the state and had allowances from the highest corridors of power. Today, when we dare to rejoice his removal from positions of authority in Bastar, we need to simultaneously demand that each instance of abuse of power be investigated and the guilty held accountable. Else, several such Kalluris are bound follow the model and enjoy the impunity that the system permits in the name of democracy.
http://indianculturalforum.in/2017/02/04/f-u-kalluri-going-going-gone/