She tweeted:
Finally I got my fb back. Thanks to supportive media and my fb friends and followers. Hey Facebook, please ignore fanatics complaints.
The controversial author says Facebook was her only connection to her readers.
She had earlier complained that  her  Facebook account has been disabled under  huge pressure from Islamic fundamentalists.
"Since Tuesday my Facebook account has been disabled. Despite several requests, the Facebook authorities have not revived my account,"  Nasreen was quoted as saying by the Indian website, www.thequint.com.
"They are trying to pacify the Islamic fundamentalists who don't want me to share my thoughts on the social media," Taslima said.
Describing the move totally unacceptable, the exiled Bangladeshi author said many of her writings will be lost and she would not be able to connect with her readers anymore.
"I am banned from entering Bangladesh and West Bengal; my readers can't access my writings because they too are banned. So, I was using Facebook as a media to connect with my readers. But even that is not being allowed," she is quoted by www.thequint.com as saying.
The author's  facebook page had over 100,000 followers.
India TV News Desk
  [ Updated 15 Apr 2015, 14:56:40 ]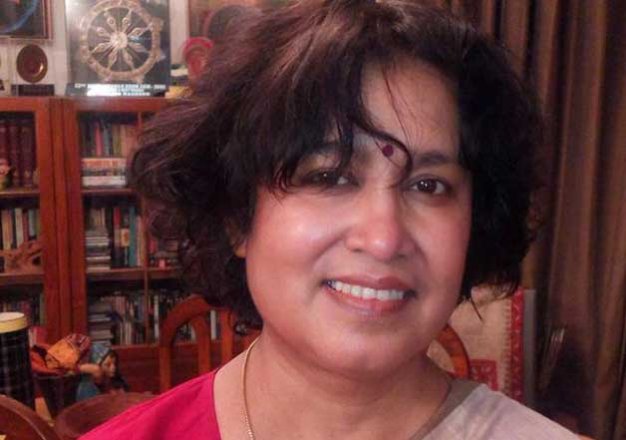 New Delhi: Controversial Bangladeshi writer Taslima Nasreen's Facebook account has been disabled since Tuesday morning. Facebook authorities took action after numerous pro-Islamic Facebook users 'reported' against her writings on the social website.
Nasreen was posting her comments on Facebook under the name 'Nasreen Taslima', but on Tuesday after she posted her comments on German Nobel Prize winning author Gunther Grass' death, she found her account disabled.
"Stupid facebook authority always disable my accounts, whenever stupid Islamists make a complaint against my facebook posts", Taslmia tweeted.

There are several accounts of Facebook with fake IDs of Taslima Nasreen, but her real Facebook account stands disabled.
"I never expected such an action from a social website like Facebook. They had earlier too disabled my Facebook account several times, but I managed to get it restored", Taslima Nasreen told Bangladesh Pratidin newspaper.
"I have spoken to Facebook authorities, and I have told them that those who have reported against me (to Facebook) do not believe in free thinking. Such people try to curb the freedom of expression of others", the author said.
"Despite several requests, Facebook authorities have not reactivated my ID", she added.
Taslima has more than a lakh followers on her FB account, and her communication with them has now been disabled. "I do not have any backup file for the huge number of recent posts that I had put on my wall", the author said.
The author said, some of her followers have told her to start a new Facebook account with a fresh ID, but she has declined. "I have seven e-mail addresses, and Facebook is not accepting any of them. Now I don't have the energy to start a fresh account", Taslima tweeted.
"Will Facebook be taken over by Muslim fundamentalists like ISIS, will they decide who will stay on FB or not?", she tweeted.
"I am totally exasperated with Facebook. Many of my writings have vanished. I have lost my enthusiasm", Nasreen tweeted
http://www.indiatvnews.com/news/india/taslima-nasreen-account-deleted-from-facebook-49745.html